Oct. 27th, 2023
The Animal Biology Graduate Group held a Research Colloquium, and we had many lab members participate! PhD candidate Zarah Deutsch spoke on her scoping review examining fish welfare literature, and PhD student Jordan Tonooka spoke about her survey examining the early rearing environment and management of dairy goat kids. Masters student Lauren Hare presented work on the impact of cat owner presence on cat responses during a routine veterinary examination. Congrats to all!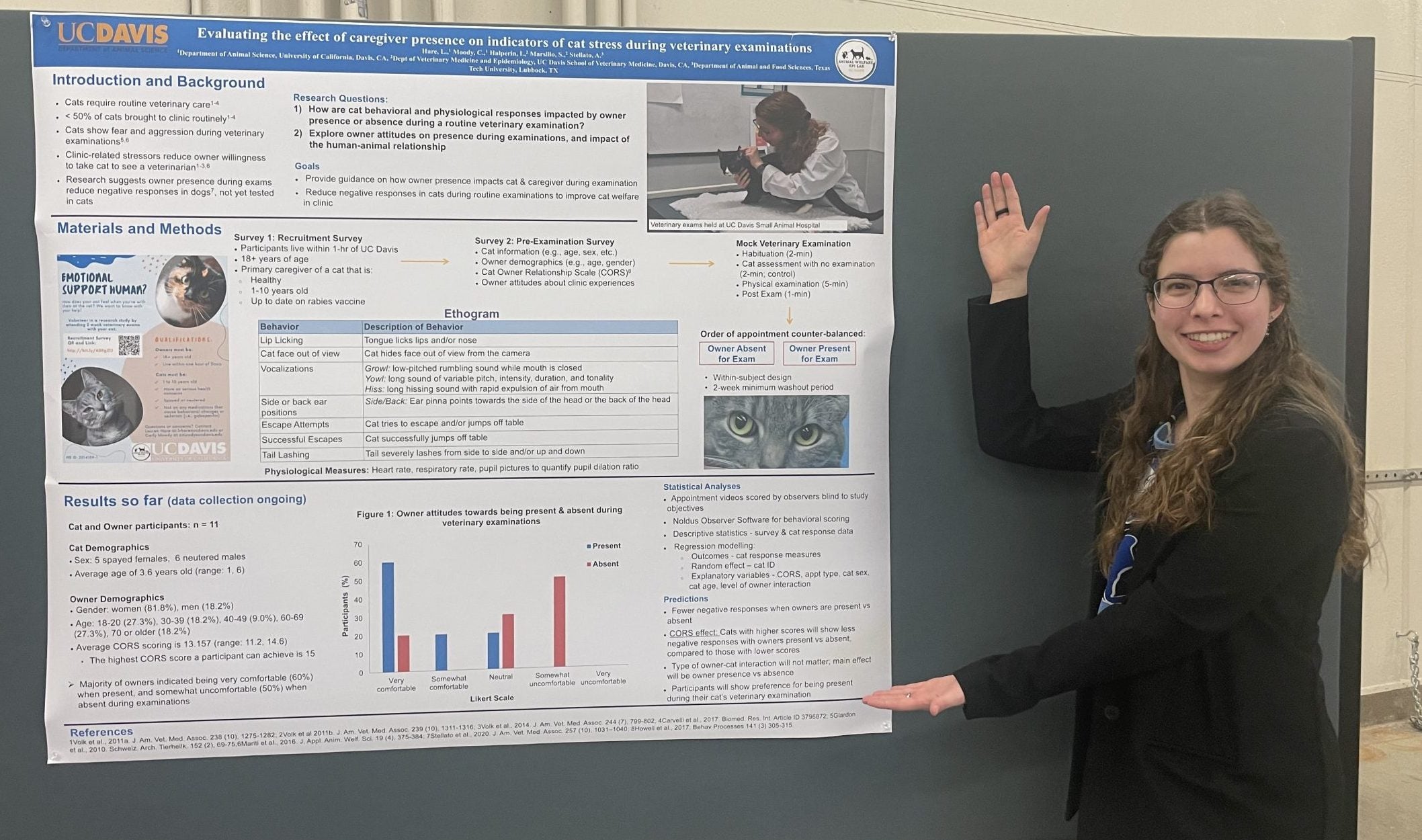 Lauren Hare, MSc Student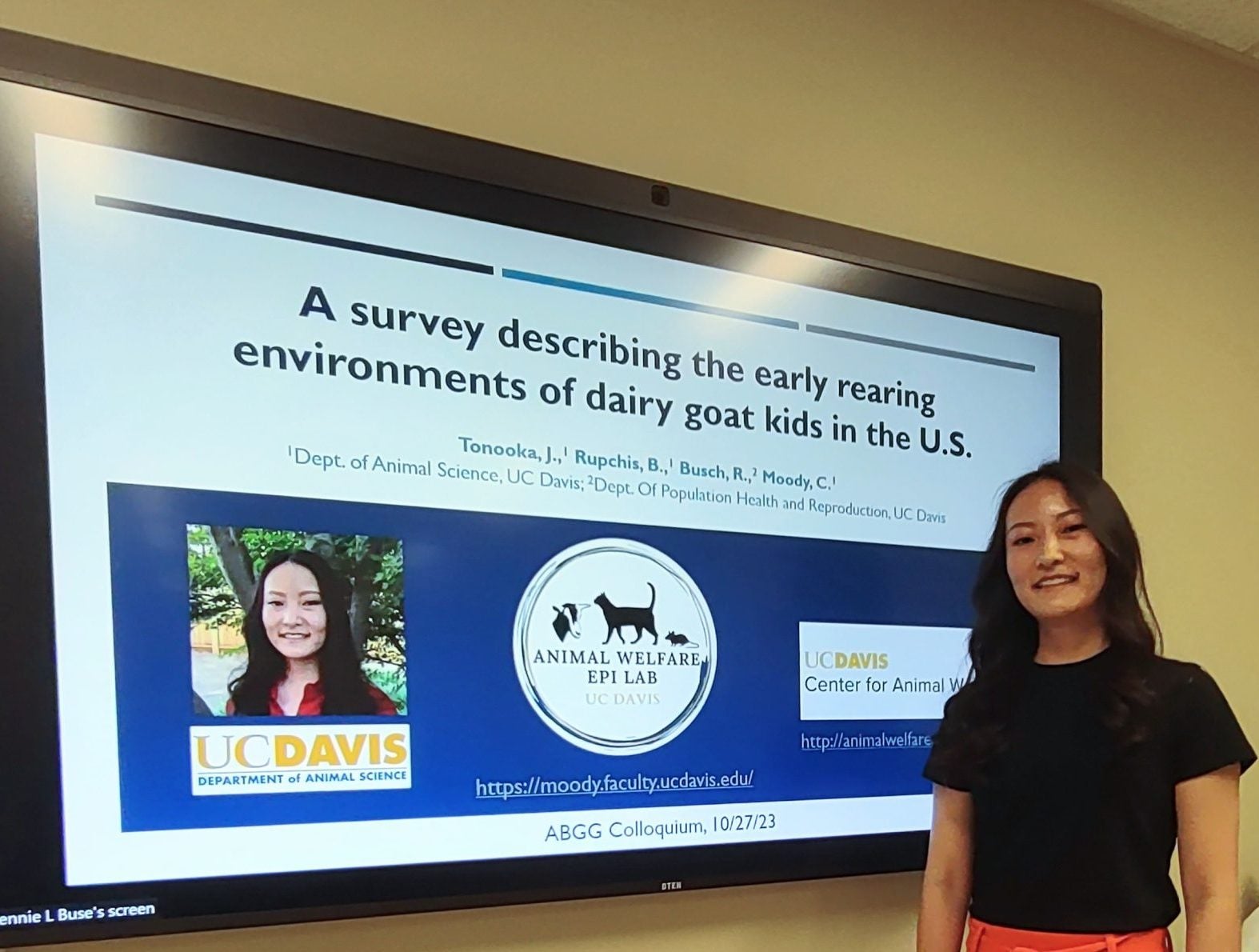 Jordan Tonooka, PhD Student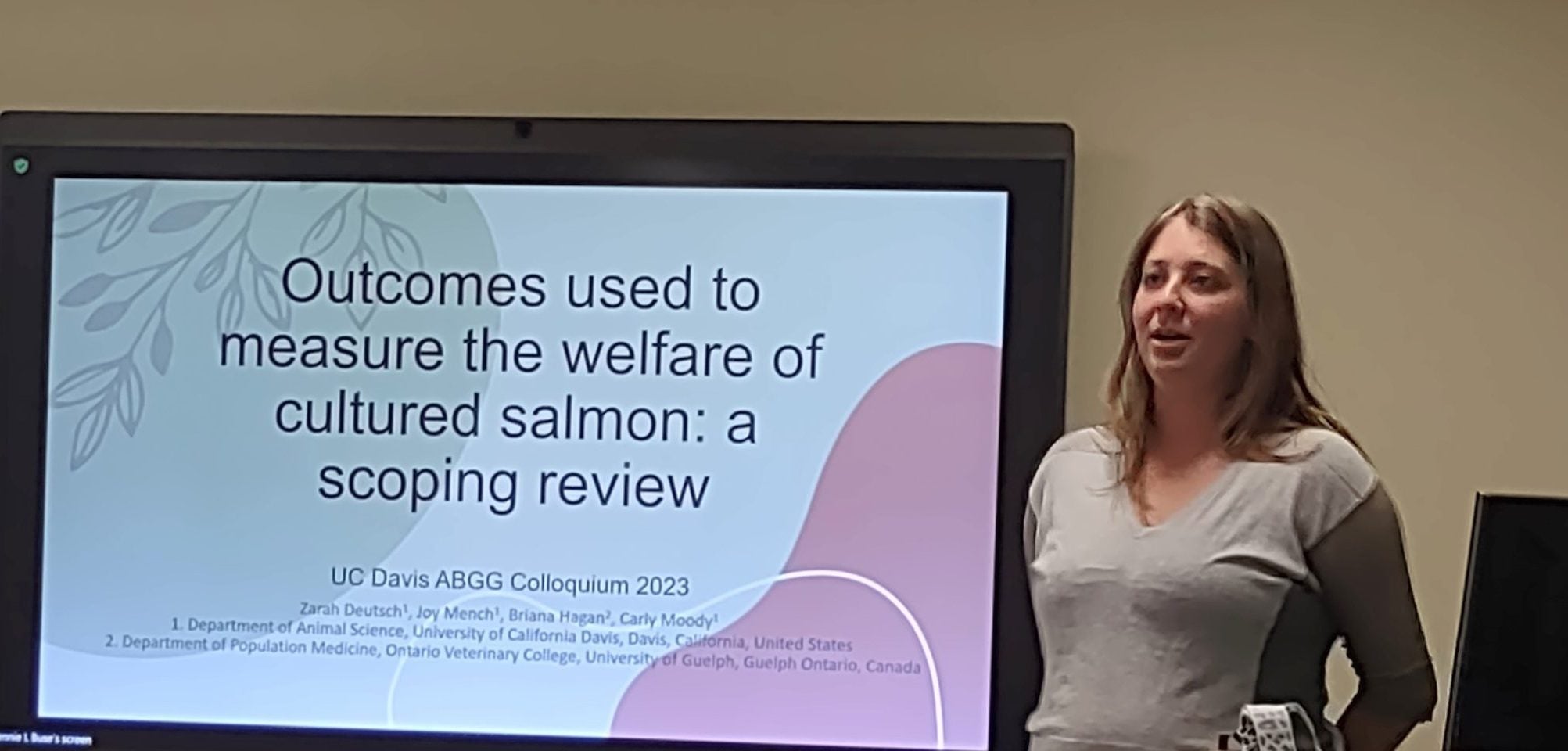 PhD Candidate, Zarah Deutsch
Oct. 24th, 2023
A huge congratulations to Dr. Zarah Deutsch who is now a PhD Candidate! Zarah passed her qualifying examination and is now getting ready to run preference test study with salmon at the UC Davis Center for Aquatic Biology and Aquaculture. Congratulations Zarah!!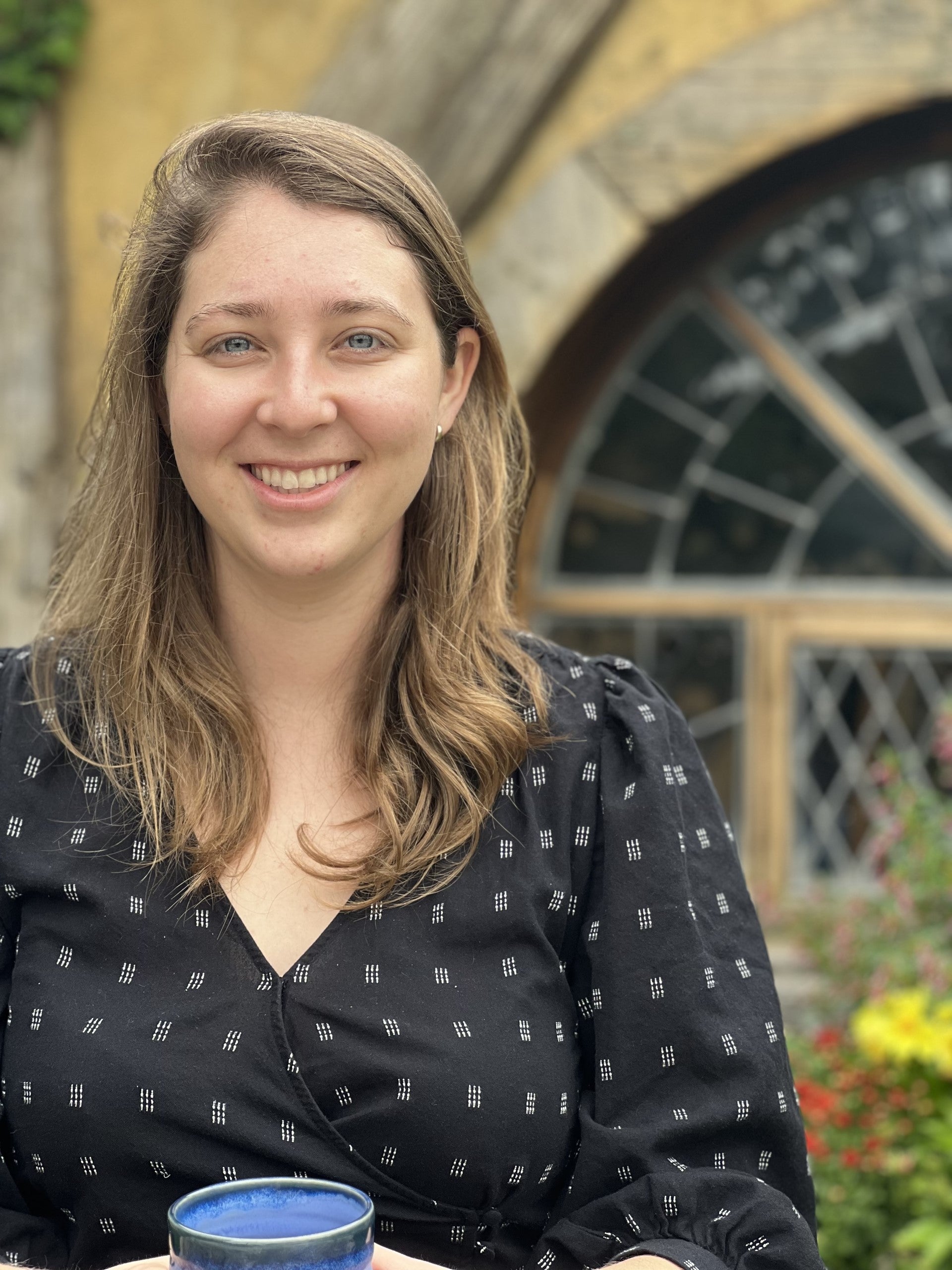 Oct 1, 2023
Publication alert! Our work examining cat responses during a video telemedicine versus in-person visit for mock spay re-checks has been published in Applied Animal Behaviour Science!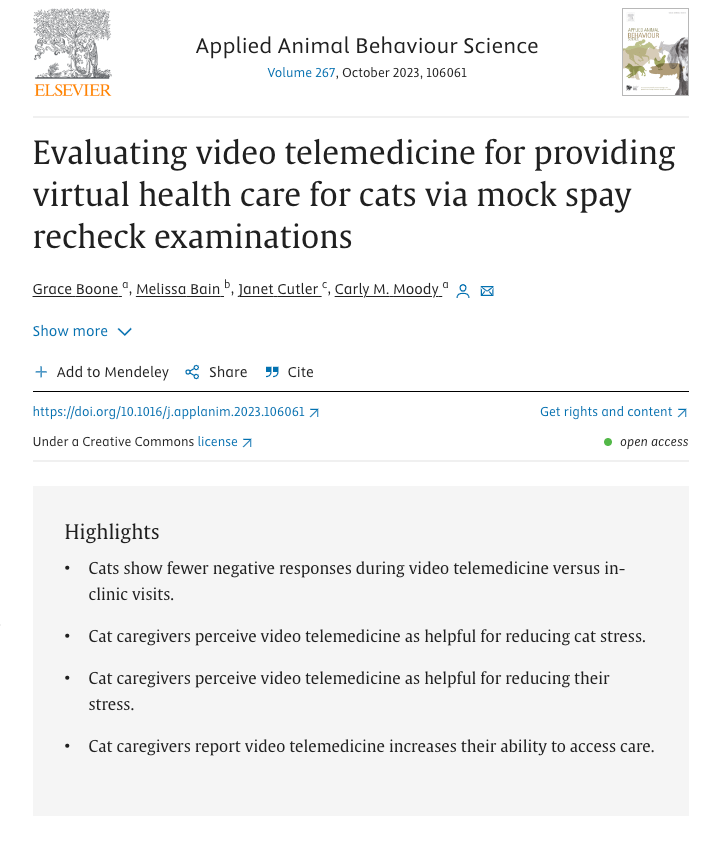 Overall, this research shows that video telemedicine results in fewer negative behavioral and physiological responses compared to in-clinic appointments. This research also surveyed participant cat owners, and we found that the majority perceived video telemedicine as helpful for reducing stress for themselves, their cat, and improves their ability to access cat care. A huge thank you to our collaborators, Dr. Melissa Bain and Dr. Janet Cutler! As well, a thank you to the ASPCA and Maddie's Fund for funding this research. Read the full study here: https://www.sciencedirect.com/science/article/pii/S0168159123002332
Sept 27, 2023
Grace and I attended the World Small Animal Veterinary Association (WSAVA) Congress in Lisbon, Portugal! Such a fantastic conference! We presented our cat video telemedicine work and had the opportunity to meet members of the WSAVA Telemedicine Committee, veterinary behaviorists around the world, members of icatcare, and learn about emerging animal health research which will be added to my undergraduate course content. A very successful and informative conference!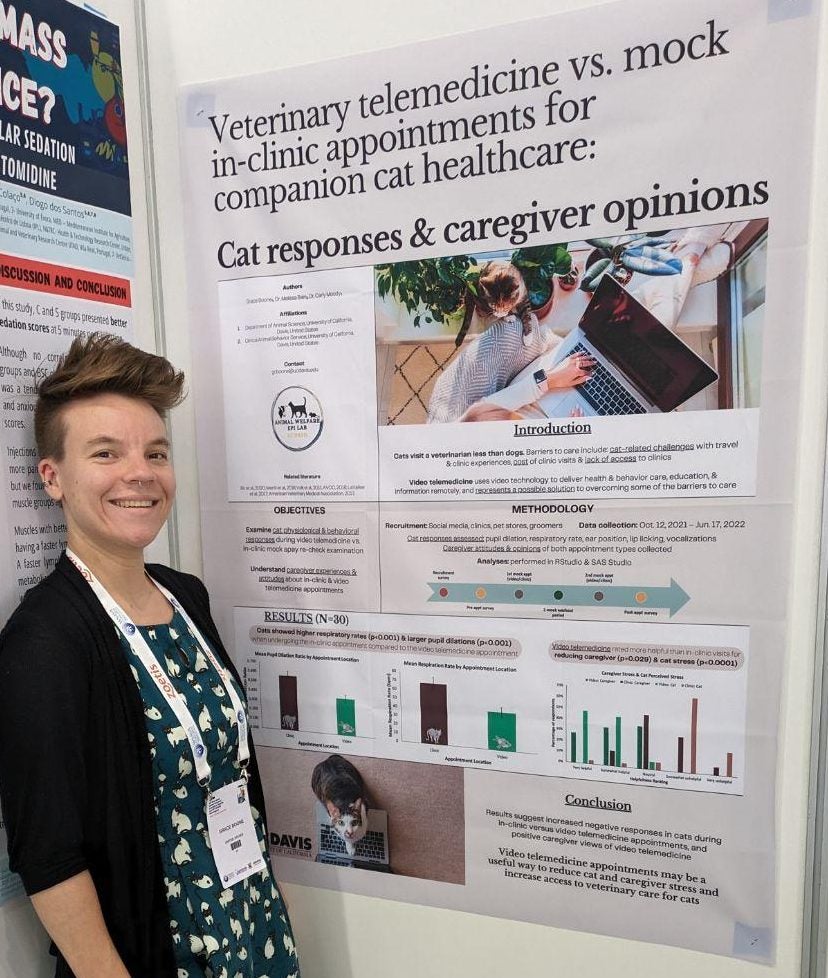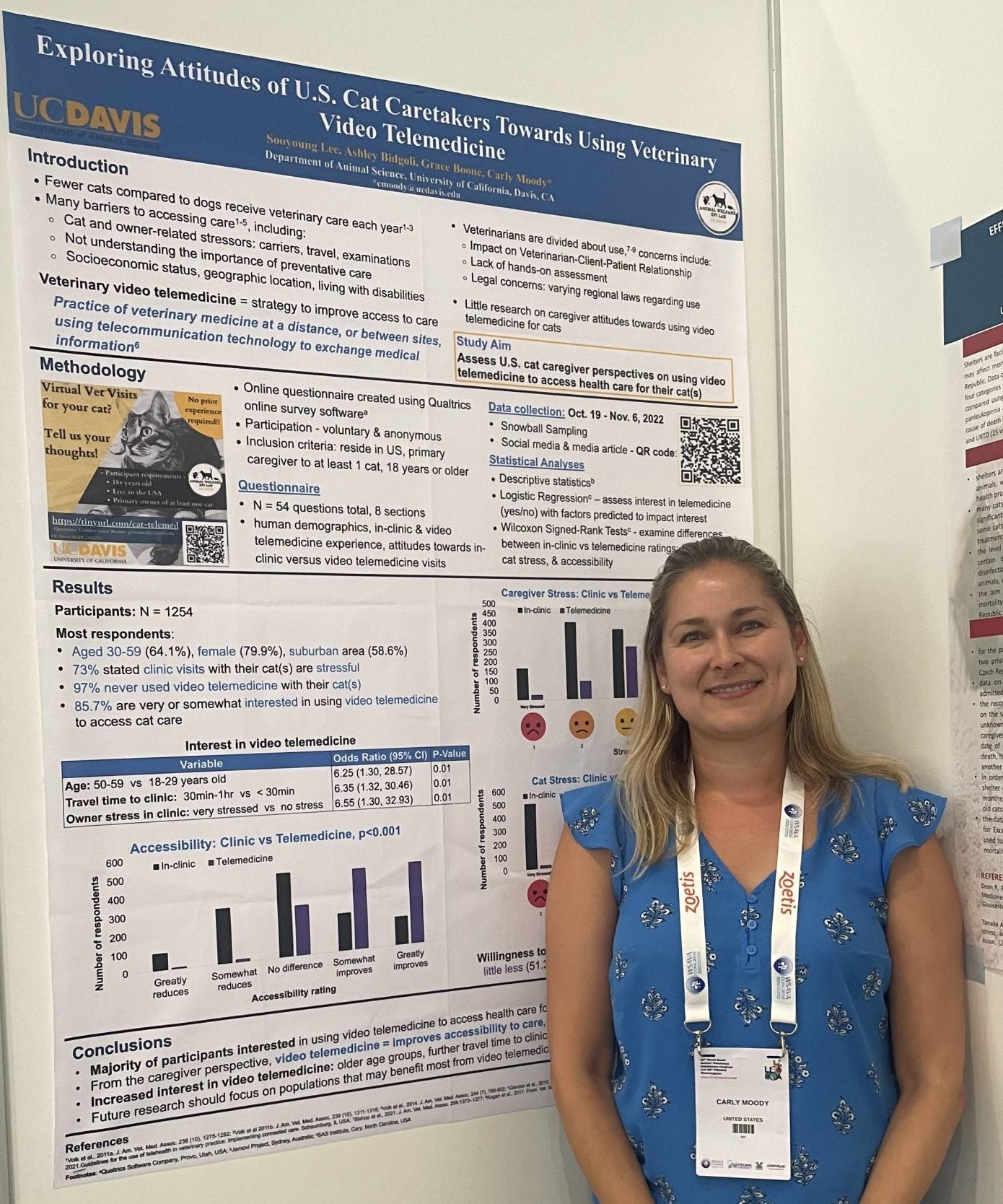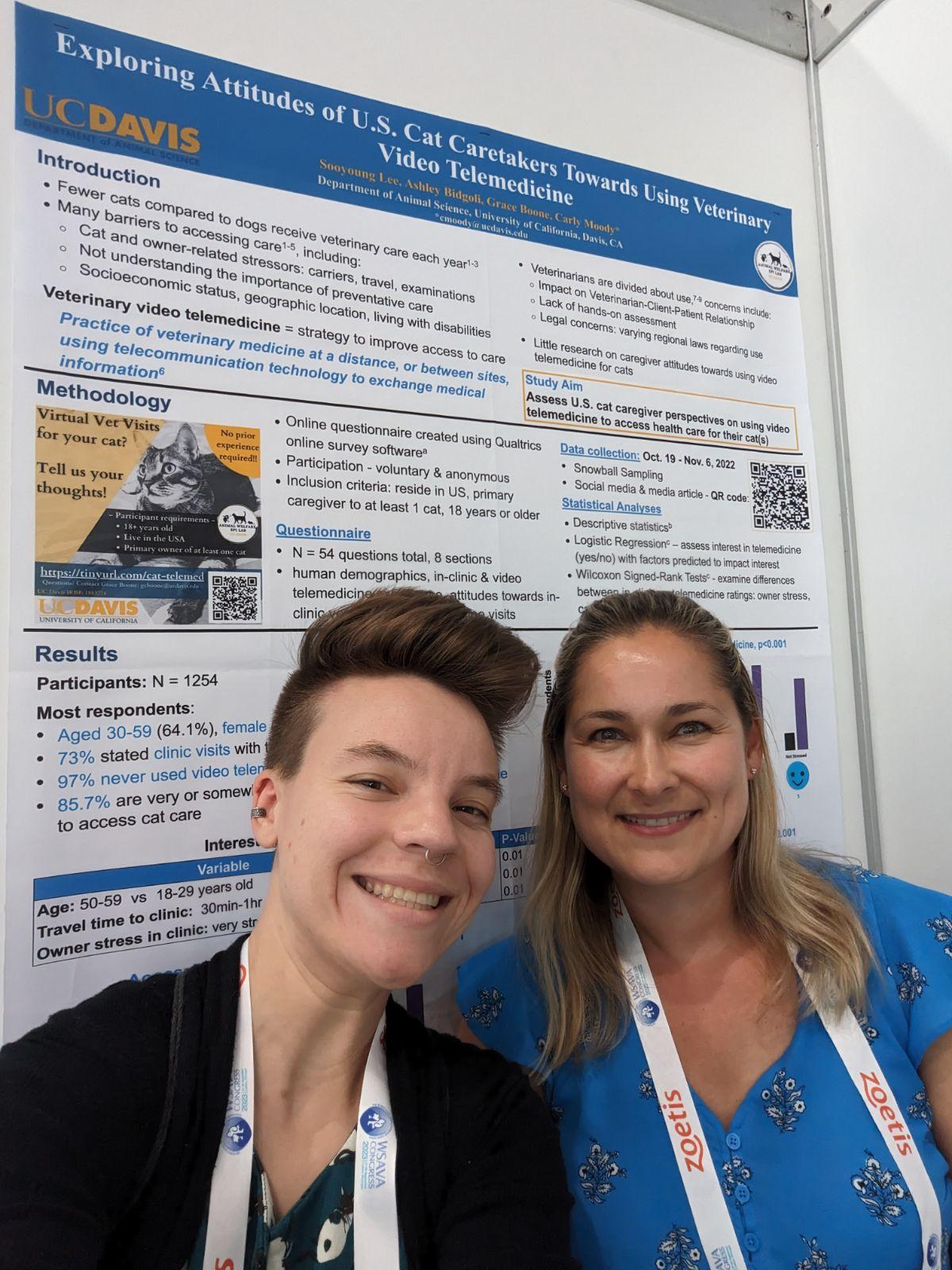 September 6, 2023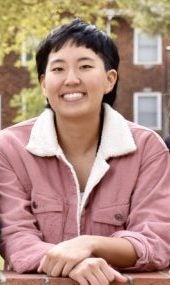 A huge congratulations to lab member, Hee Jin Chung (PhD Candidate, Animal Behavior Graduate Group) for receiving the UC Davis DEIJ Fellowship for the coming academic year!
This fellowship program is hosted by the College of Biological Sciences Dean's Office and provides support to graduate student leaders, like Hee Jin, who are actively promoting Diversity, Equity, Inclusion, and Justice. This fellowship program was created to 'support the longevity and impact of DEIJ initiatives and the graduate students that lead them.' Learn more here: https://biology.ucdavis.edu/about/dei/opportunities/dei-fellowship
Congratulations Hee Jin! We are so proud of you!
August 24, 2023
We are excited to announce that we have received an Open Philanthropy grant! This funding will be used to support Dr. Zarah Deutsch's PhD research. This work aims to examine a novel testing apparatus for assessing rainbow trout preference for substrate-like patterns on the bottom of tanks which mimic more naturalistic substrate, compared to standard solid tank bottoms. This research is being conducting in collaboration with the brilliant Dr. Joy Mench, Professor Emeritus at UC Davis. We can't wait to get started!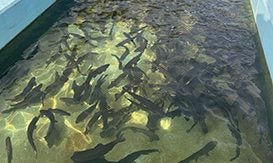 July 20th, 2023
Our research has been featured in Gizmodo! We are currently recruiting US and Canadian cat caregivers to participate in a study assessing how telehealth impacts home care and management of cats living with chronic mobility issues and arthritis. This study is being run by Grace Boone with collaborator Dr. Daniel Pang from the University of Calgary Faculty of Veterinary Medicine, and has been funded by the ASPCA.  Read more here:
https://gizmodo.com/scientists-seek-input-cats-chronic-mobility-issues-1850637599
Sign up for the study here: https://tinyurl.com/catmobility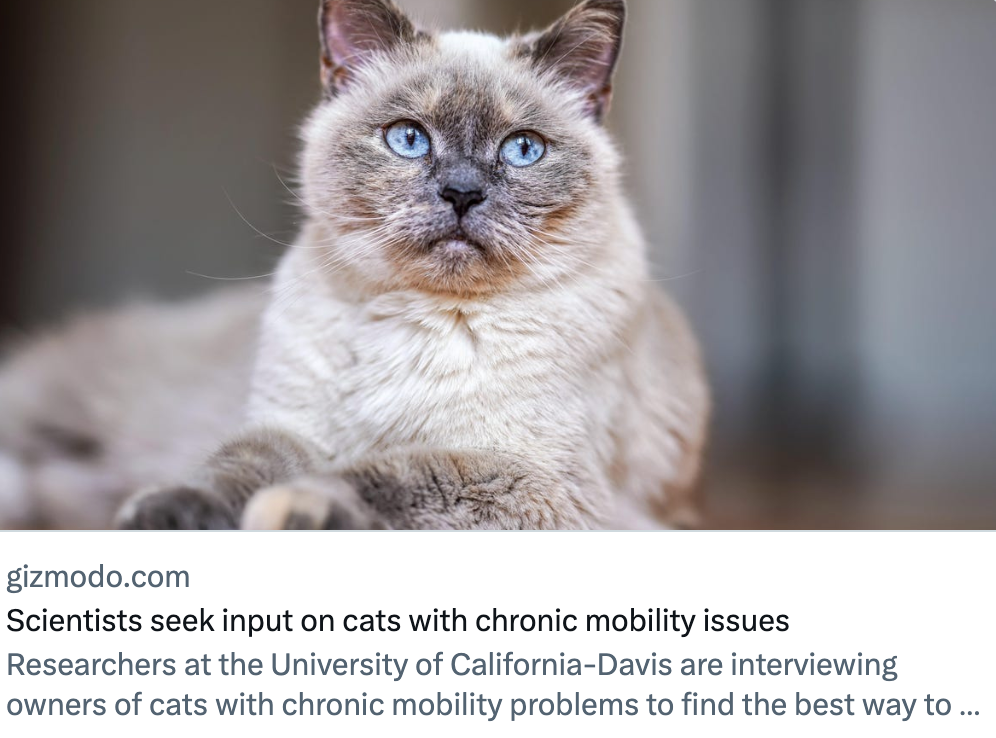 We are also recruiting cat caretakers who live within 1-hour of Davis, California, for a study examining the impact of owner presence of cat responses during a veterinary examination. This study is being run by MS student, Lauren Hare. Please see our 'Participant Recruitment' page for more details: https://moody.faculty.ucdavis.edu/participant-recruitment/
July 15th, 2023
Grace Boone attended the AVMA Annual Convention in Denver, Colorado to present her research 'Examining veterinary telemedicine versus in-person appointments for companion cat health and behavior care'. Great job, Grace!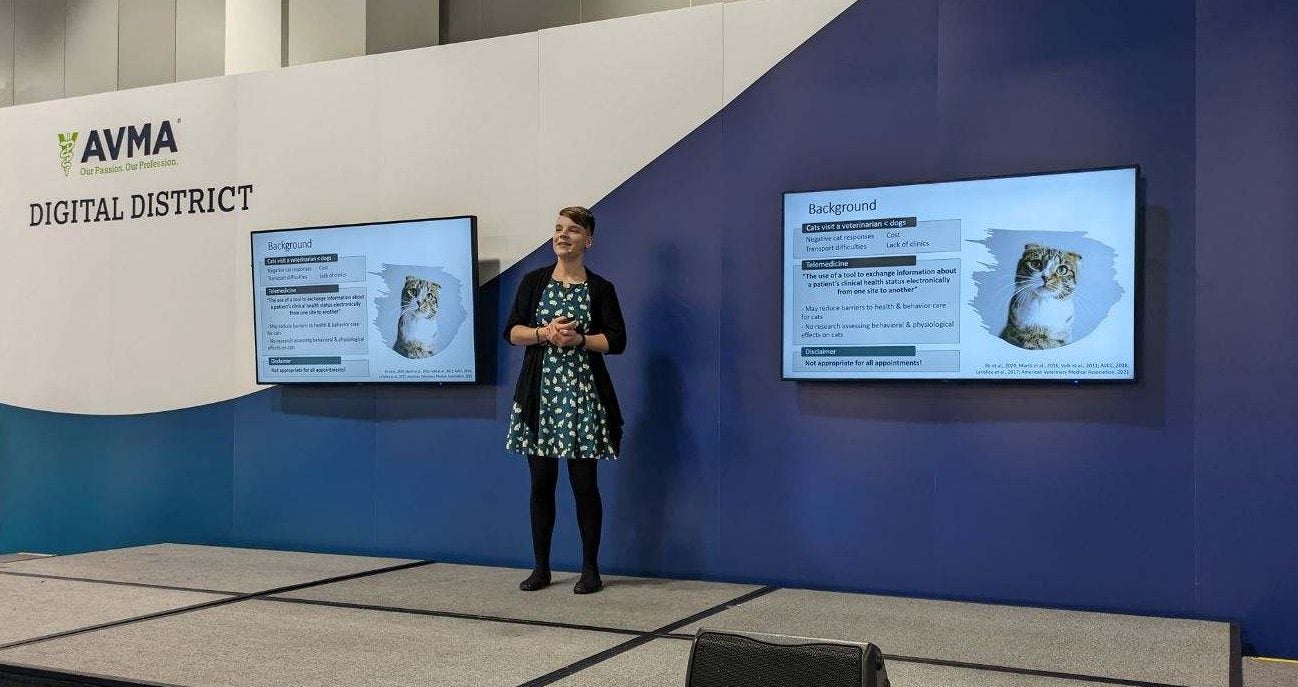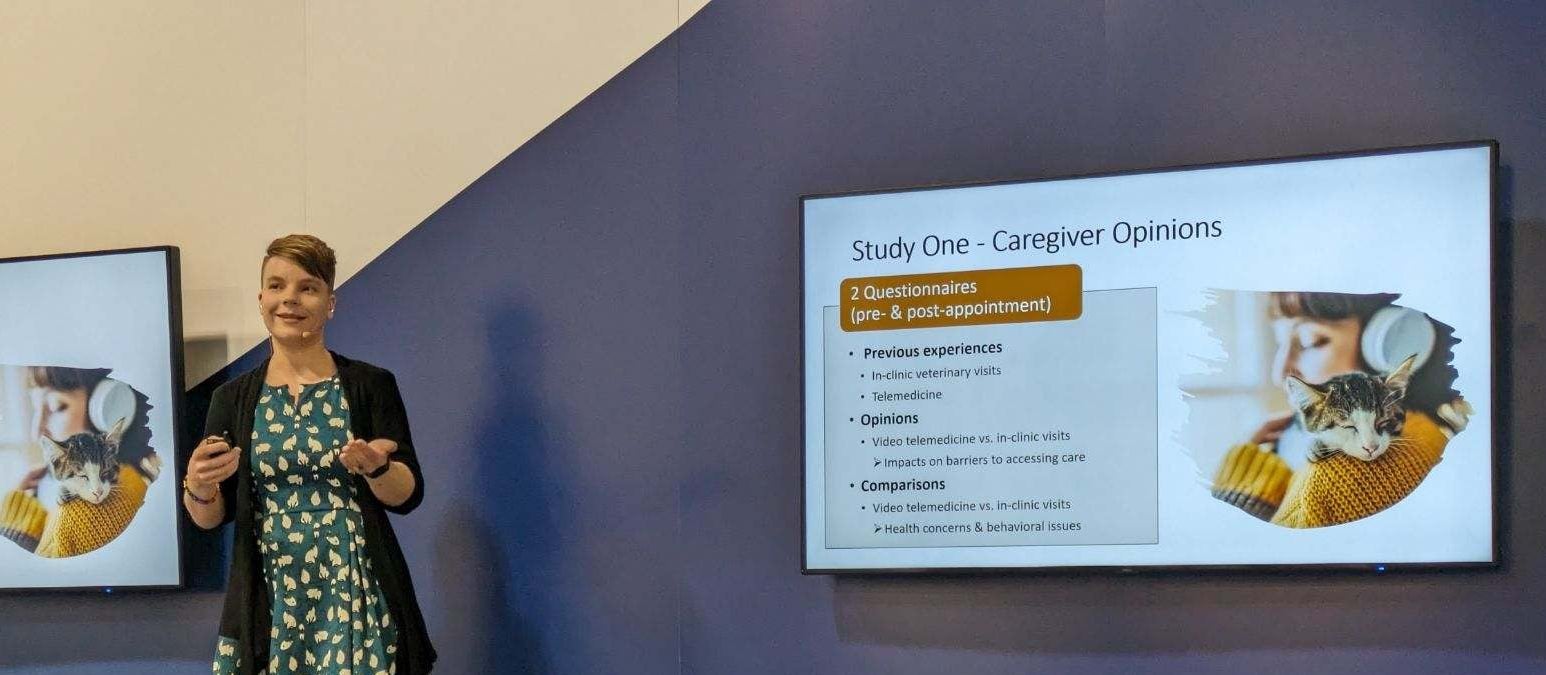 July 1st, 2023
We have an adorable addition to the lab! Phd student, Jen Link, adopted a new kitten named Pistachio! Jen is running a study with local shelters and met this cutie during her pilot study. Pistachio has become the purrfect addition to lab meetings 🙂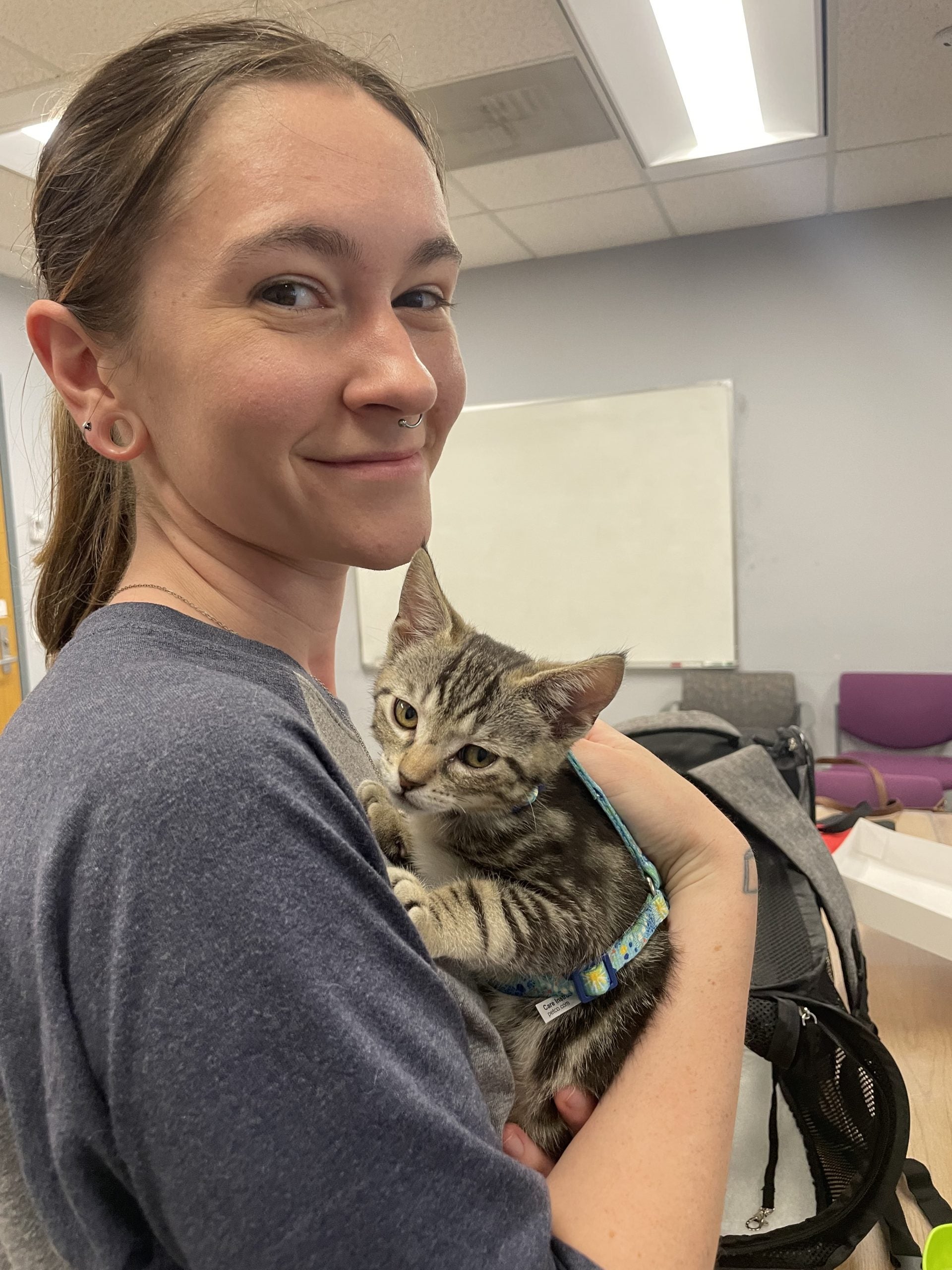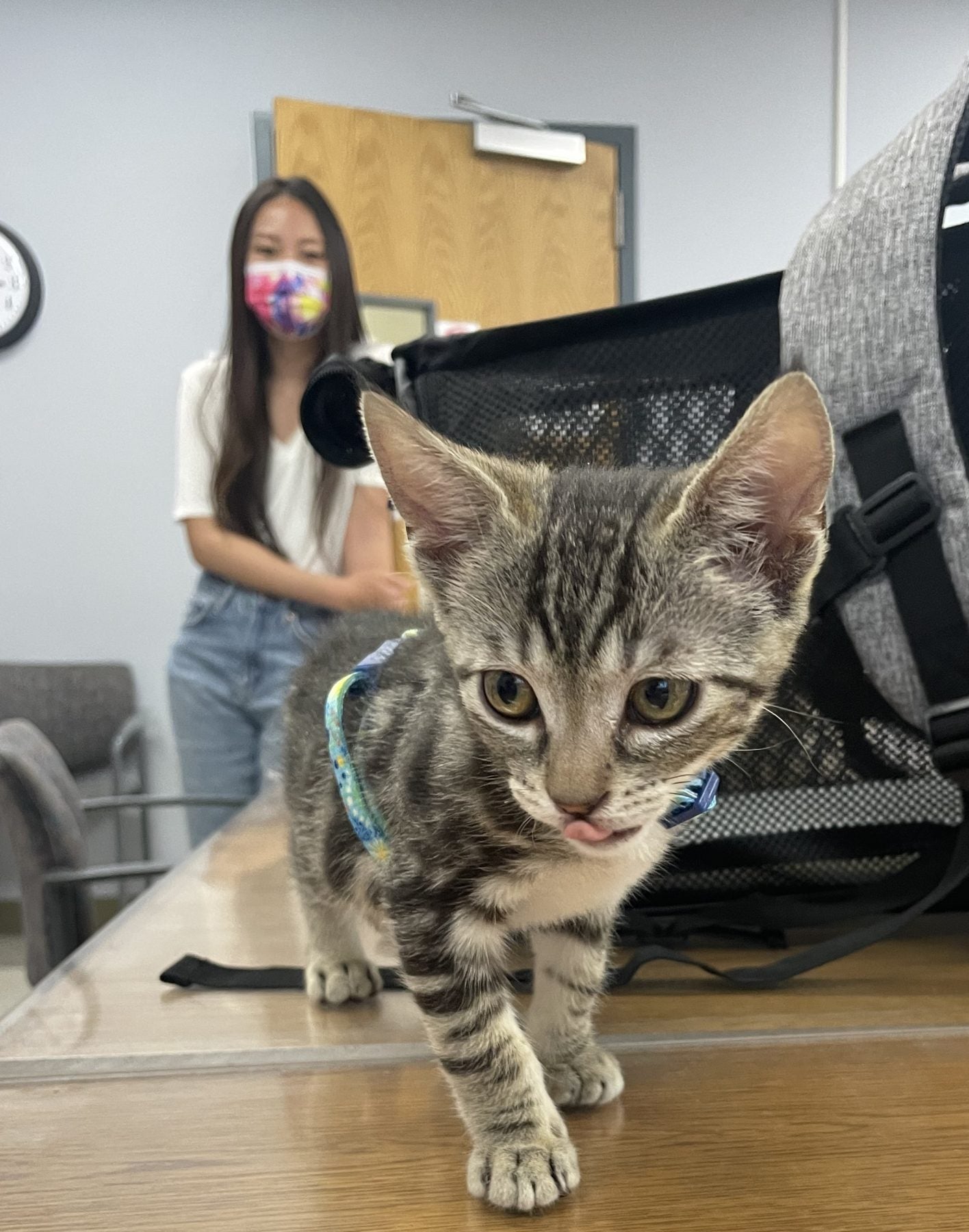 Jen & Pistachio                           Jordan becoming a cat person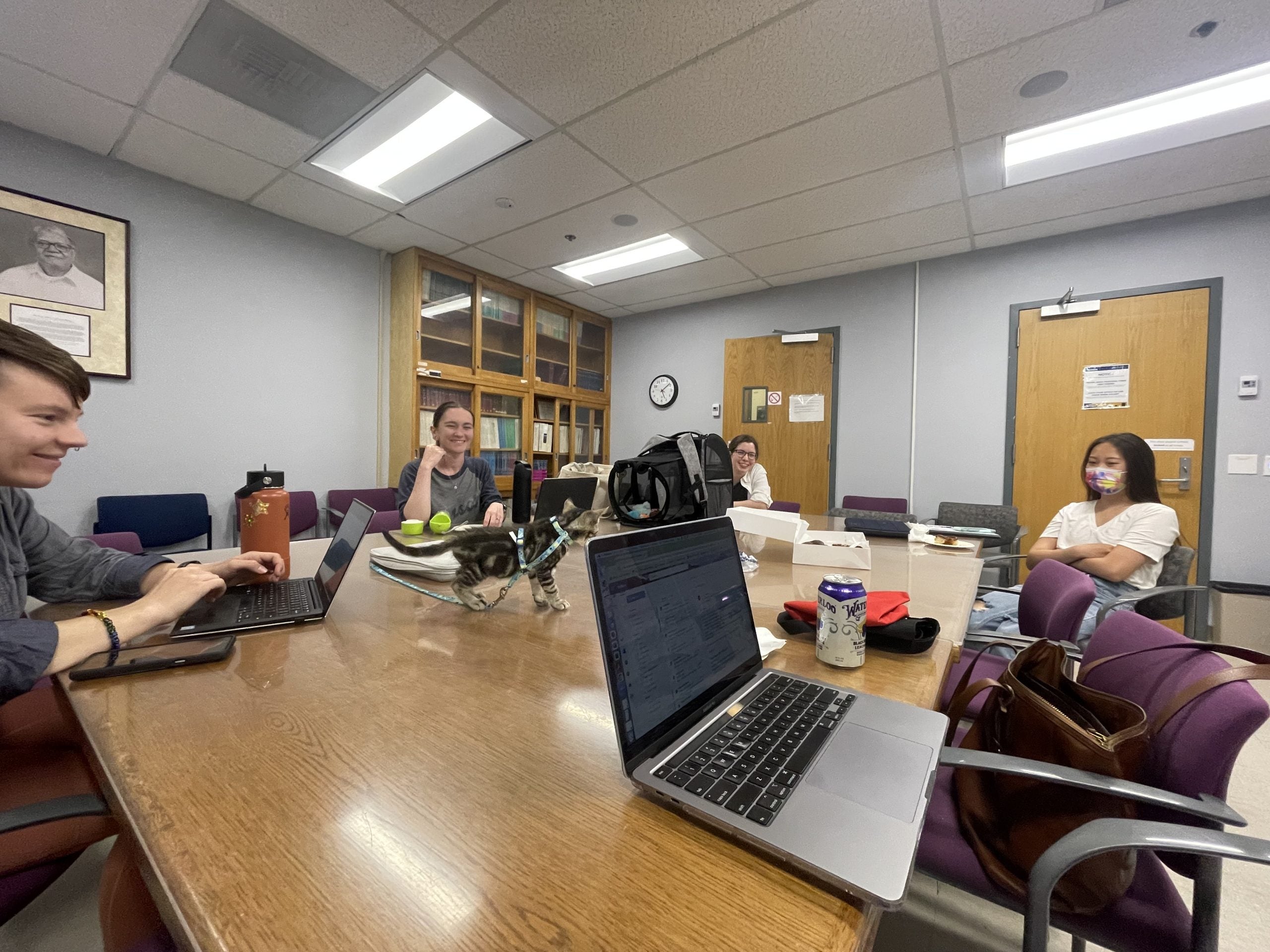 L to R: Grace, Jen, Lauren, Jordan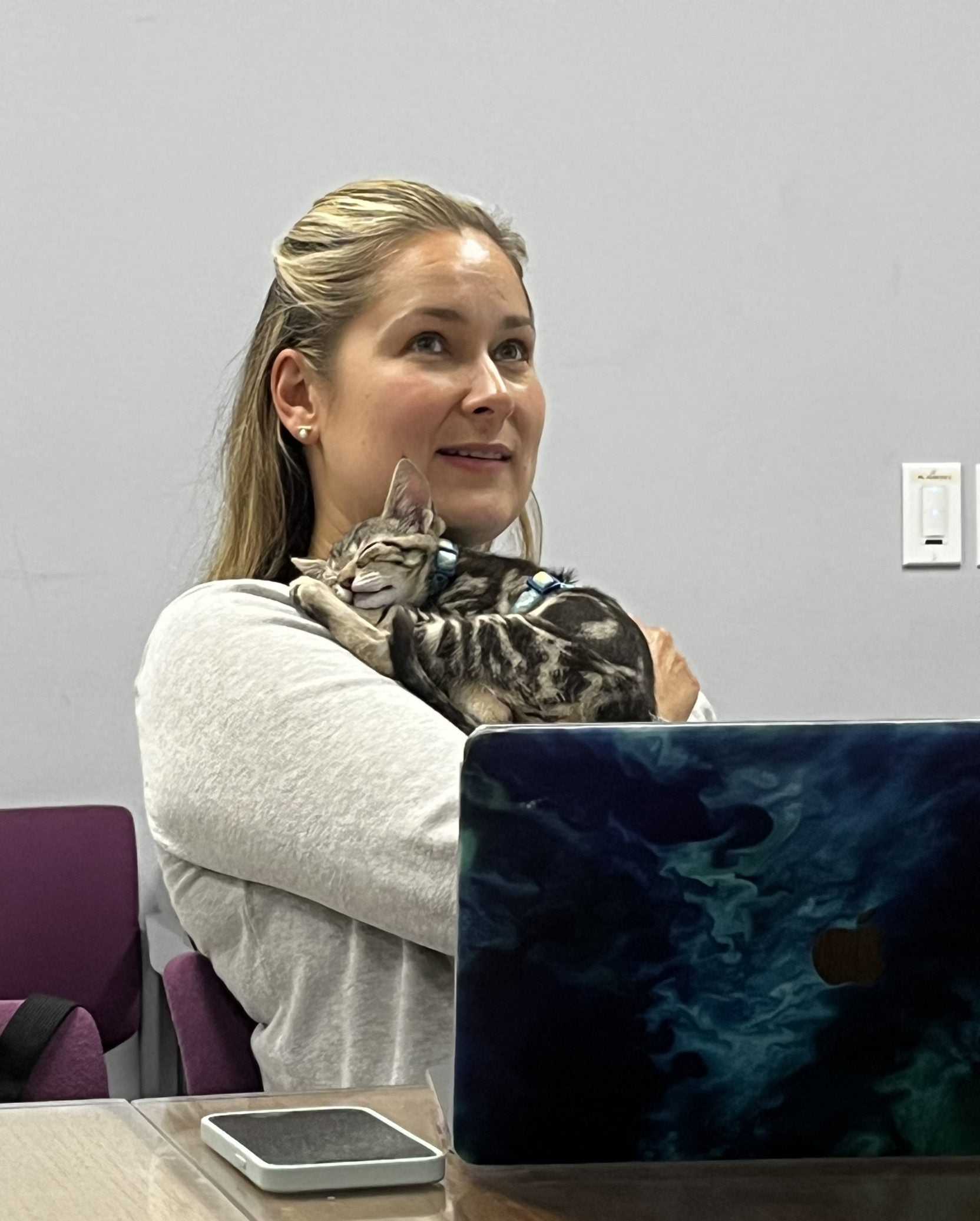 Carly & Pistachio
June 3, 2023
The 2nd annual Center for Animal Welfare (CAW) Symposium was a huge success! A special thank you to everyone in the lab who attended and presented. The symposium was opened with a fascinating keynote address by Dr. Victoria Cussen of the ASPCA, followed by oral and poster presentations by UC Davis undergraduate and graduate students, staff, and faculty throughout the day. The CAW symposium brought together researchers across campus and presented many networking opportunities.
A special thank you to Dr. Maja Makagon who spearheaded the organizing committee, and Dr. Joy Mench, a fellow organizer. Thank you to the Center for Animal Animal Welfare for funding the event, and Drs. Cassandra Tucker and Richard Blatchford for their help with running the event.
Here are a few presenters from our lab: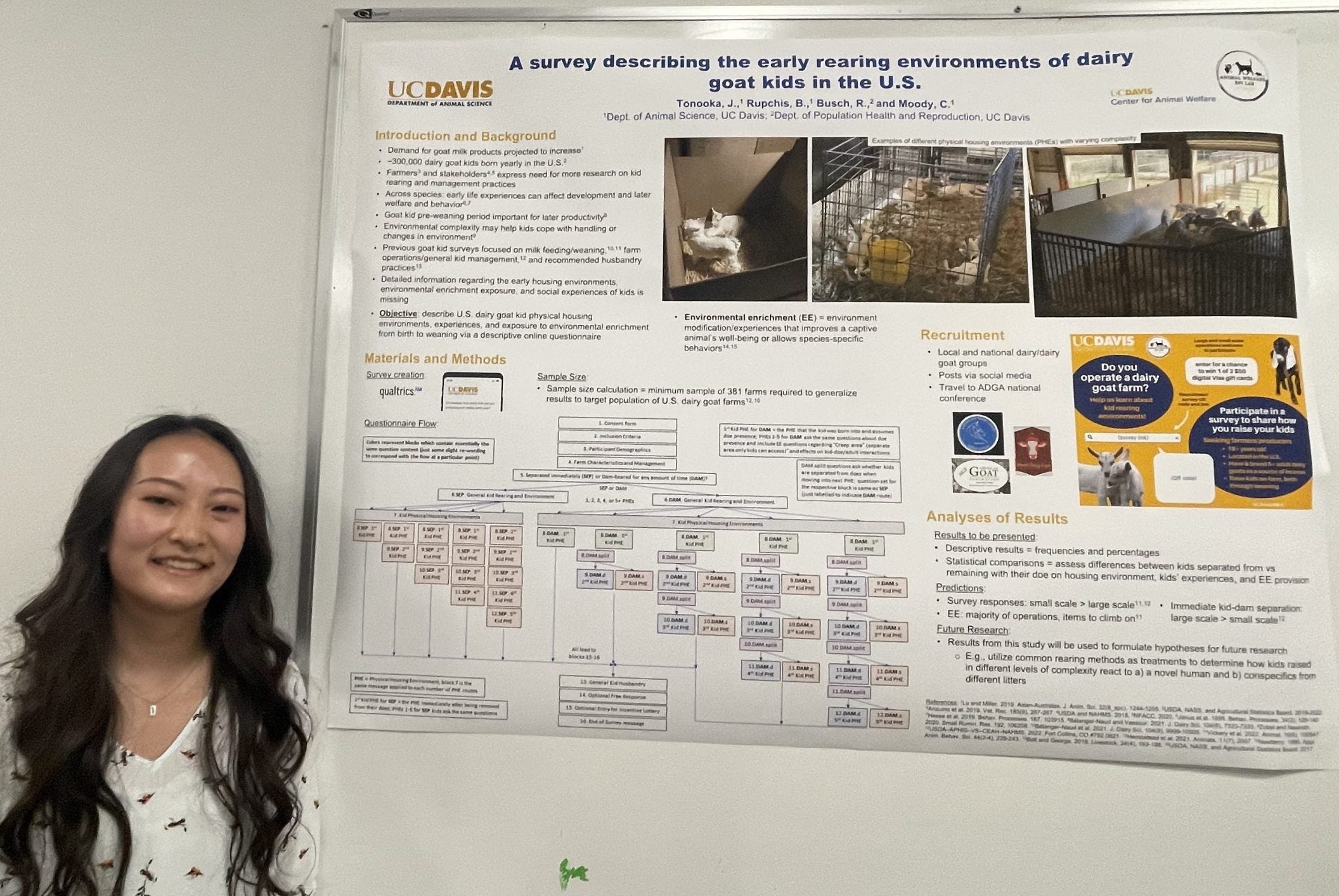 Jordan Tonooka, PhD Student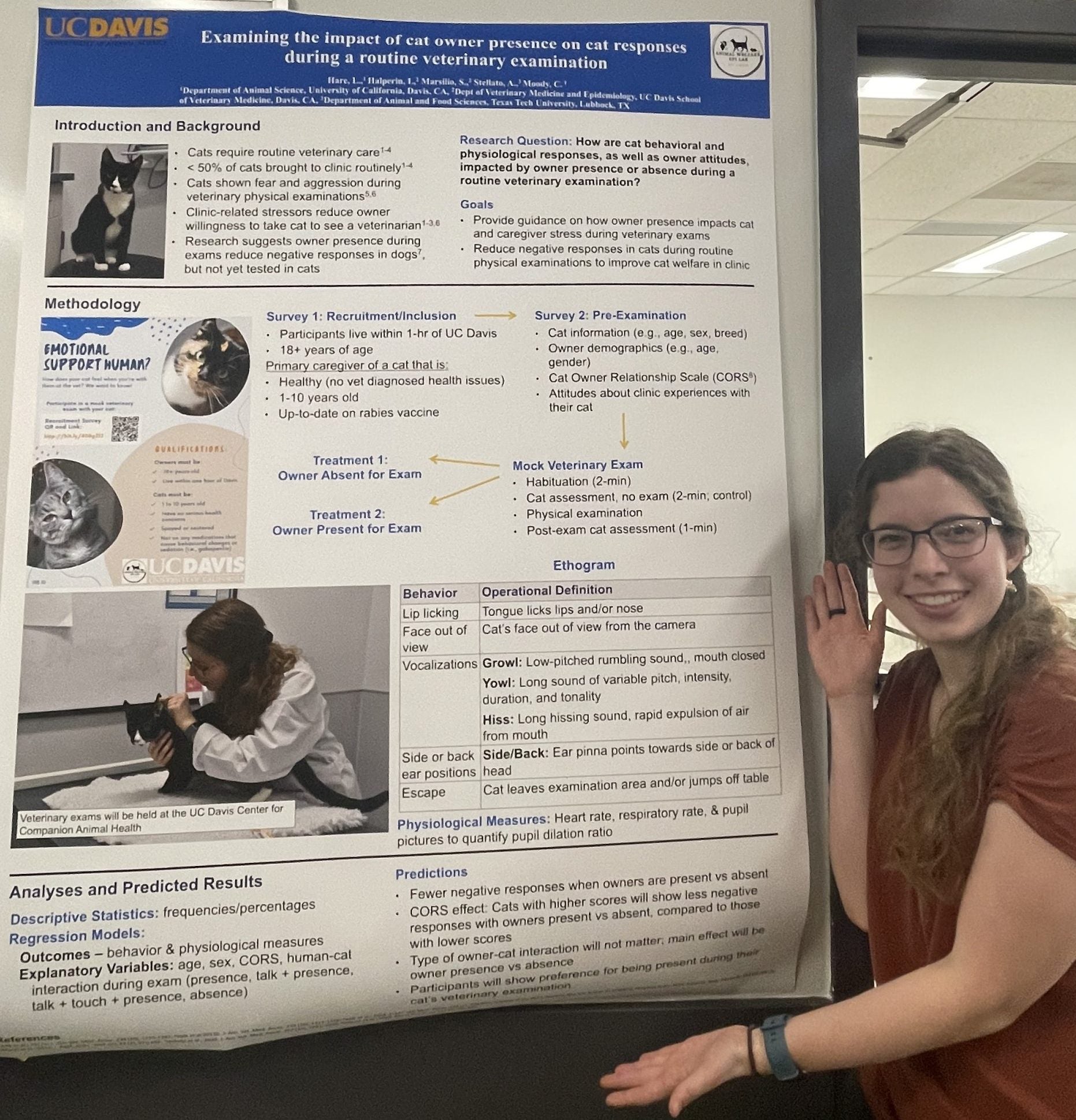 Lauren Hare, MSc Student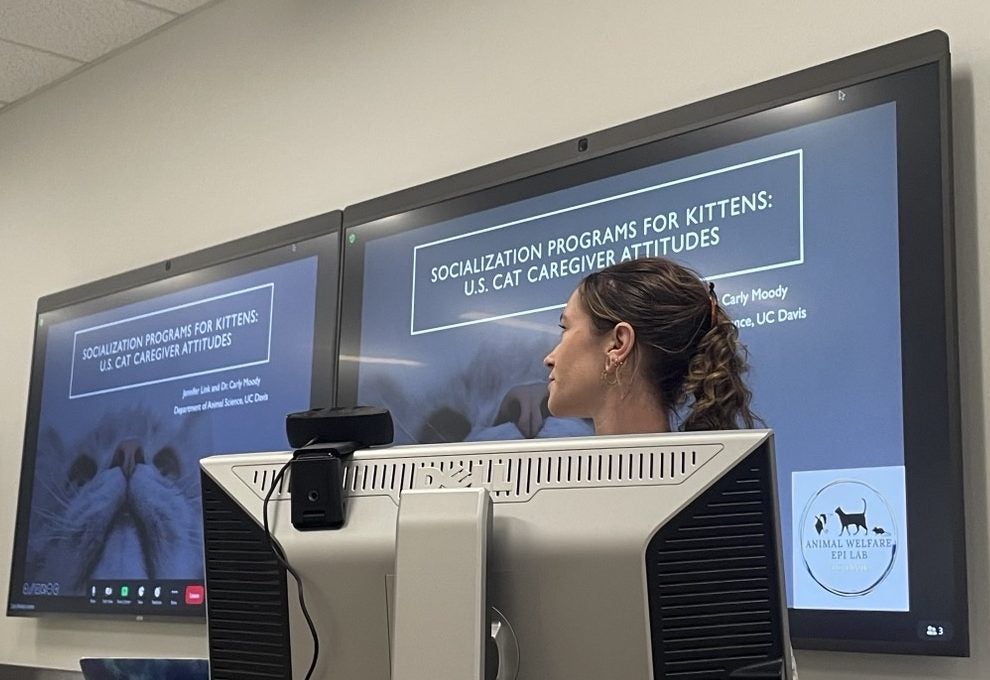 Jen Link, PhD Student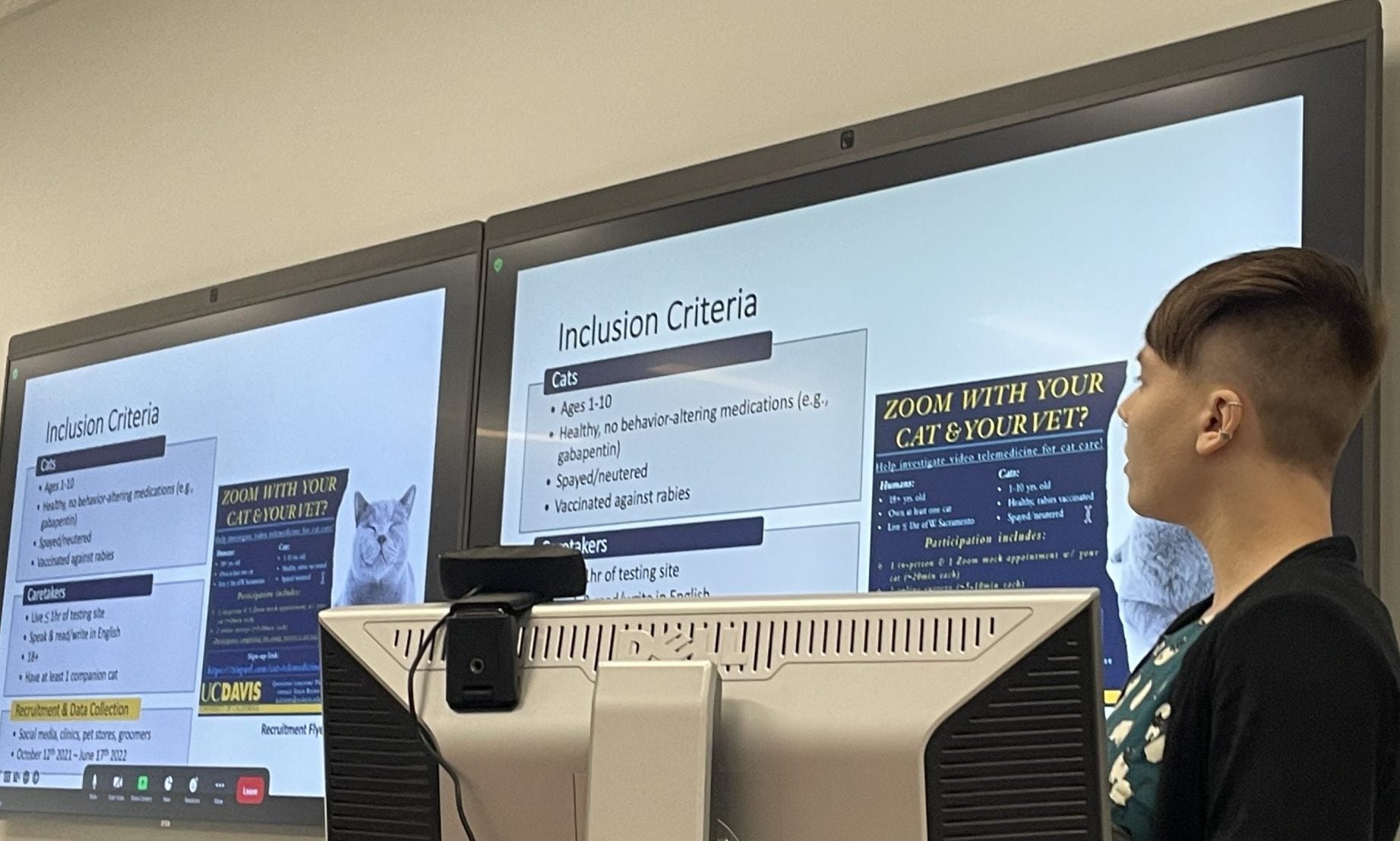 Grace Boone, Assistant Specialist
June 1, 2023
Congratulations to Sooyoung Lee and Emily Quan!! They are senior undergraduate honors project (UHP) students who are graduating this month. Sooyoung and Emily are fantastic students who both won a Departmental Citation Award for their outstanding academic achievements in Animal Science. They also both completed their UHP thesis projects and were recognized at a formal dinner celebration. Sooyoung conducted her UHP thesis work (along side lab members Grace Boone and Ashley Bidgoli) on a research survey examining cat caretaker perspectives towards the use of veterinary video telemedicine. Emily completed her UHP thesis work on a research survey (alongside lab member Sherry Khoddami) examining UC Davis Undergraduate Students' understanding of positive and negative cat interactions.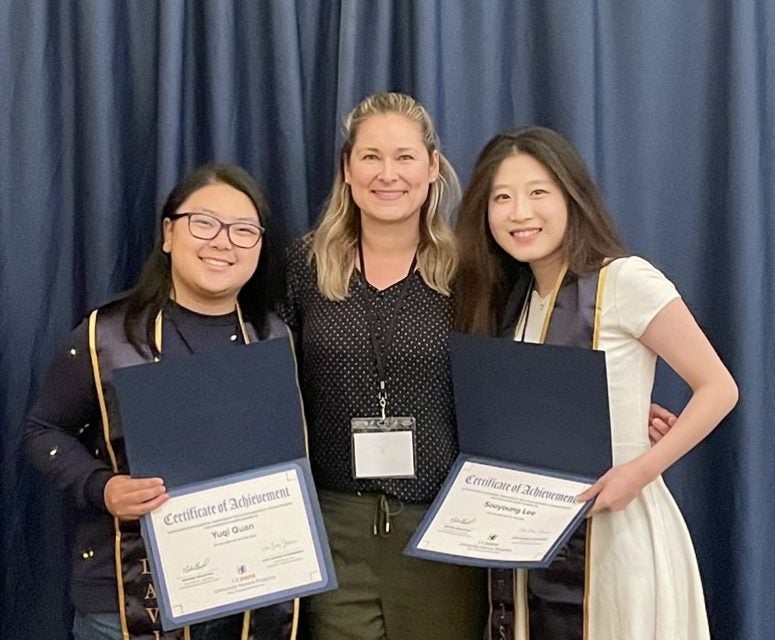 Emily Quan, Carly Moody, Sooyoung Lee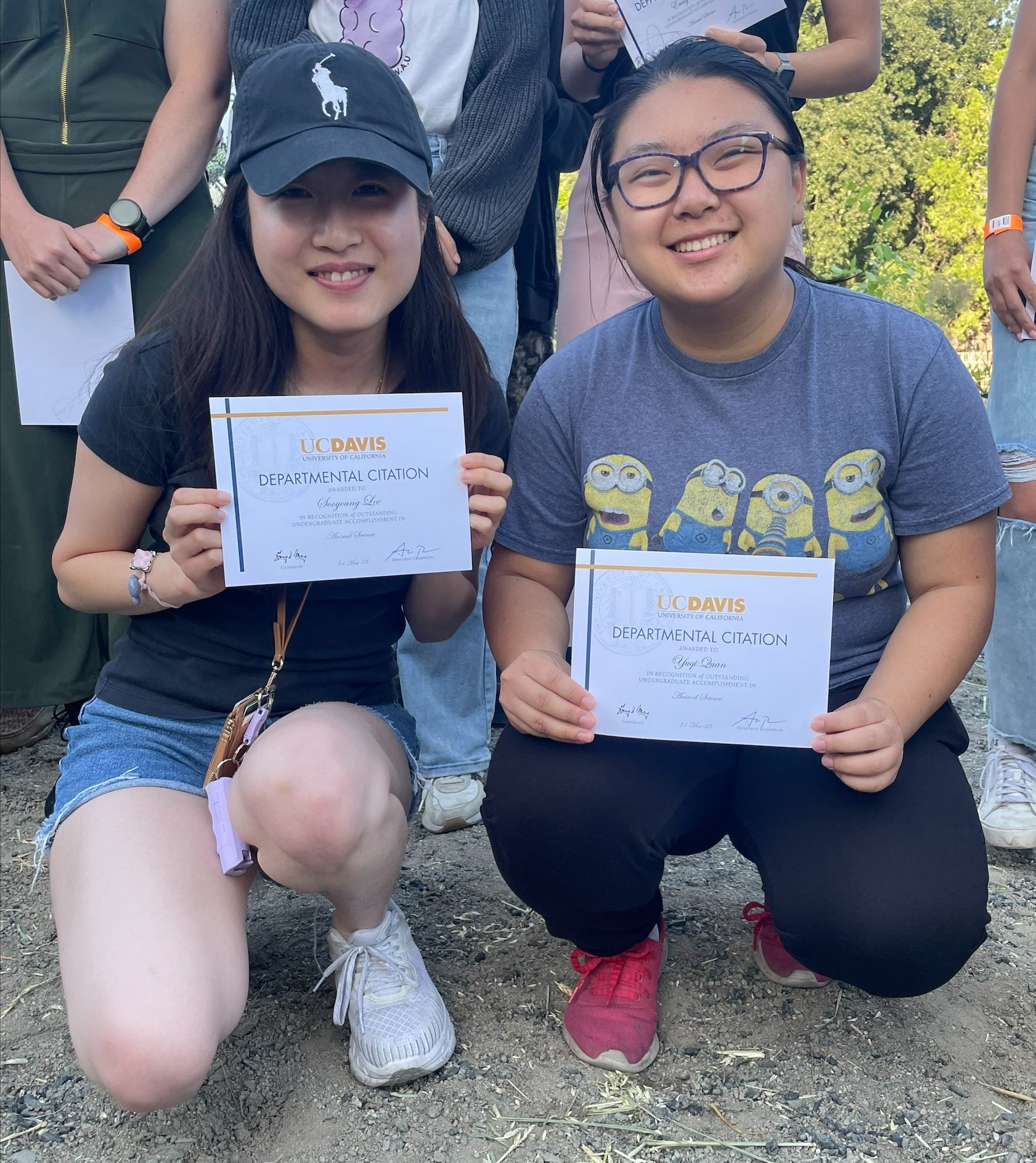 Sooyoung Lee, Emily Quan
April 29th, 2023
A big congratulations to the undergraduate researchers in the lab who presented their research at the annual UC Davis Undergraduate Research Conference!
Sooyoung Lee and Ashley Bidgoli presented their research survey on 'Cat Caretaker Perspectives Towards the use of Veterinary Video Telemedicine' in poster form. They have been working on this survey with Grace Boone, an Assistant Specialist in the lab.
Emily Quan presented her research examining 'UC Davis Undergraduate Students' Understanding of Positive and Negative Cat Interactions'. Sherry Khoddami is a collaborator on this project, as this survey stems from her undergraduate thesis work.
Congrats to all for a successful event!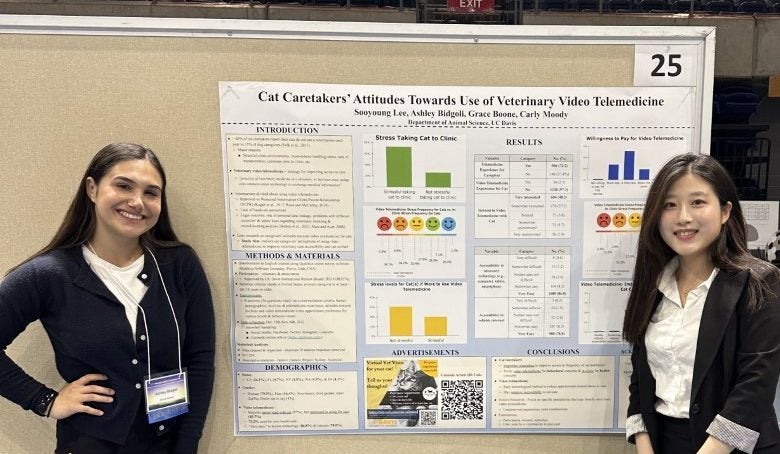 Ashley Bidgoli & Sooyoung Lee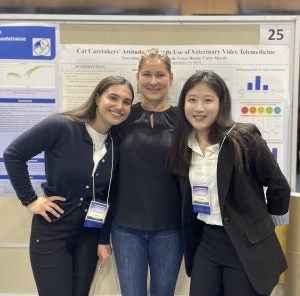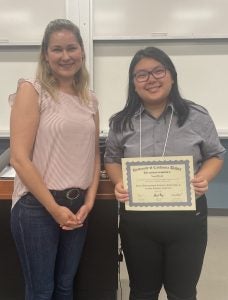 Ashley Bidgoli, Carly Moody, Sooyoung Lee.            Carly Moody & Emily Quan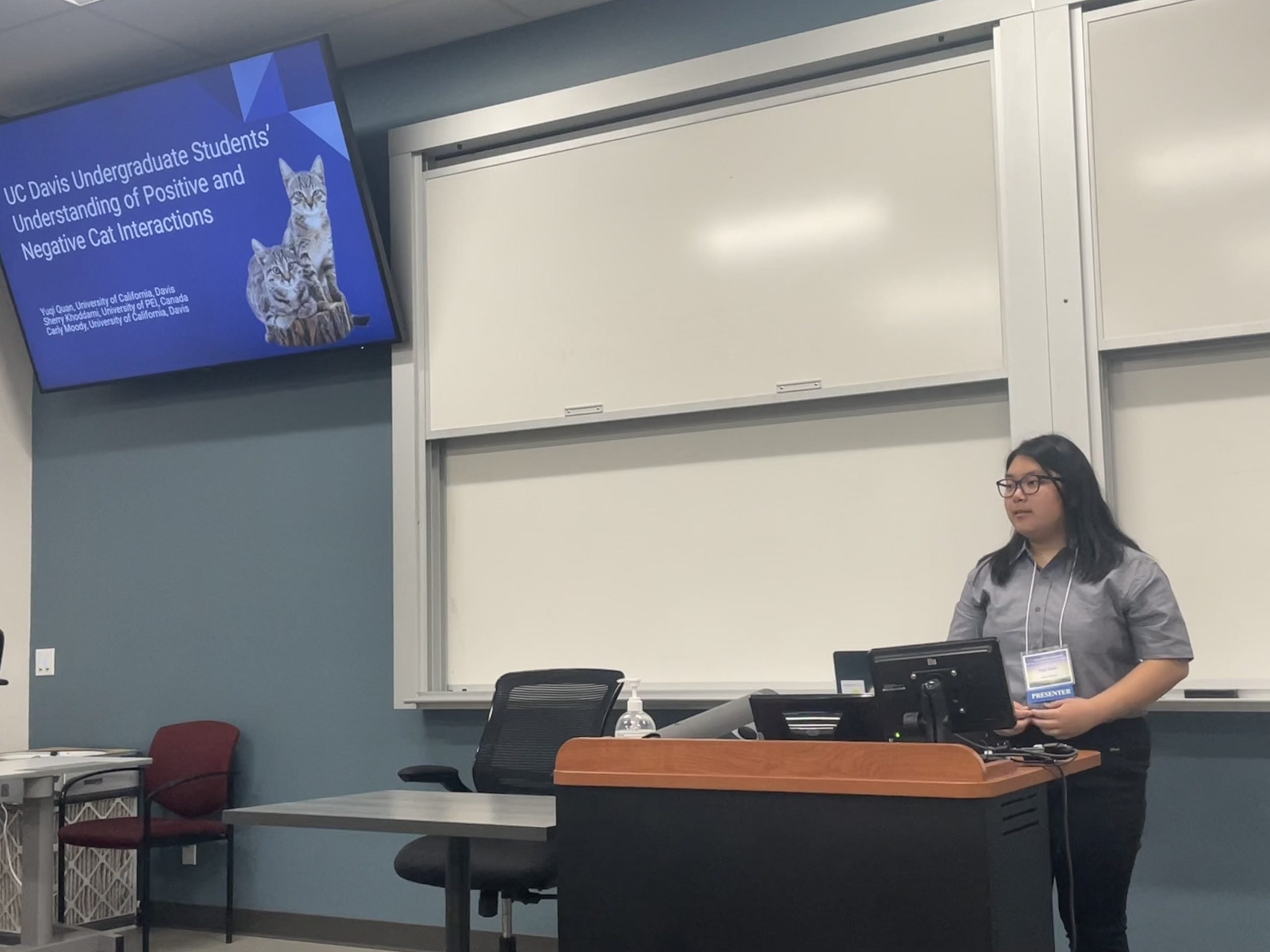 Emily Quan
April 27, 2023
The empty walls of our lab space need some art, so we decided to do a Paint Your Pet event where we painted our pets or research animals! We have some very talented artists in the lab, as you can see from the pictures below. A special thanks to Carrie from CreativelyCarrie (Sacramento) for leading this event!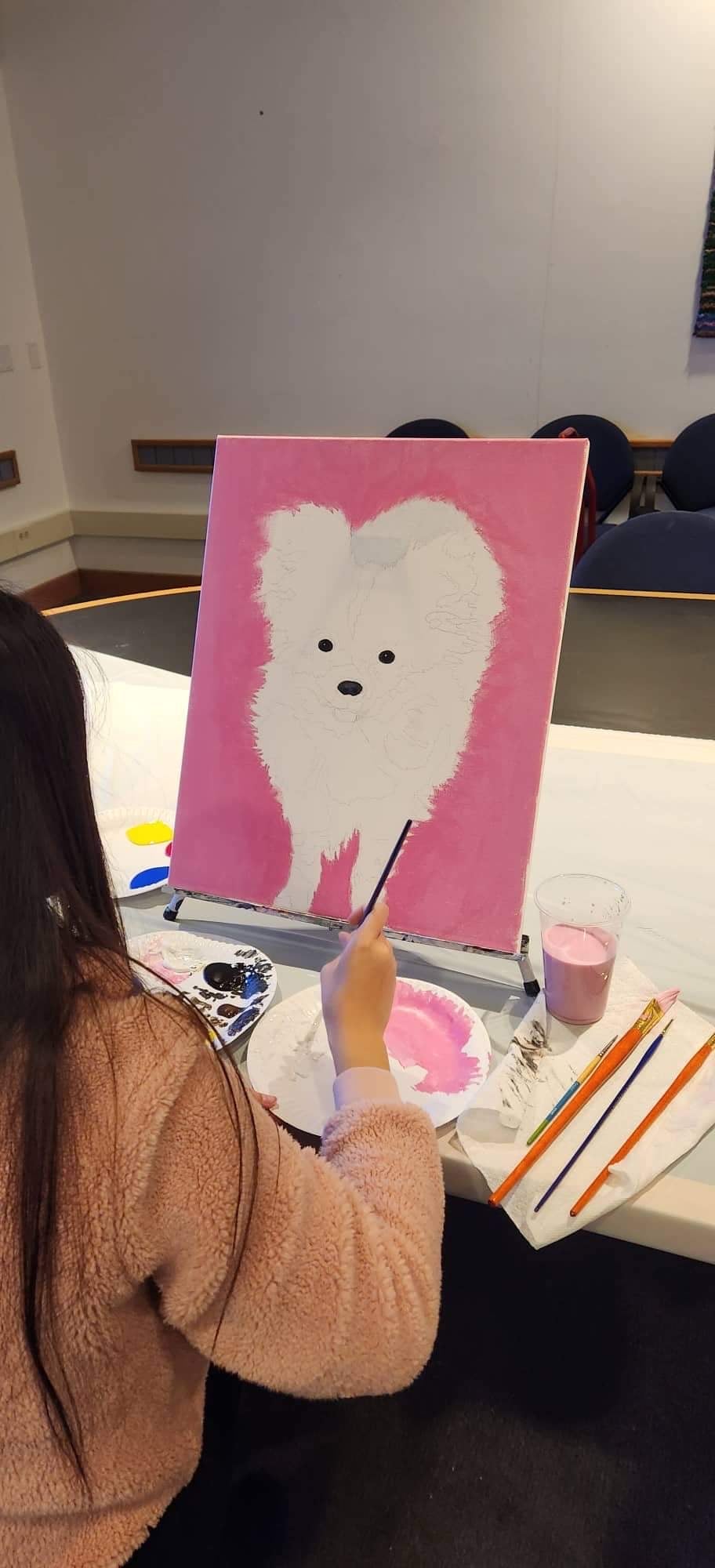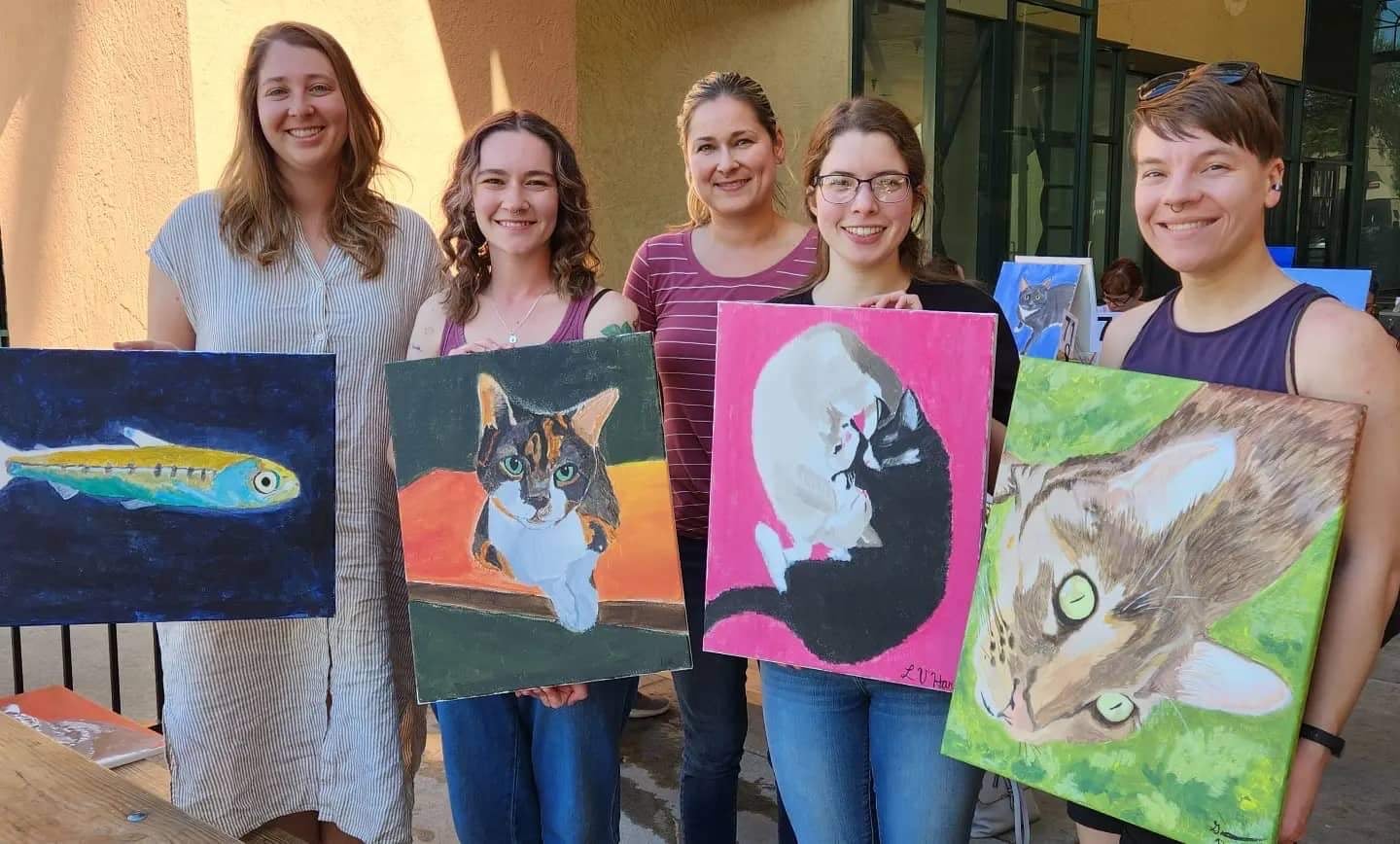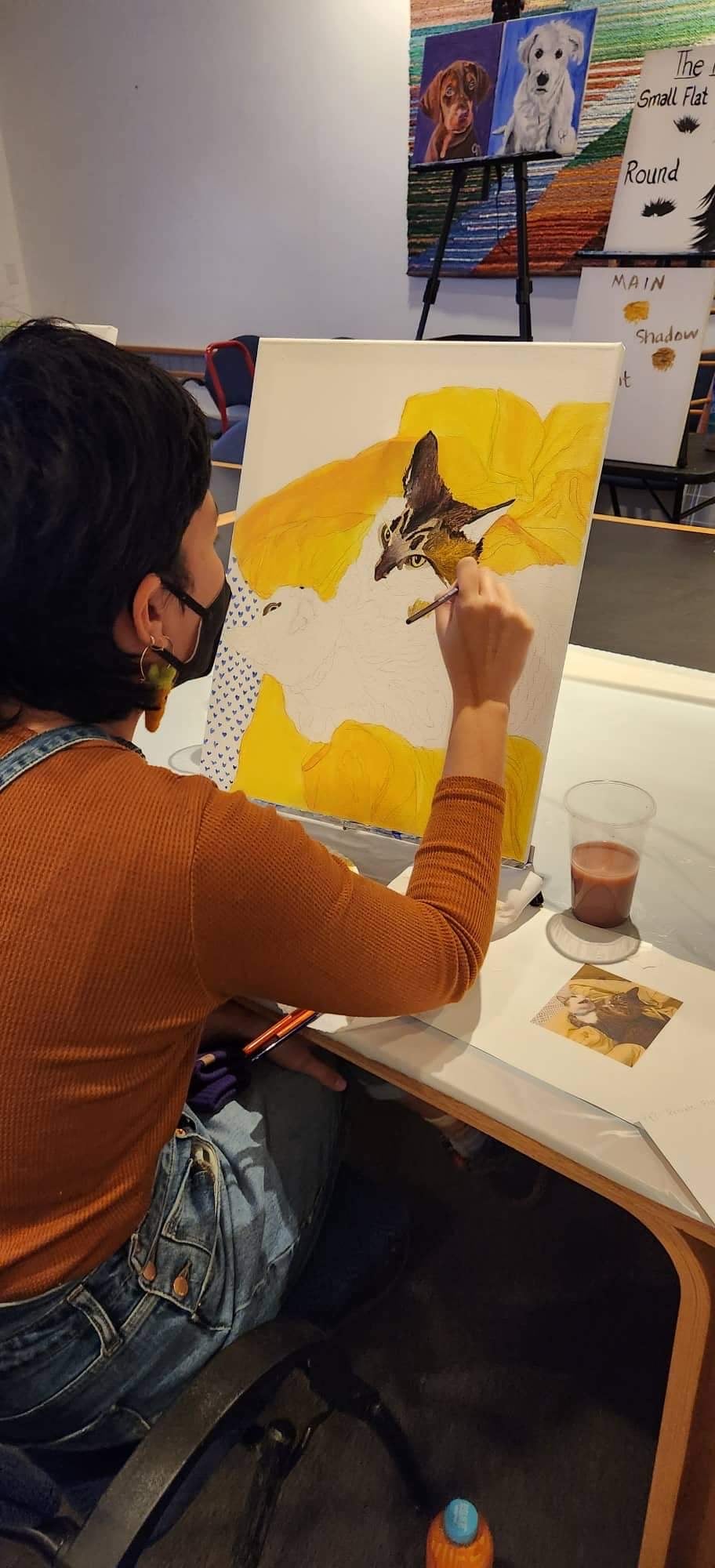 April 7, 2023
We are so excited and proud of the New York Times article that came out today which features Grace's cat video telemedicine research!!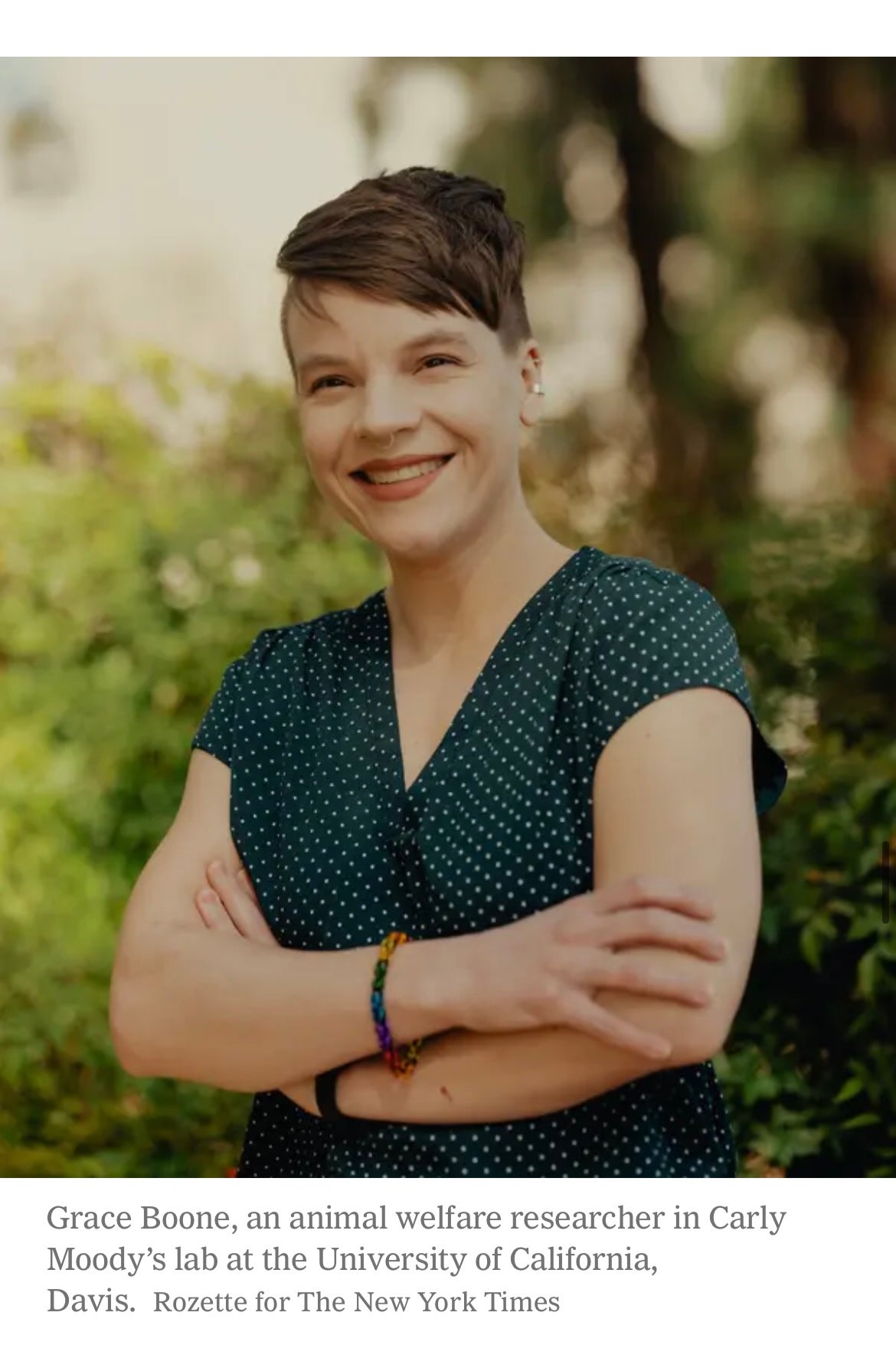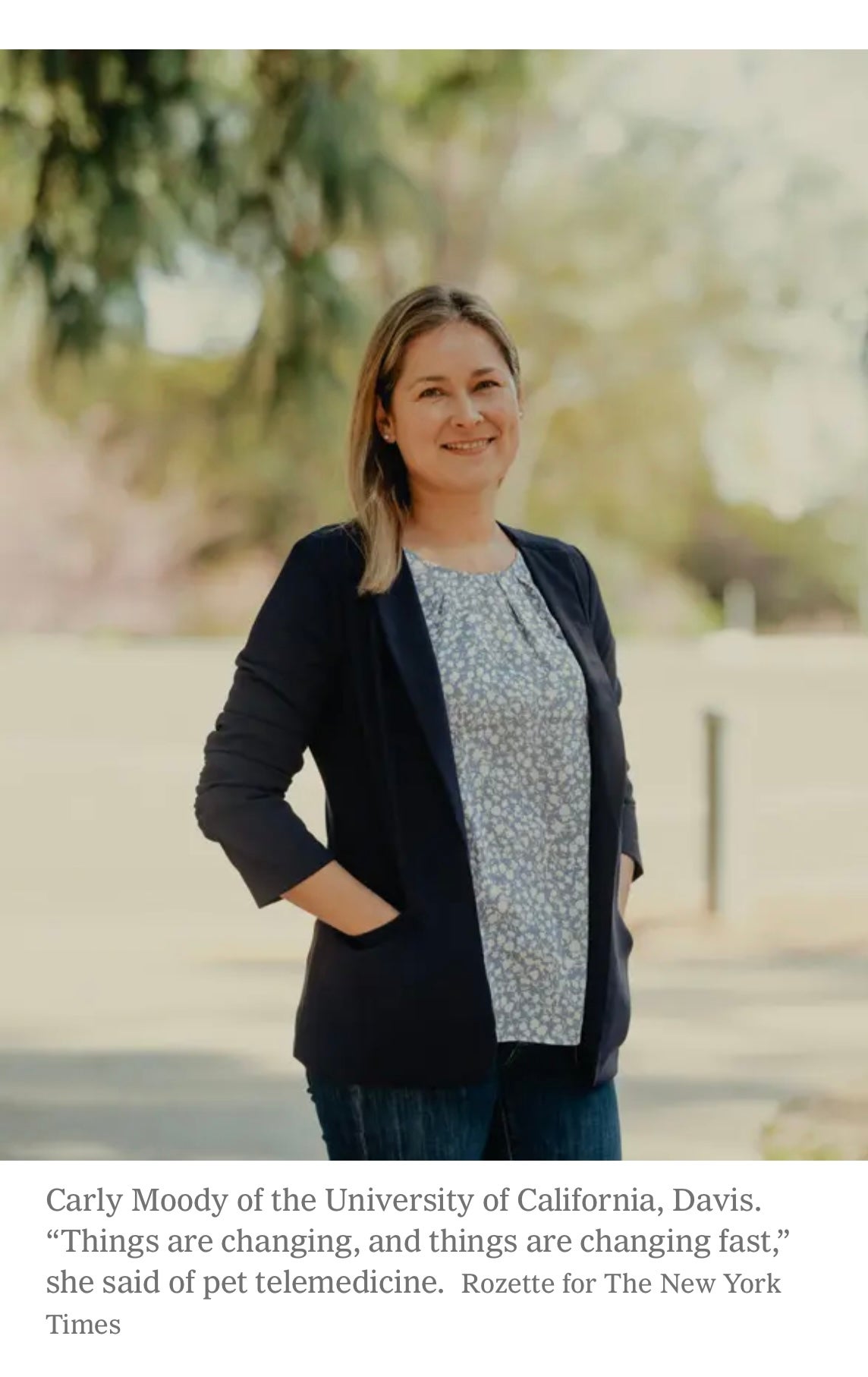 A huge congratulations to Grace!! We are featured towards the end of the article, and there are some great pictures! Hee Jin's cat Zoe is the face of the article, and one of my cats, Alfie, is the terrified cat during an in-person visit (she hates the clinic but did it for the sake of cat science). Here's the link to the article: https://www.nytimes.com/2023/04/07/health/vet-pet-health-telemedicine.html?smid=nytcore-ios-share&referringSource=articleShare
We can't thank NYT reporter, Emily Anthes, enough for a fantastic job of covering the pros and cons of using video telemedicine for pet health care. And a huge thank you for asking us to provide some research results for the article.
We are grateful to the ASPCA and Maddie's Fund for providing funding for this research.
March 27, 2023
Congratulations to Sherry Khoddami and Makayla Kiser for their first publication from their undergraduate thesis work! Here's a link to the open-access paper: https://www.frontiersin.org/articles/10.3389/fvets.2023.1128757/full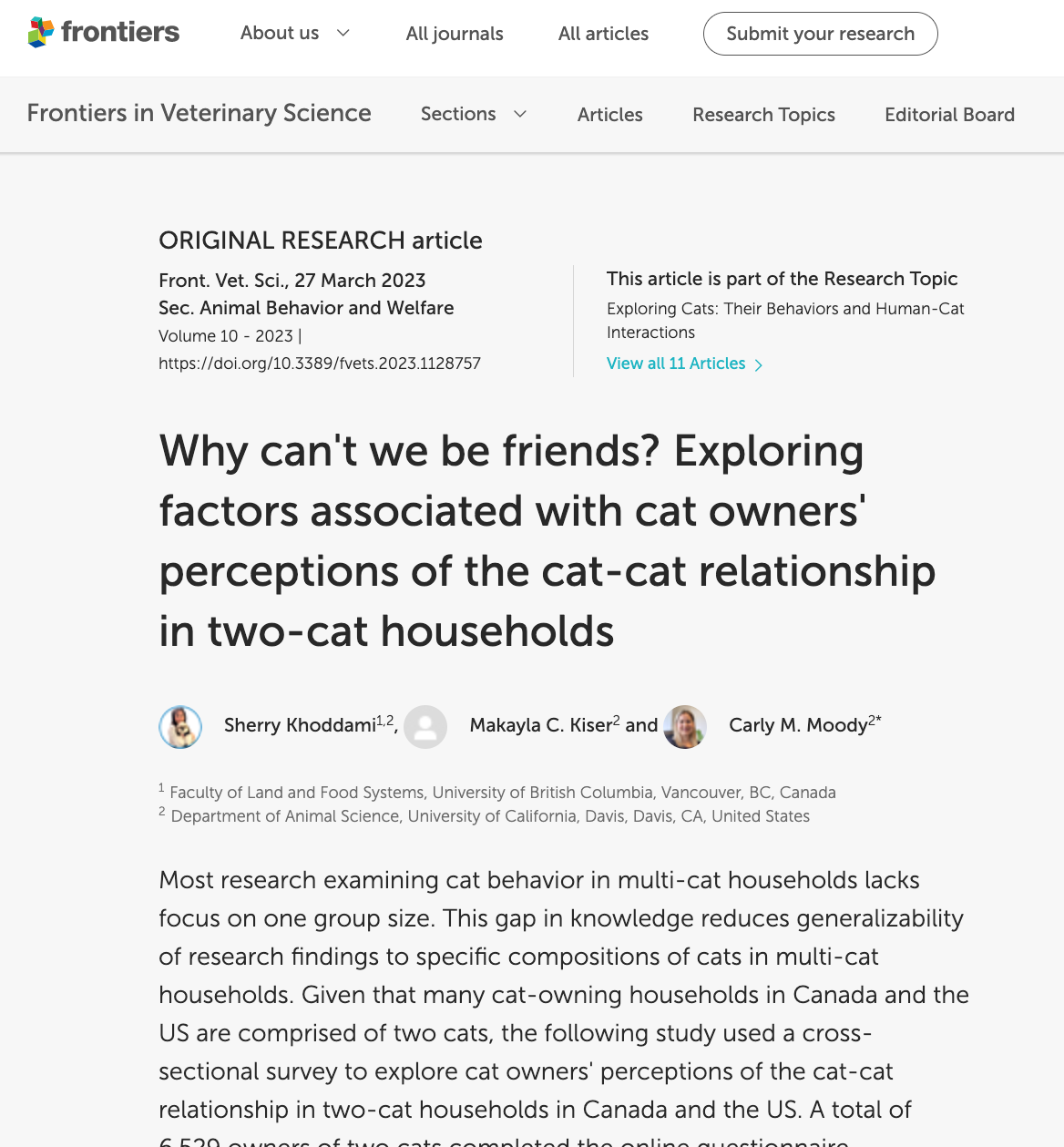 Most research examining cat behavior in multi-cat households lacks focus on one group size, and this gap in knowledge reduces generalizability of research findings to specific compositions of cats in multi-cat households. Given that many cat-owning households in Canada and the US are comprised of two cats, the following study used a cross-sectional survey to explore cat owners' perceptions of the cat-cat relationship in two-cat households. Sherry and Makayla recruited over 6,500 cat owners of two-cat households within the US and Canada! A summary of the main results shows that owners of two-cat households are more likely to perceive their cats' relationship as negative if cats are:
– 2 spayed females (compared to 2 neutered males, or a mixed sex combination)
– 2 adult or mature cats (compared to 2 young or mixed age combinations)
– 2 cats are not related (compared to being siblings, parent-offspring, or previously bonded before adoption)
-one or both cats have access to the outdoors (compared to both cats being indoor-only)
-show aggression toward people or other animals in the home (compared to cats that don't show these behaviors in the home)
Given our survey had a cross-sectional design, we were not able to assess temporality of factors associated with a negative cat-cat relationship. Overall, more research is needed to establish a stronger, more direct link, between cat dyad characteristics and the cat-cat relationship in the home. This data may be useful for decision-making during the adoption process when placing a cat into a home with an existing cat.
The second part of Sherry and Makayla's undergraduate thesis work compares cat owner ratings of videos showing various positive and negative cat-cat interactions, versus cat expert ratings. Sherry Khoddami and Dr. Carly Moody are currently prepping this manuscript for submission to a scientific journal. Stay tuned!
February 24, 2023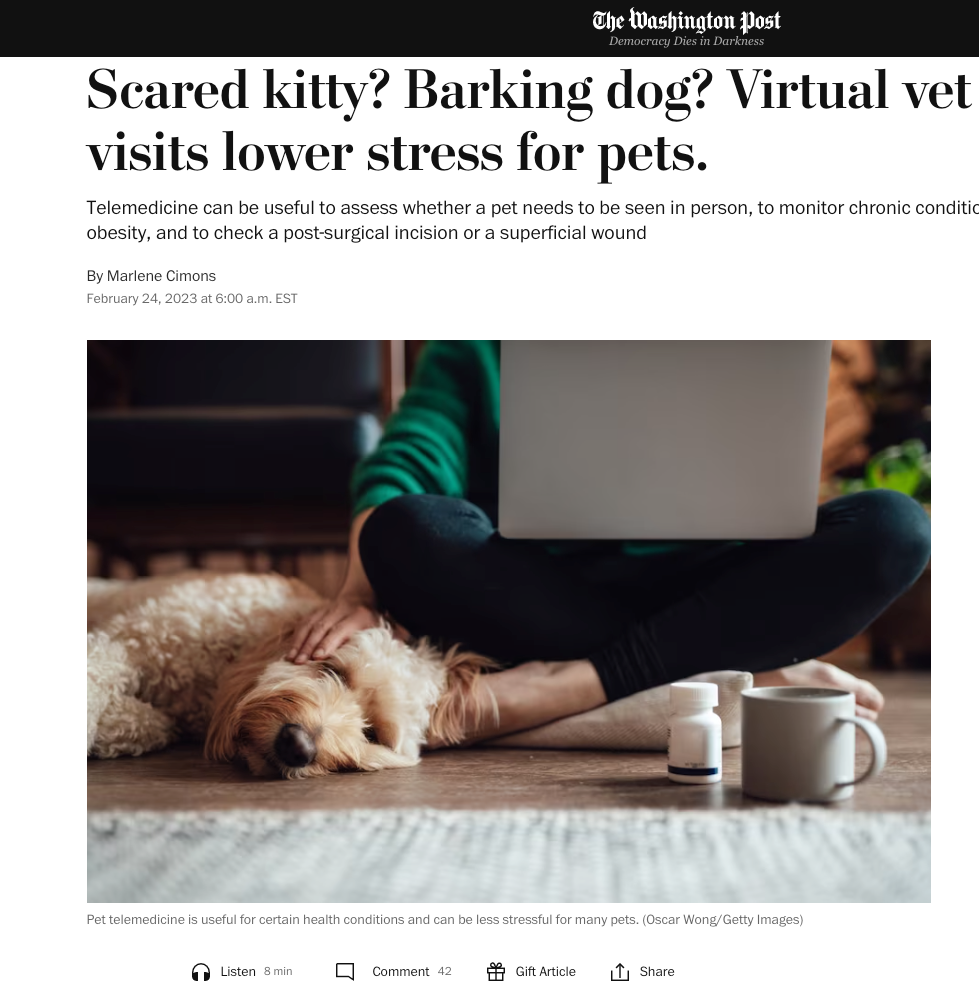 Grace Boone's research was featured in the Washington Post! This research showed that cats undergoing mock spay re-checks showed fewer negative responses during virtual (video telemedicine) appointments compared to in-clinic appointments. This research was funded by the ASPCA and Maddie's Fund. Read the full article here: https://www.washingtonpost.com/wellness/2023/02/24/pet-telemedicine-vet-visits-health/
February 3rd, 2023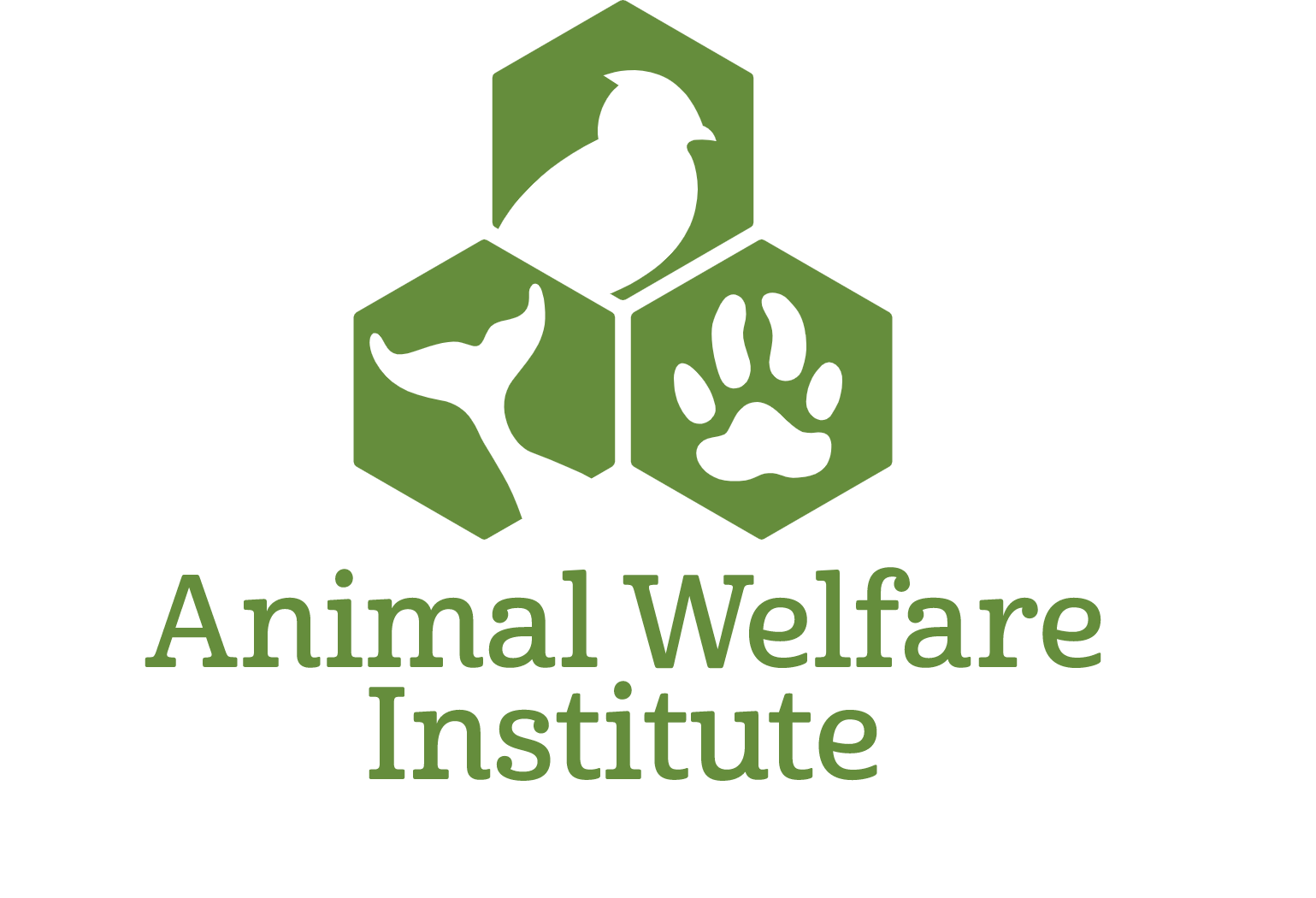 Congratulations to lab member and PhD Candidate Hee Jin Chung for receiving a $15,000 grant from the Animal Welfare Institute's Christine Stevens Wildlife Award! This money will help fund Hee Jin's research examining how various cat owner management factors impact cat hunting behaviors. Hee Jin is a graduate student in the Animal Behavior Graduate Group and also recently passed her qualifying exam!
January 28th, 2023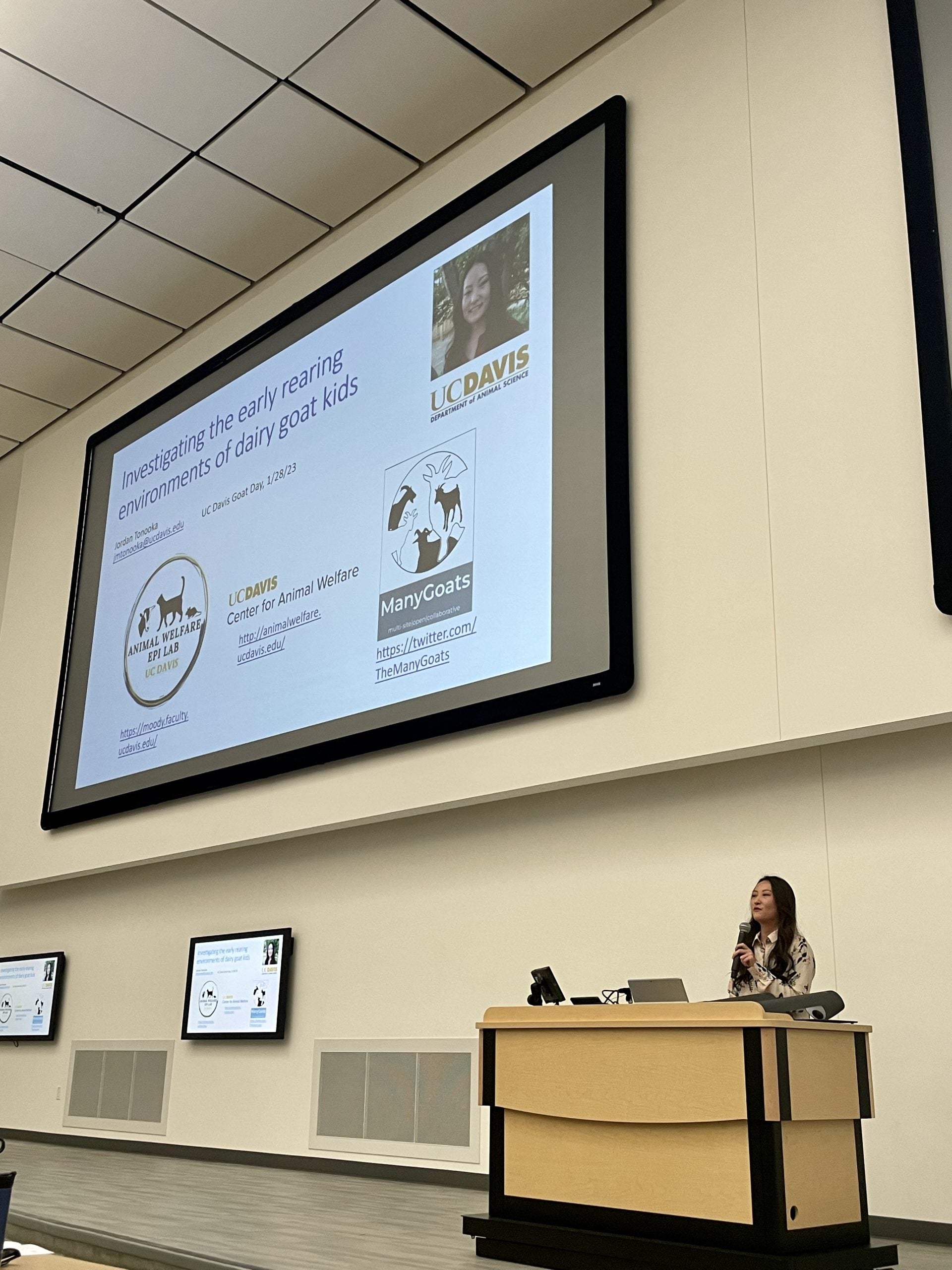 PhD Student, Jordan Tonooka, did a fantastic job on her presentation at UC Davis Goat Day! Jordan had the chance to explain her dairy goat kid research to local dairy goat producers. Her research focuses on exploring the early rearing environments of dairy goat kids in the US. Great job Jordan!
January 19, 2023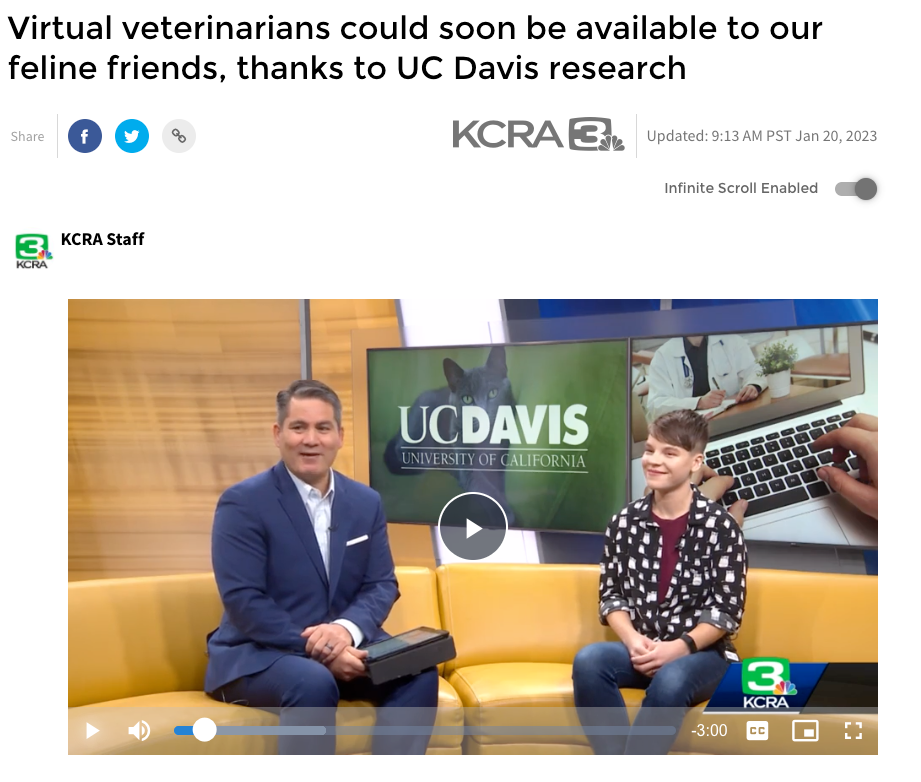 Congratulations to Grace Boone for being invited to the KCRA Sacramento Morning News to talk about her research examining use of veterinary video telemedicine for improving accessibility to cat care and reducing cat stress. Grace did a fantastic job during the interview! Here is the link to watch: https://www.kcra.com/article/virtual-veterinarians-cats-feline-friends-uc-davis-research/42592494
January 11, 2023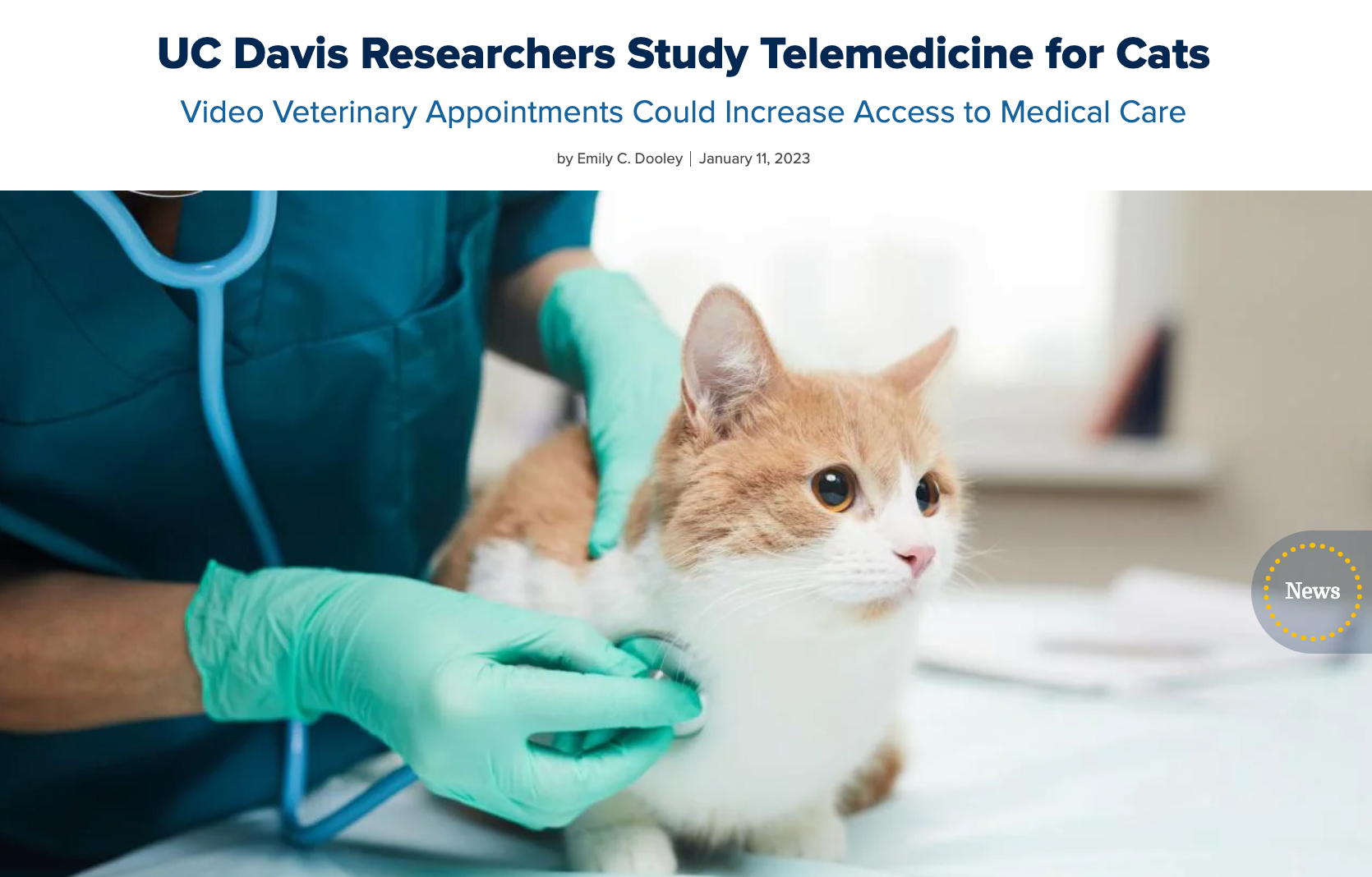 Grace Boone's research is in the news! Grace conducted a study examining cat behavior and physiological responses in cats during video telemedicine versus in-clinic appointments. She also surveyed cat owner participants about their experiences during the in-clinic and virtual appointments. She found that cats show lower stress responses during video telemedicine appointments compared to in-clinic, and cat owners seem to prefer the virtual appointments. Read more here: https://www.ucdavis.edu/health/news/uc-davis-researchers-study-telemedicine-cats
December 2022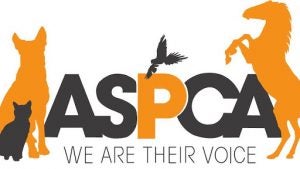 We are excited to announce that we have received 2 ASPCA grants!
One is an applied behavior grant that will support PhD student Jen Link's research on creating science-based behavioral modification protocols aimed at reducing stress in kittens and adult cats during nail trims. This research involves collaboration with Dr. Courtney Graham at the Ontario Veterinary College, University of Guelph.
The second grant we received from the ASPCA is an Access to Veterinary Care grant. This grant will support Assistant Specialist, Grace Boone's research assessing the use of video telemedicine for improving at-home management of chronic health conditions in pet cats. This research involves a collaboration with Dr. Daniel Pang from the University of Calgary's Faculty of Veterinary Medicine, as well as Dr. Hao-Yu Shih, Research Associate at the Mayo Clinic – Rochester, Minnesota.
August 1, 2022
A new publication co-authored by Dr. Carly Moody is out from the Ontario Veterinary College in Canada. This study shows that common background noise (cage doors closing, people talking, dogs barking) in veterinary clinics and animal shelters, increase cat fear and stress responses. This research shows that background noise is associated with behavioral changes in free-roaming shelter cats, and increased physiological responses (higher respiratory and heart rates) in free-roaming shelter cats and cats in a veterinary clinic undergoing a physical examination.
This primary author of this paper is Nicole Furgala MSc, who will be starting a PhD at Emory University this Fall. Nicole conducted this project as an undergraduate student at the University of Guelph, supervised by Dr. Moody and Dr. Lee Niel. This was a huge project that consisted of 2 parts, and was more like a MS project than an undergraduate one! Congratulations Nicole!!
Access the full paper (pre-proof) here: https://www.sciencedirect.com/science/article/pii/S0376635722001292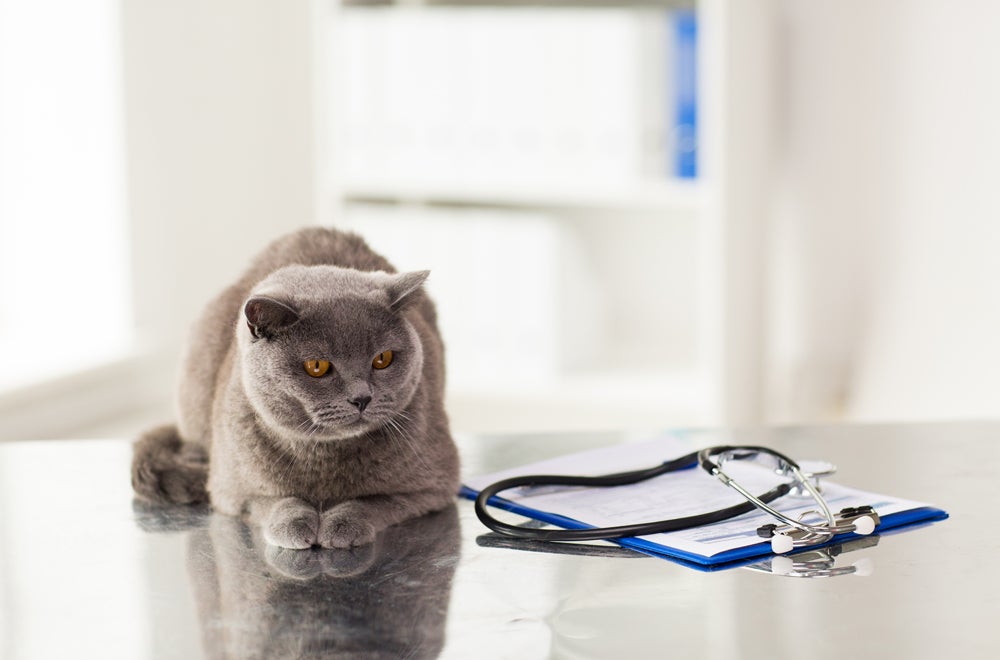 July 6, 2022
Jen Link's recent cat research survey was featured in Gizmodo! This project is the first of her thesis work, and was focused on understanding cat caregiver's attitudes towards kitten socialization programs. The survey received over 6,000 responses within a matter of a few days and is now closed. Thank you to all who participated! Data analyses is now underway and we will have research results soon. To learn more about this research, click on the link below:
https://gizmodo.com/if-youre-owned-by-a-cat-scientists-want-to-hear-from-y-1849149263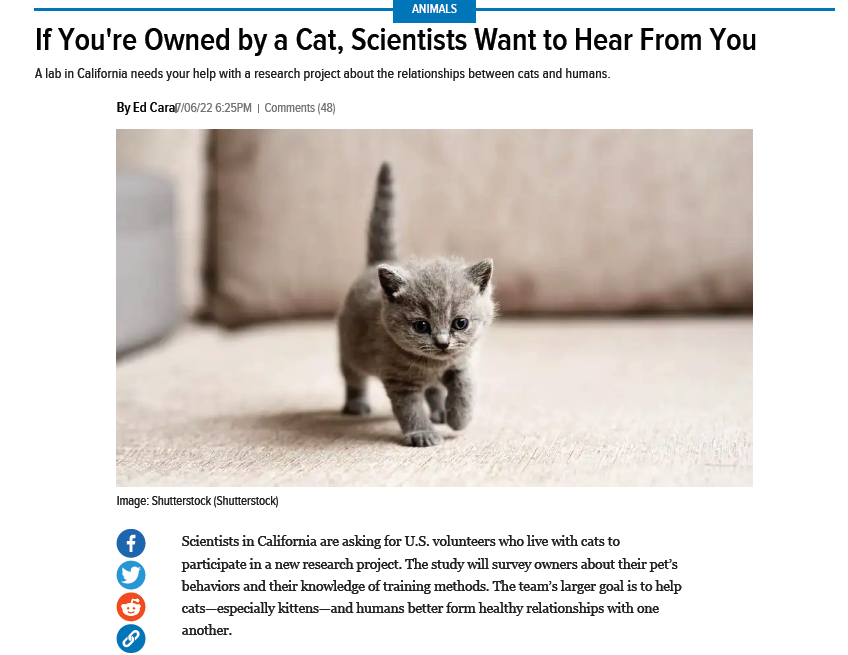 June 15, 2022
We want to congratulate all of our undergraduate researchers graduating with their B.S., from UC Davis! This includes Liam Newquist (Dr. Moody's first UCD student!), Anthony David, Yu-Chia Lin, Joshua Di Bernardo, and Marielle Rikkelman (L to R pictures below). We wish you all the best in your future endeavors and we are all very lucky to have such amazing and compassionate humans making a positive difference in the world.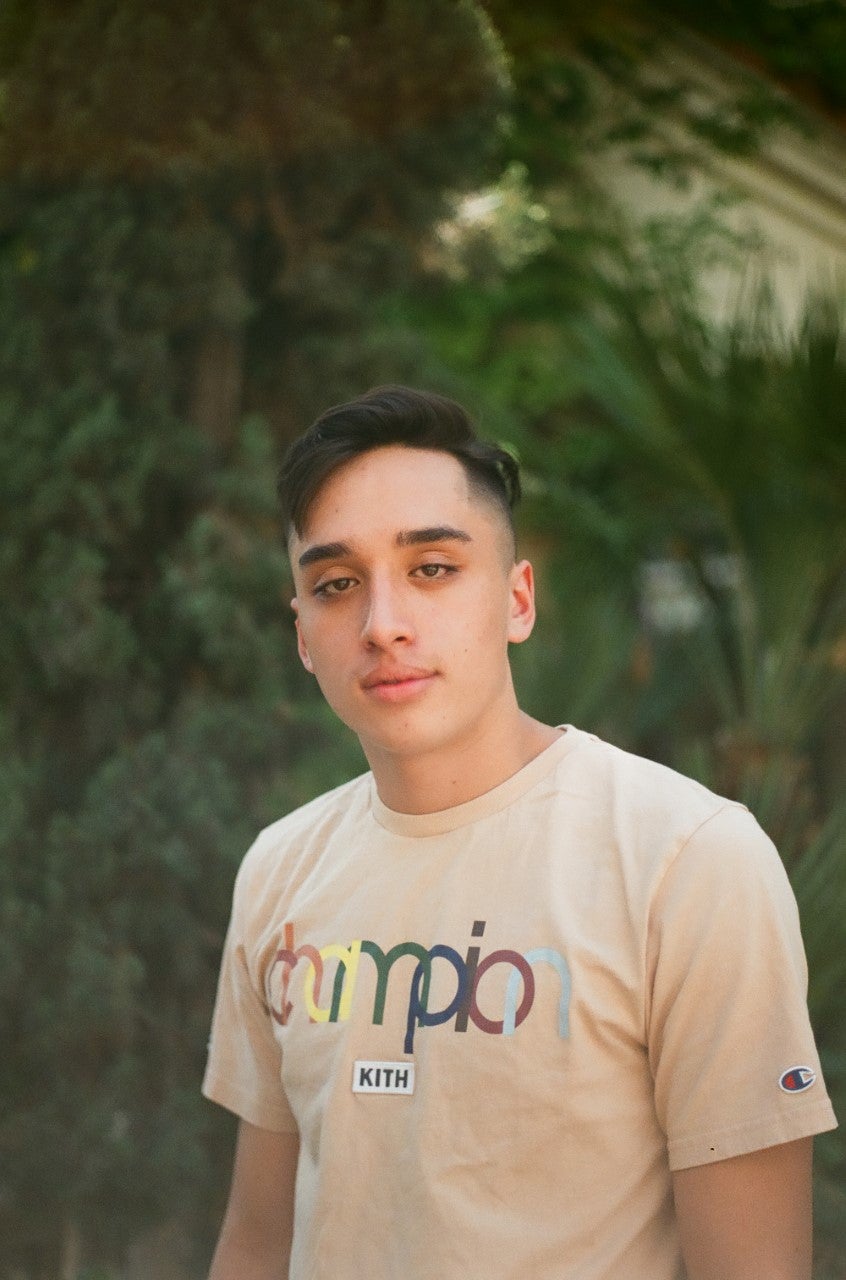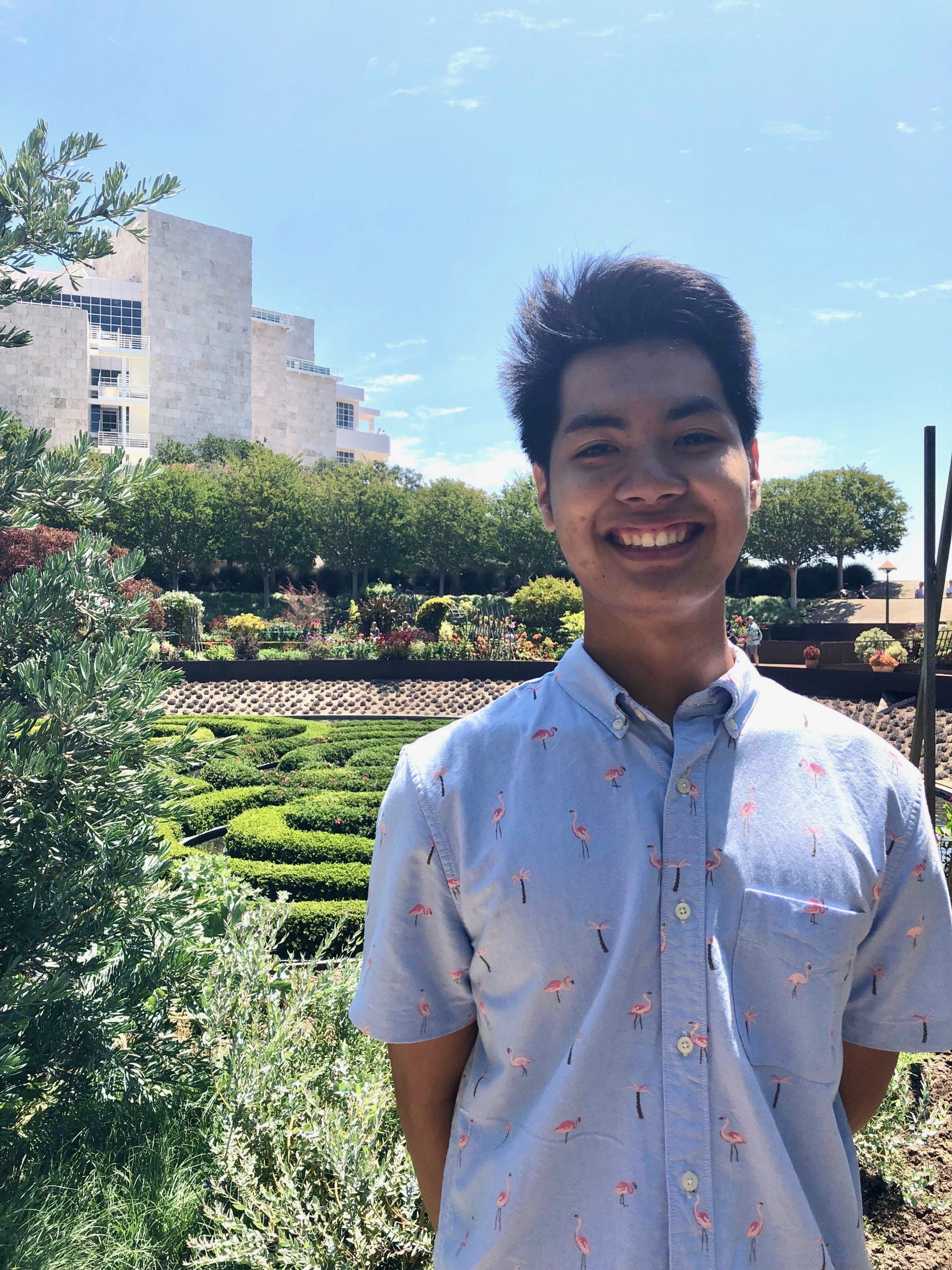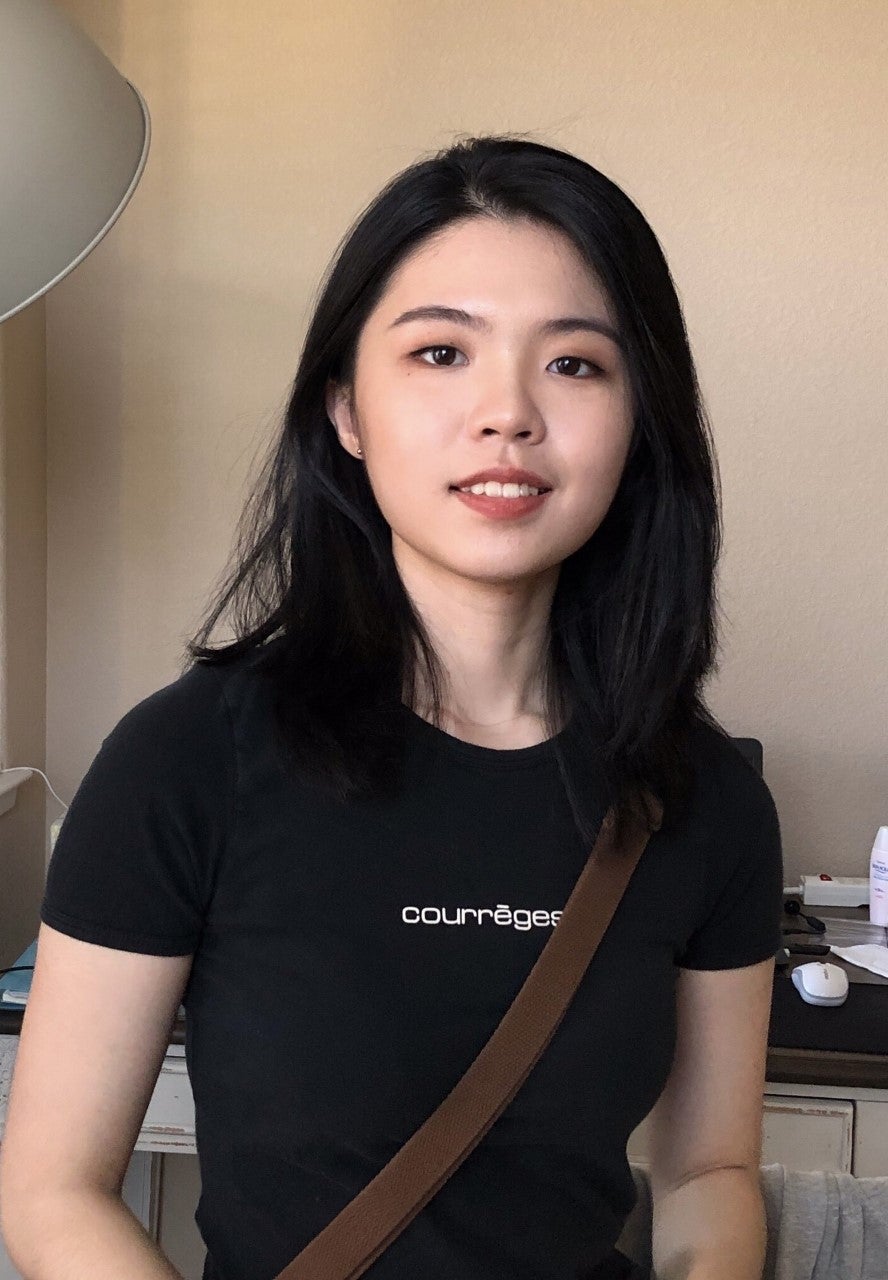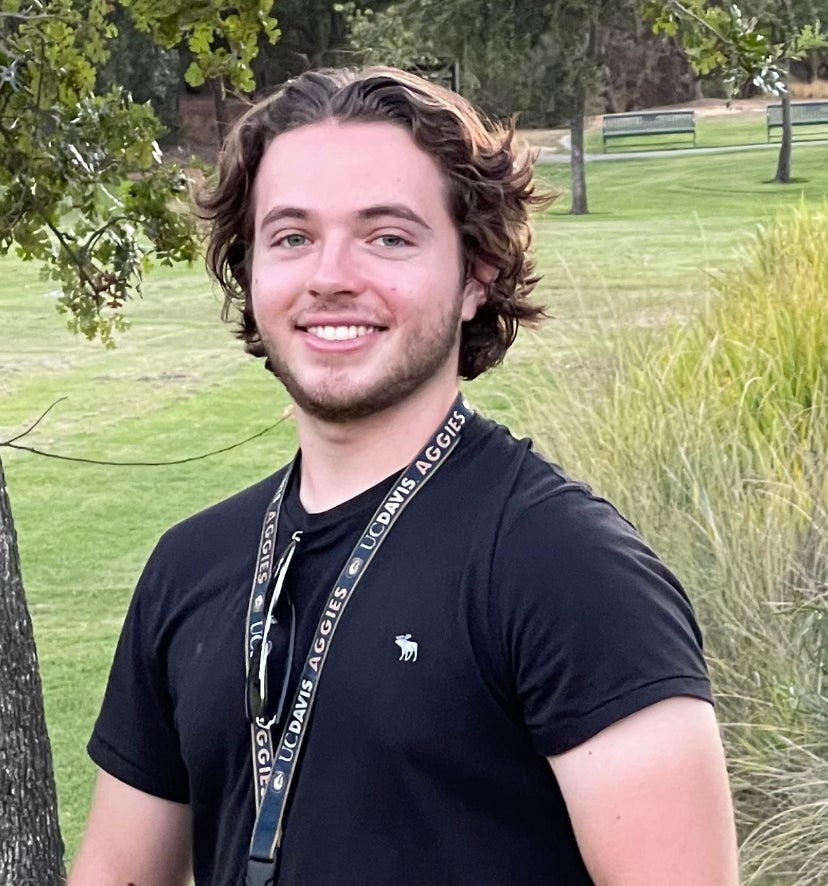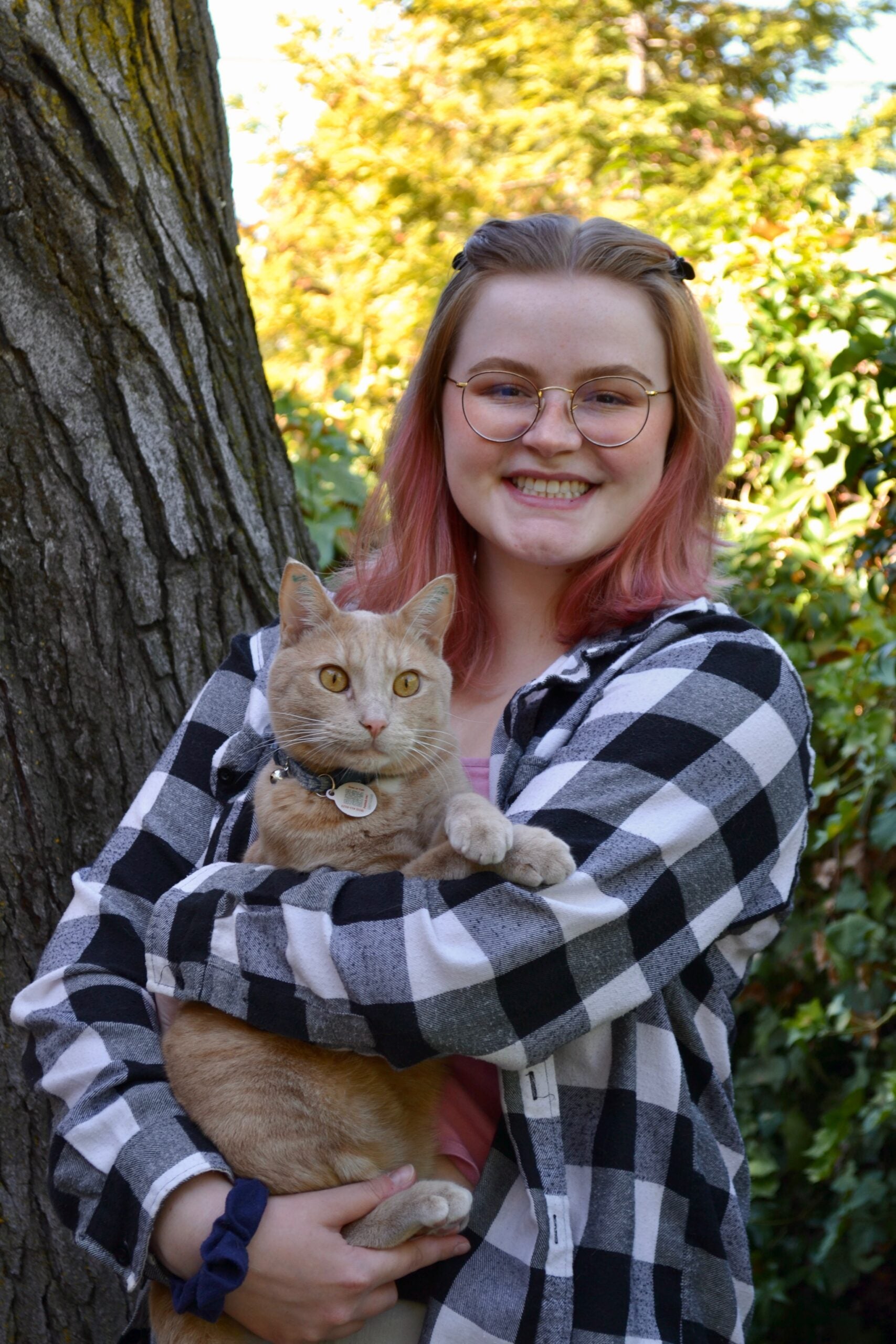 June 1st, 2022
Center for Animal Welfare Undergraduate Research Meeting
The UC Davis Center for Animal Welfare hosted an Undergraduate Research Meeting this past week and we had 4 lab members present their research:
– Liam Newquist and Anthony David presented their research survey examining veterinarian and behaviorist attitudes towards using video telemedicine with cats.
– Mairead Ryan and Madeline Heeg presented their research survey examining Animal Science student attitudes towards current UC Davis animal science course offerings, and interest in a proposed kitten fostering course.
Congratulations to Liam, Anthony, Mairead, and Madeline for their fantastic presentations, and a great conference!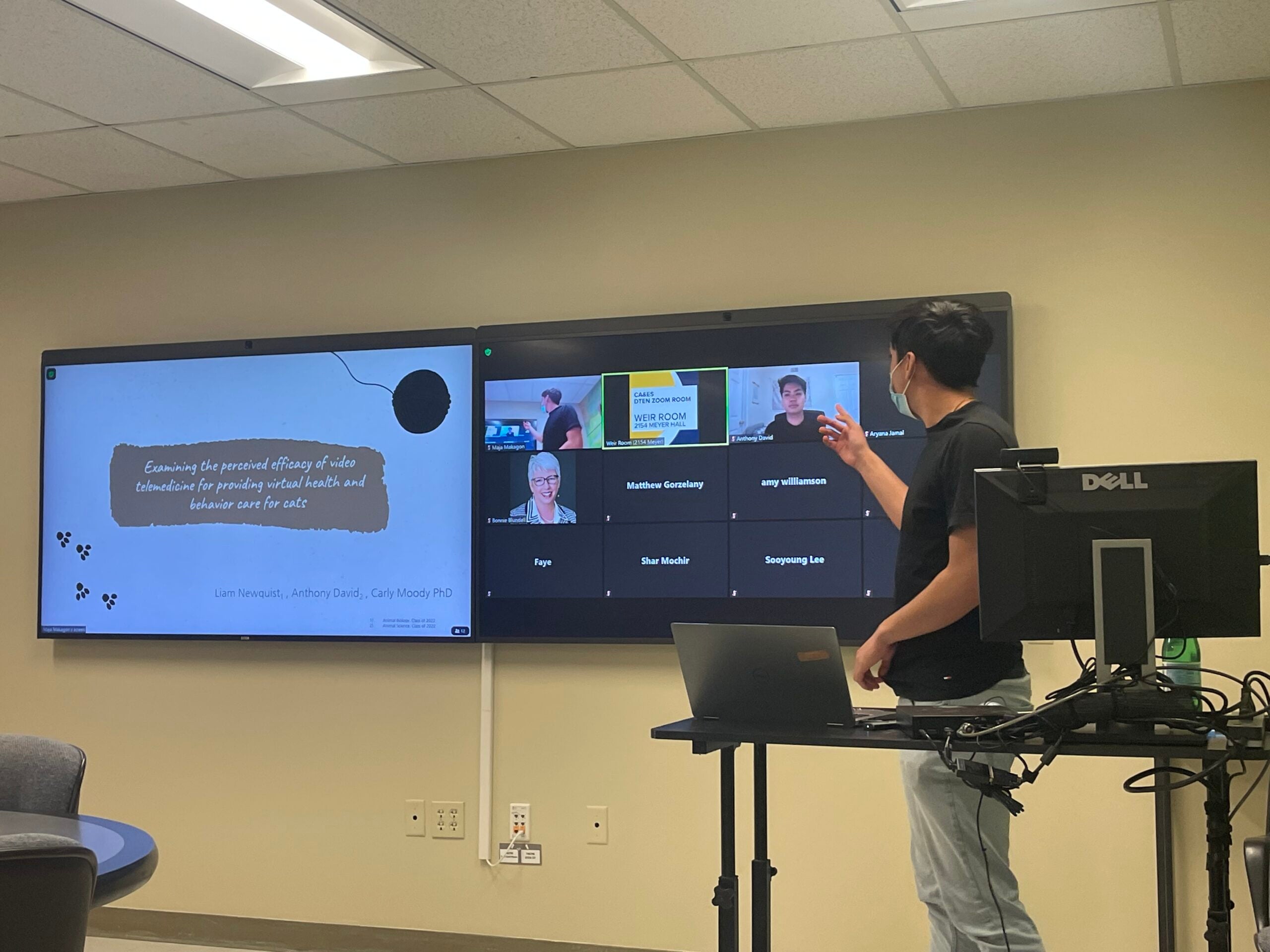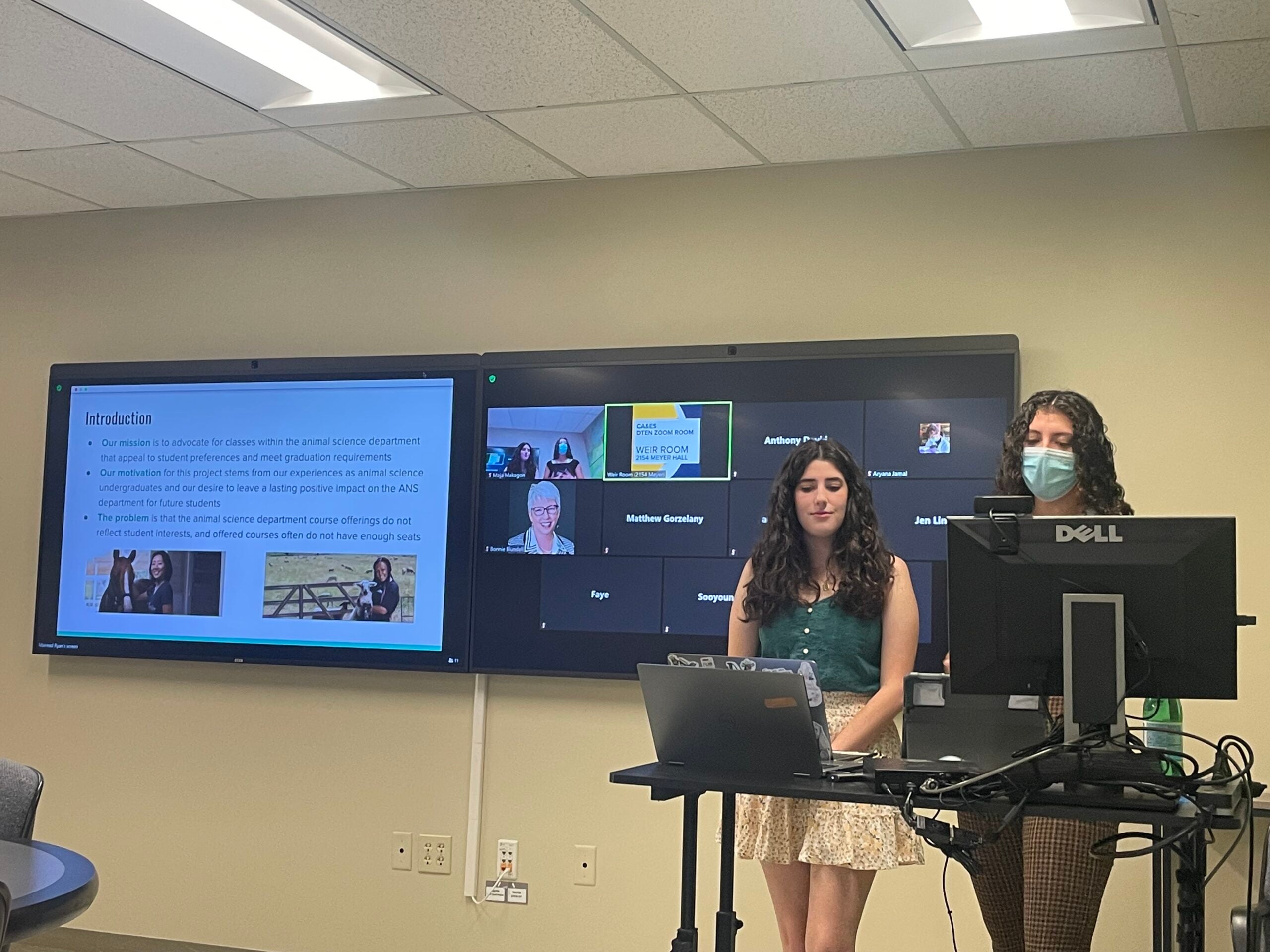 May 15th, 2022
iCatCare Feline Wellbeing Panel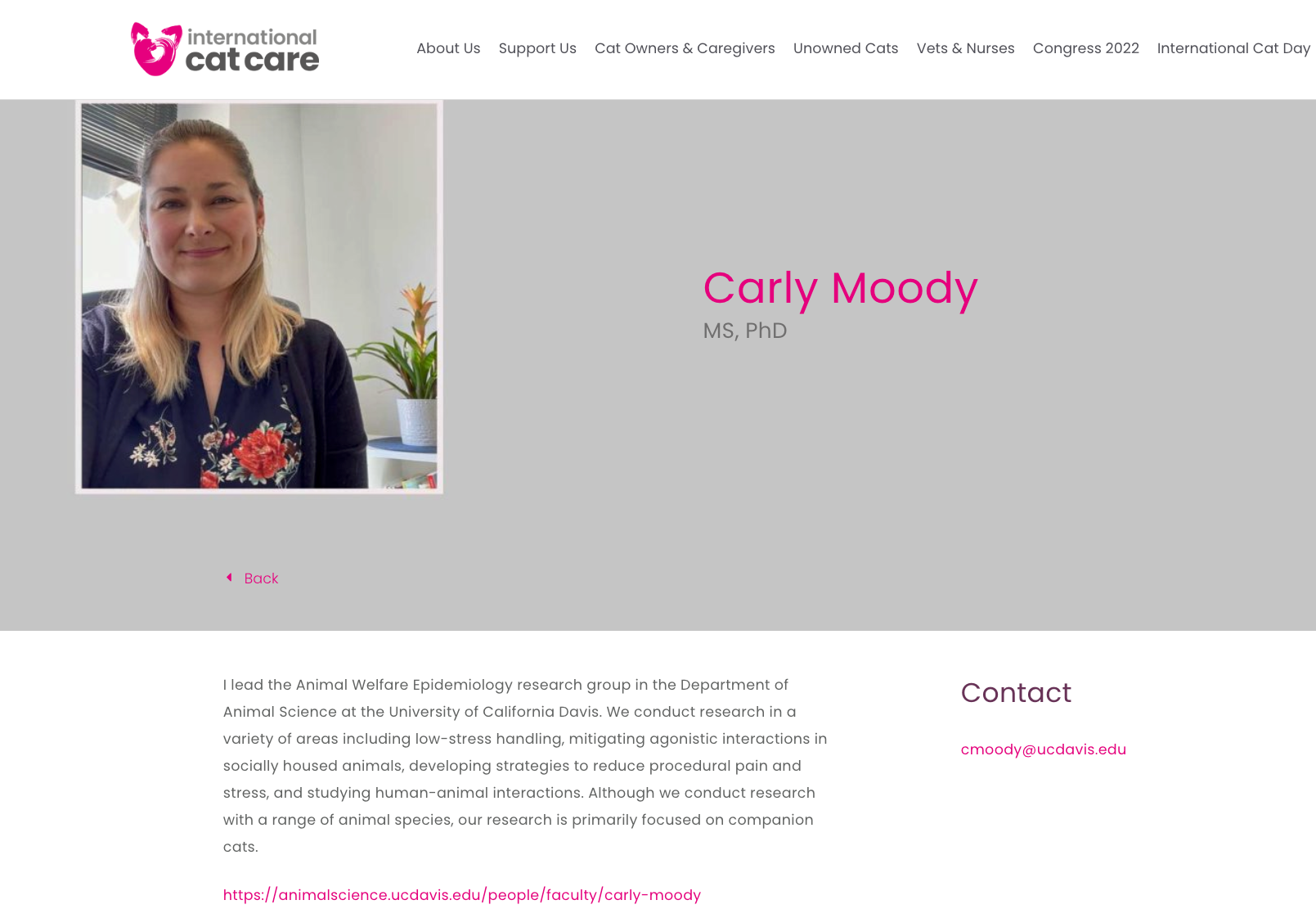 Dr. Carly Moody has recently accepted an invitation to join the International Cat Care's Feline Wellbeing Panel! The panel is a group from around the globe with expertise in cat behavior, health, and welfare. Members of the panel range in expertise from academic, veterinary, and behavior qualifications. The purpose of the panel is to improve the welfare of owned and unowned cats by sharing information and promotion of initiatives run by iCatCare. Learn more about the panel here:  https://icatcare.org/about/our-expert-panel/
May 1st, 2022
14th North American International Society for Applied Ethology, UC Davis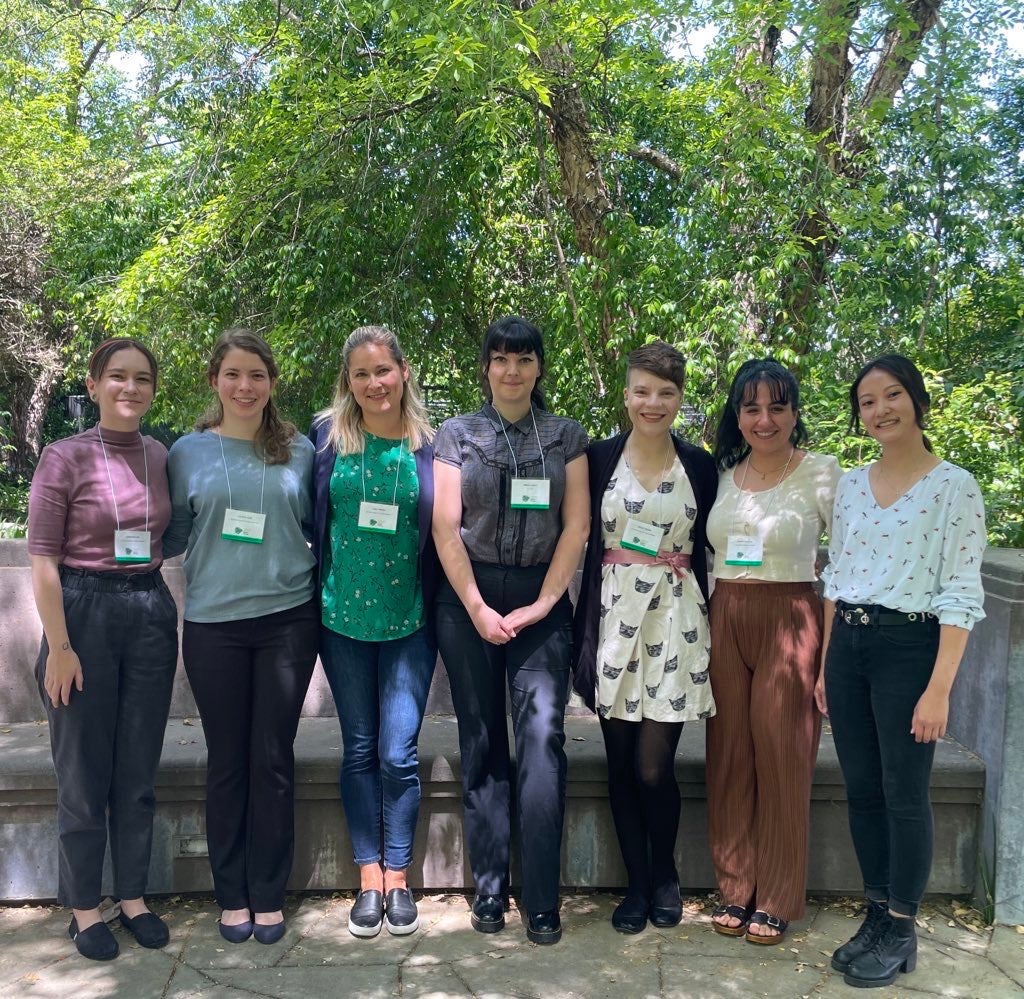 L to R: Jen, Lauren (incoming lab member – Fall 2022!), Carly, Makayla, Grace, Sherry, Jordan
The UC Davis Center for Animal Welfare (lead organizer: Dr. Tina Horback) hosted the NA International Society for Applied Ethology Conference! Lab members Grace, Jen, and Jordan helped run the conference, while Sherry and Makayla presented a research poster: 'Exploring the purr-vision of resources and the cat-cat relationship in multi-cat households in the US & Canada'. Congratulations to all for a fantastic conference!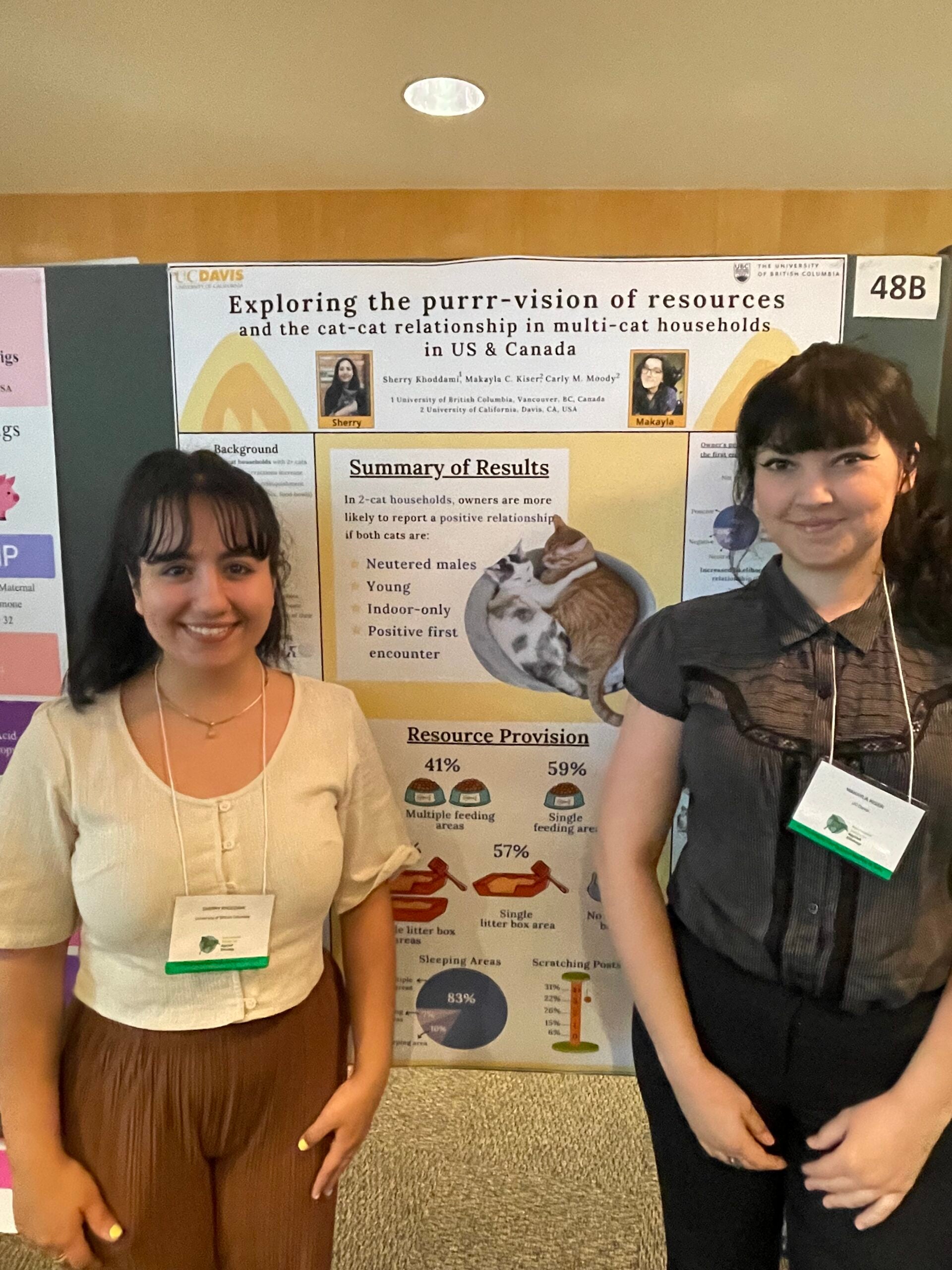 L to R: Sherry and Makayla with their research infographic poster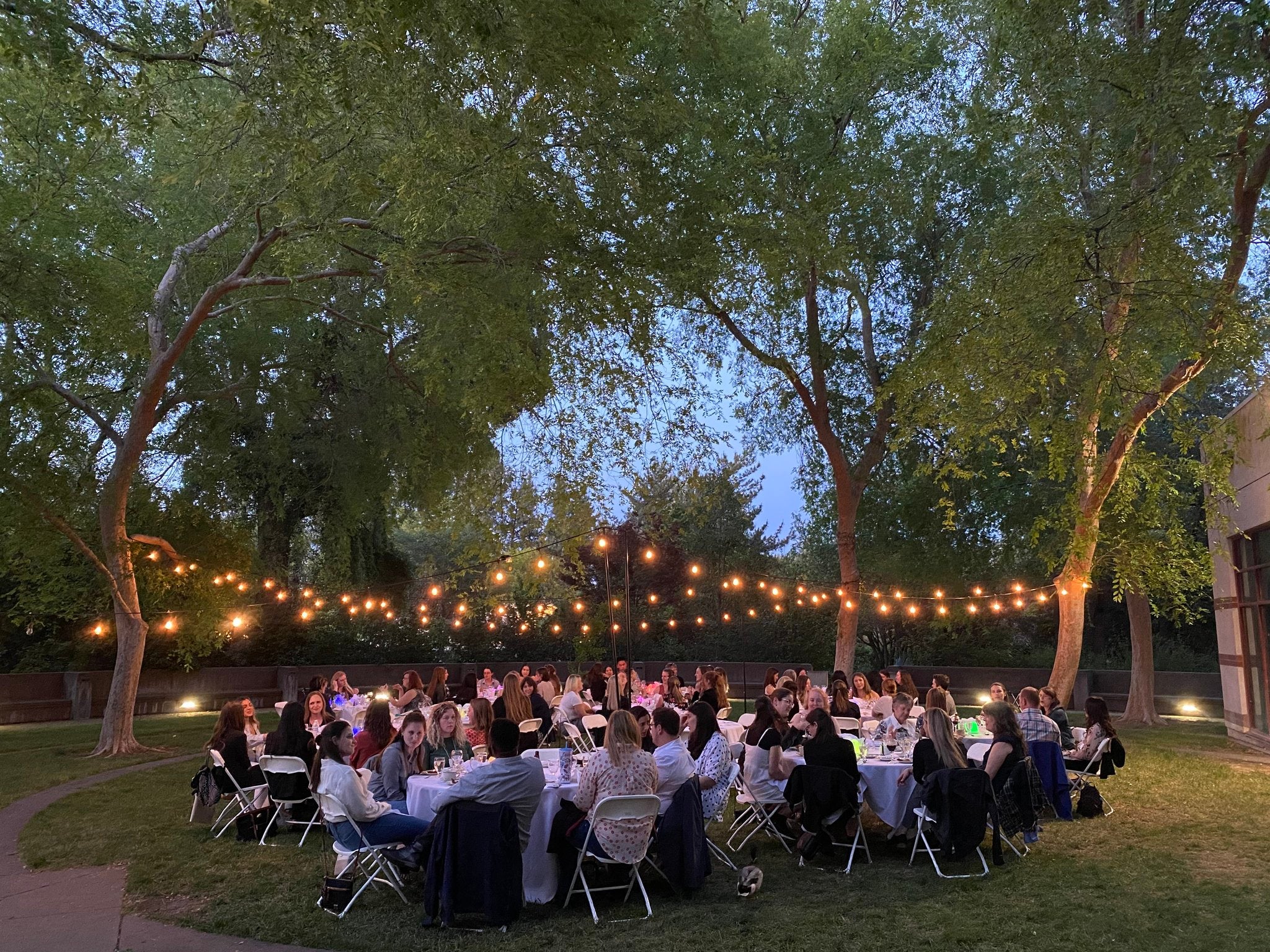 Conference Dinner: Moss Patio at the Walter A. Buehler Alumni Center, UC Davis
April 12, 2022
We would like to extend a congratulations to Yu-Chia Lin, who has been accepted into the UC Davis Biostatistics MS program for fall 2022!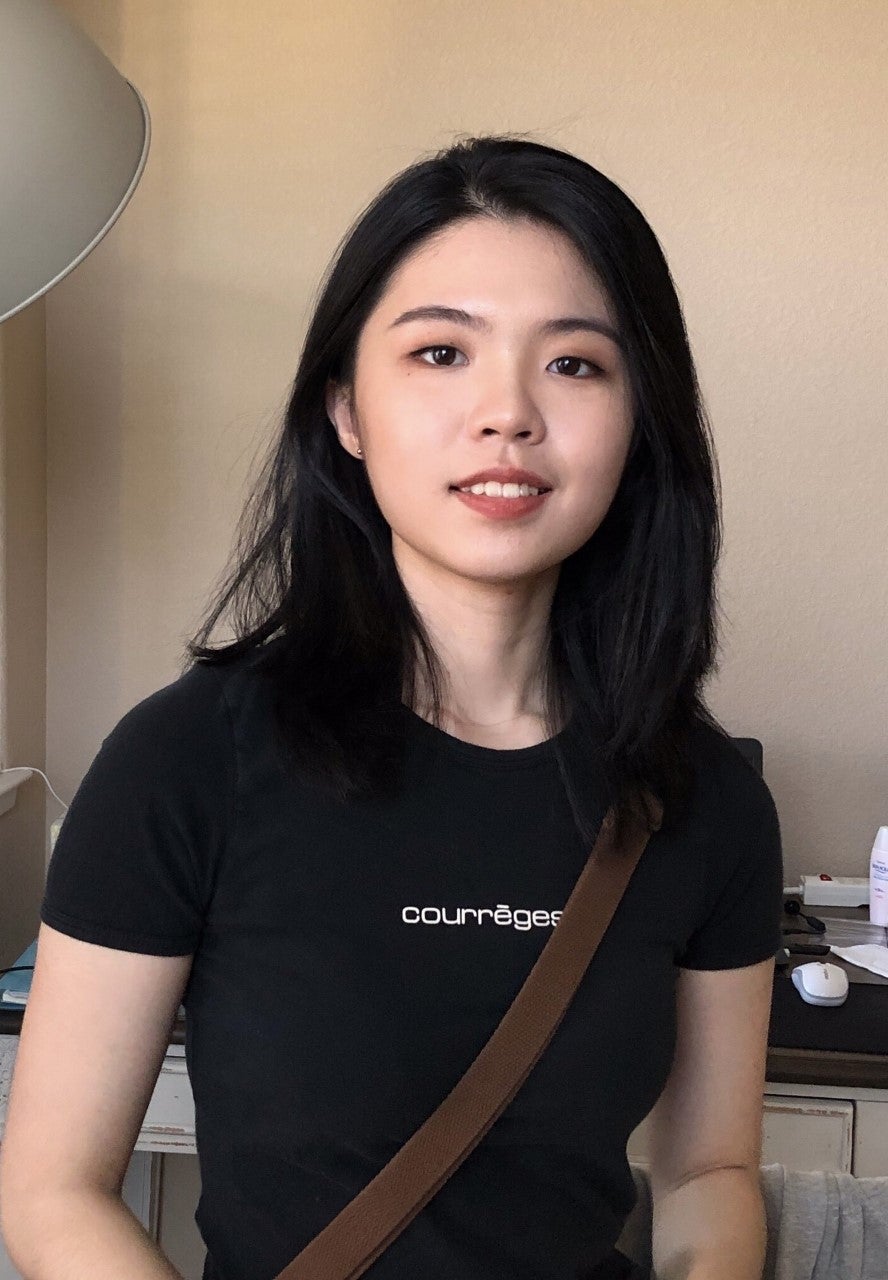 Yu-Chia has been working in our lab for over a year, helping with a large laboratory mouse behavior and welfare data set. This project examined how various resources added to standard laboratory mouse cages at an early age, impacts group-level interactions such as agonism, as well as later behavior on various behavioral tests. Yu-Chia has taken the lead in data cleaning, organization, and analyses. She is a skilled data scientist and wonderful lab member. We look forward to keeping in touch as she embarks on her new journey as a graduate student this coming fall.
February 22, 2022
We have a new publication! Owner Perspectives of Cat Handling Techniques Used in the Veterinary Clinic

This questionnaire research involved US and Canadian cat owners and their attitudes (n=1754) about use of common cat handling techniques as well as aspects of veterinary examinations.
Owners generally disagreed with the use of techniques involving higher degrees of restraint (e.g., full body, full body with scruff), or tools applied to the cat (e.g., clips, cat muzzle), but the rate of disagreement decreased as the cat's behavior increased from calm to aggressive. Participants strongly agreed with a veterinarian spending time with the cat before starting an examination, and disagreed with their cat being brought to a treatment area without them.
Learn more about the results of this study here:https://www.tandfonline.com/eprint/TZ3C7Z4QF2MUHKIUUDSE/full?target=10.1080/10888705.2022.2039144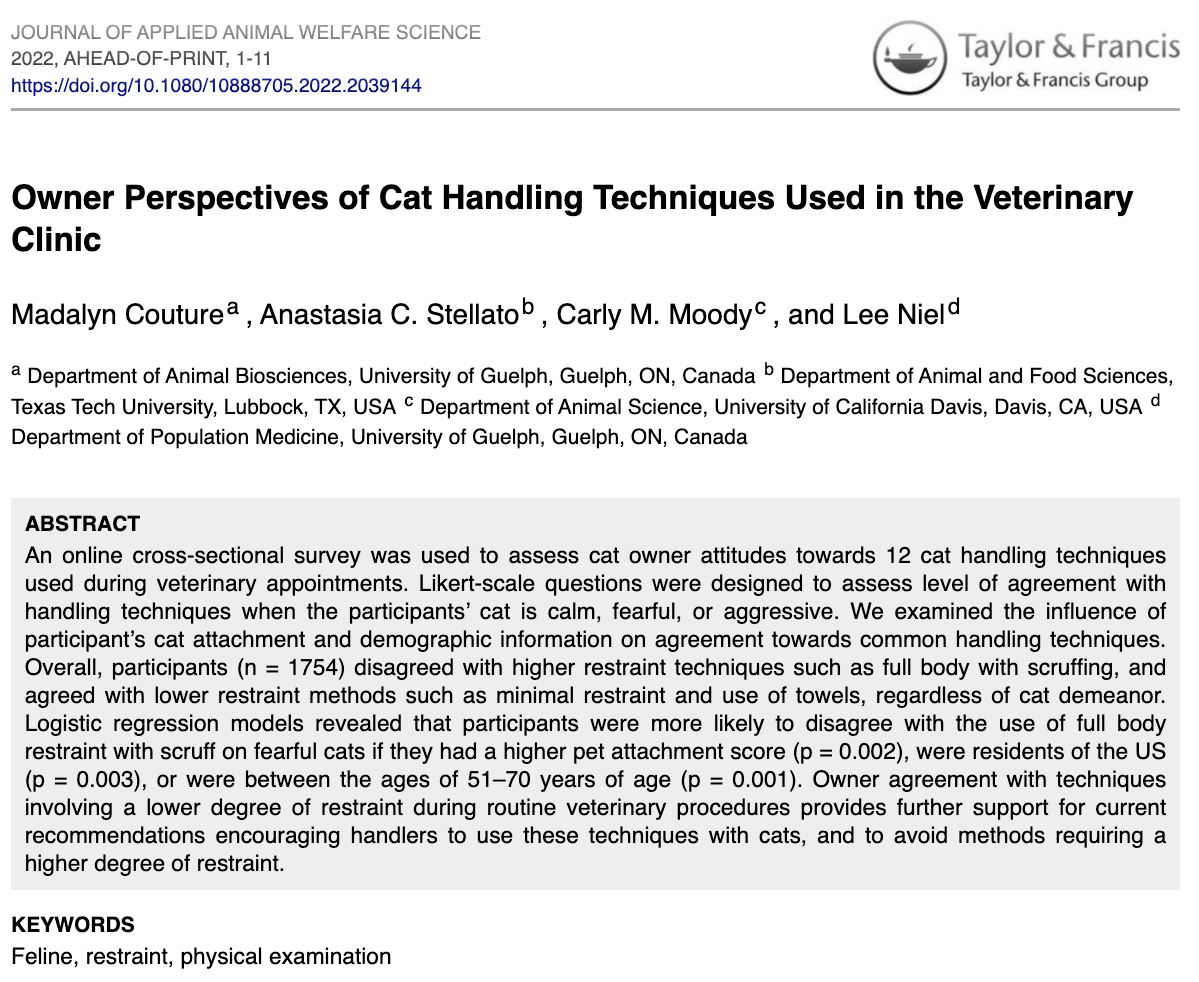 February 3, 2022
Dr. Carly Moody is participating in a free, virtual, expert panel discussion on Monday February 7th, 8:30 – 10:30am PST!  This discussion will examine animal welfare scientist attitudes across species and industries. This event is hosted by the Campbell Center for the Study of Animal Welfare at the University of Guelph, and all are welcome to join.
Here's the zoom link: https://zoom.us/j/93388430638?pwd=b0lKdElJWG5ZYWdKUWYzZmlERk9mQT09
Meeting ID: 933 8843 0638    Passcode: 793928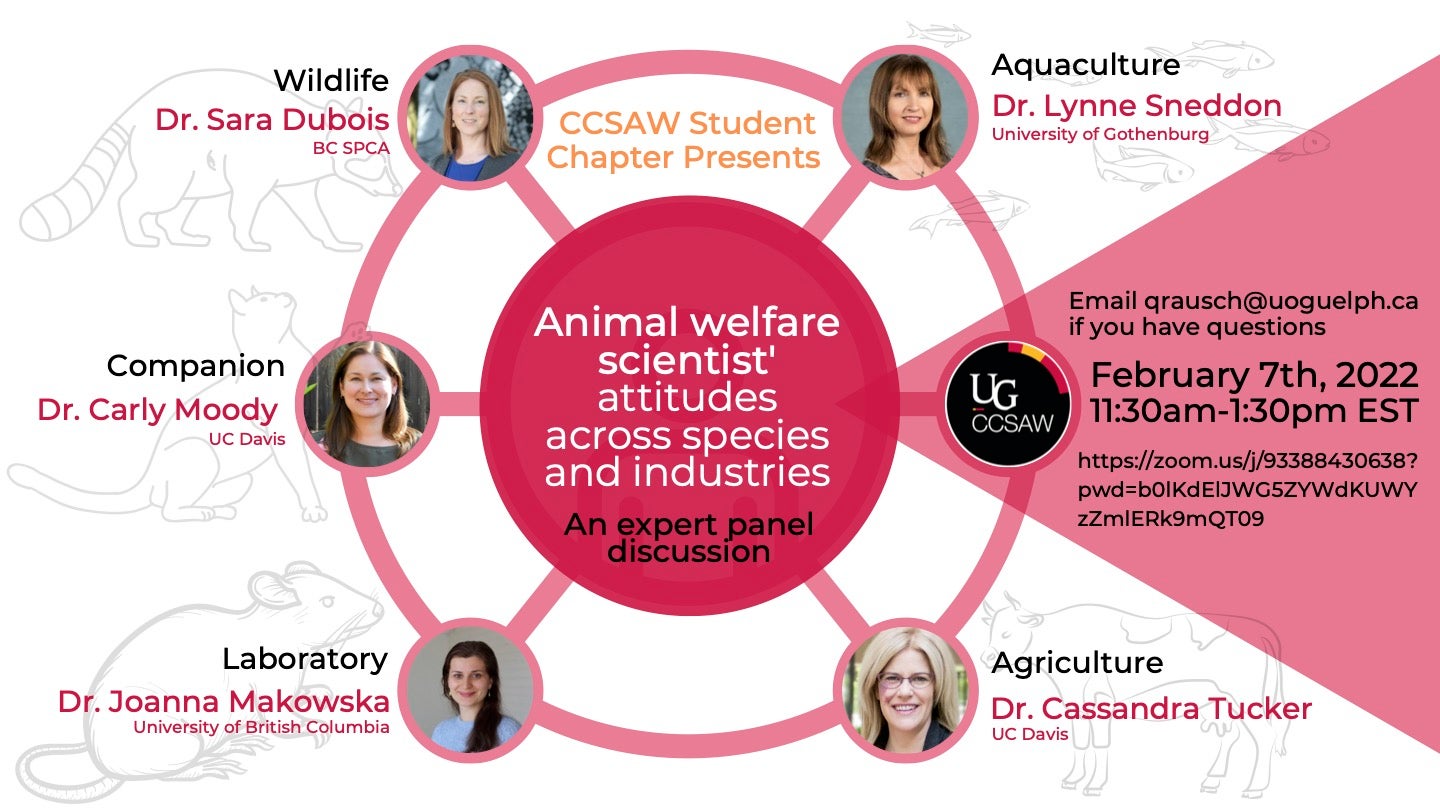 January 27th, 2022
Congratulations Marielle!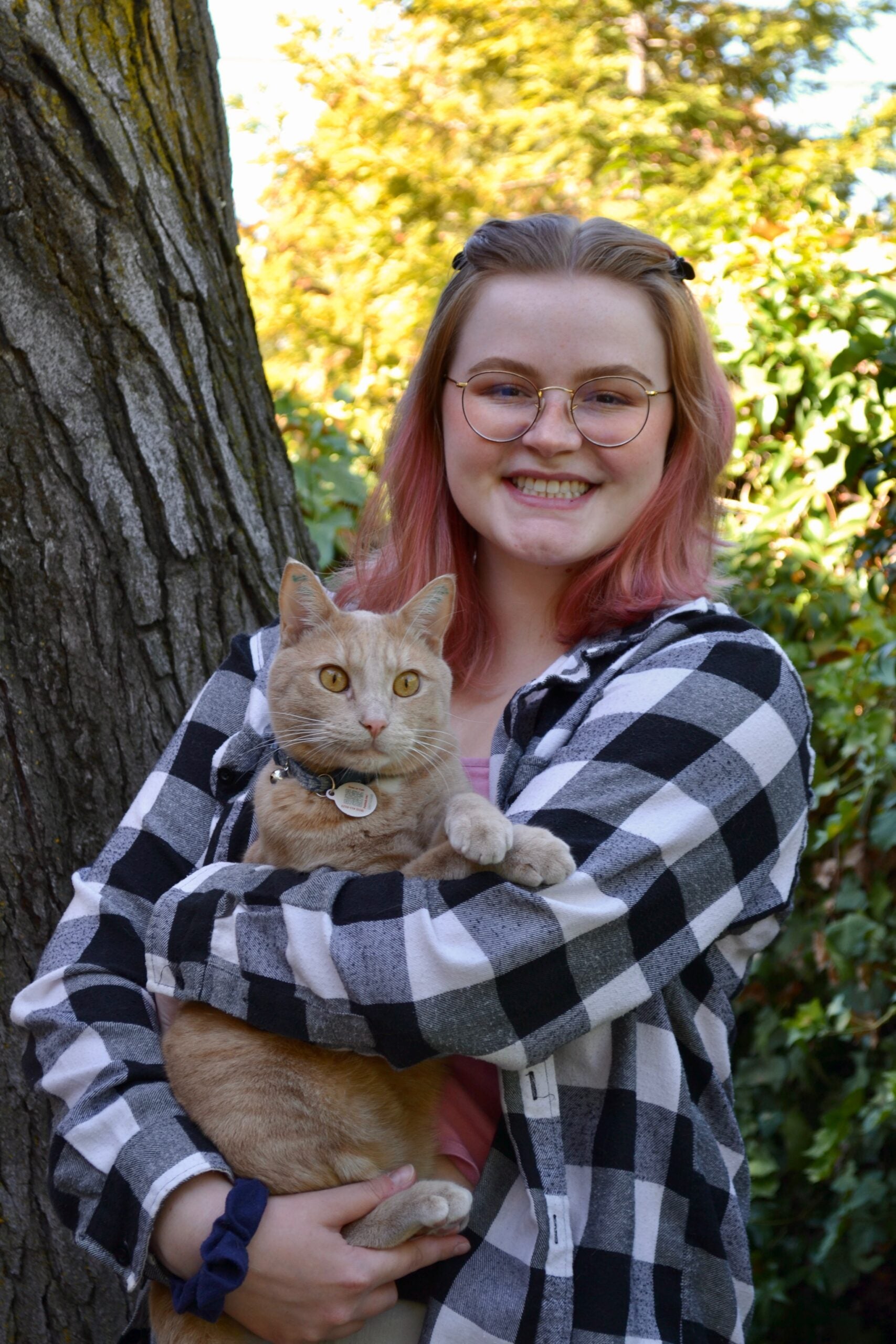 Congratulations to lab member and senior undergraduate student, Marielle Rikkelman! Marielle has accepted an offer to attend the UC Davis School of Veterinary Medicine! We are very proud of her and this huge accomplishment. Marielle will be finishing up her Bachelor of Science degree this spring, and will begin her journey as a DVM student in the fall of 2022.
Marielle has been a lab member since fall 2021, and has helped our with a survey project project examining US veterinarian and behaviorist attitudes towards using video telemedicine with cats. She also helps Anthony David, run our lab's facebook page.
Dec.10th, 2021
Congratulations Makayla!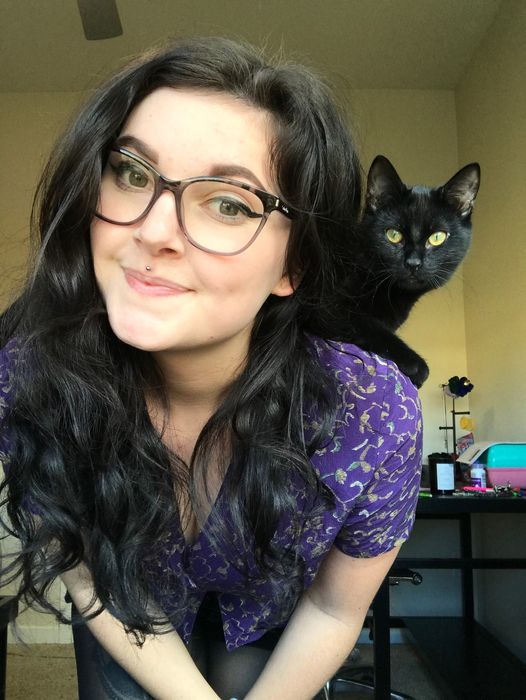 Congratulations to lab member, Makayla Kiser, who graduated with her Bachelor of Science from UC Davis this week!! Makayla has been a lab member for the past year, running an online research survey project examining cat owner knowledge of inter-cat behavior in the home. Makayla has been working with lab member, Sherry Khoddami, and they will continue working on their project in the new year. Congratulations, Makayla!! We see only great things, and lots of cats, in your future 🙂
Nov. 9th, 2021
We have a lab picture!



We are back on campus! This photo was taken on a rare rainy day at UC Davis, outside of Meyer Hall where our lab room is. We have a full lab this year thanks to our bright undergraduate & graduate student researchers, and assistant specialist! Looking forward to a great academic year ahead, working with this wonderful group of researchers.
*Photo credit: Dr. Katy Teixeira
Oct. 15th, 2021
Congratulations to lab member Anthony David! Anthony received the 2021-2022 Ensemble Scholarship undergraduate award from the Long Beach Community Foundation. This scholarship provided Anthony with $5,000 towards his tuition, books, and fees. A well deserved award!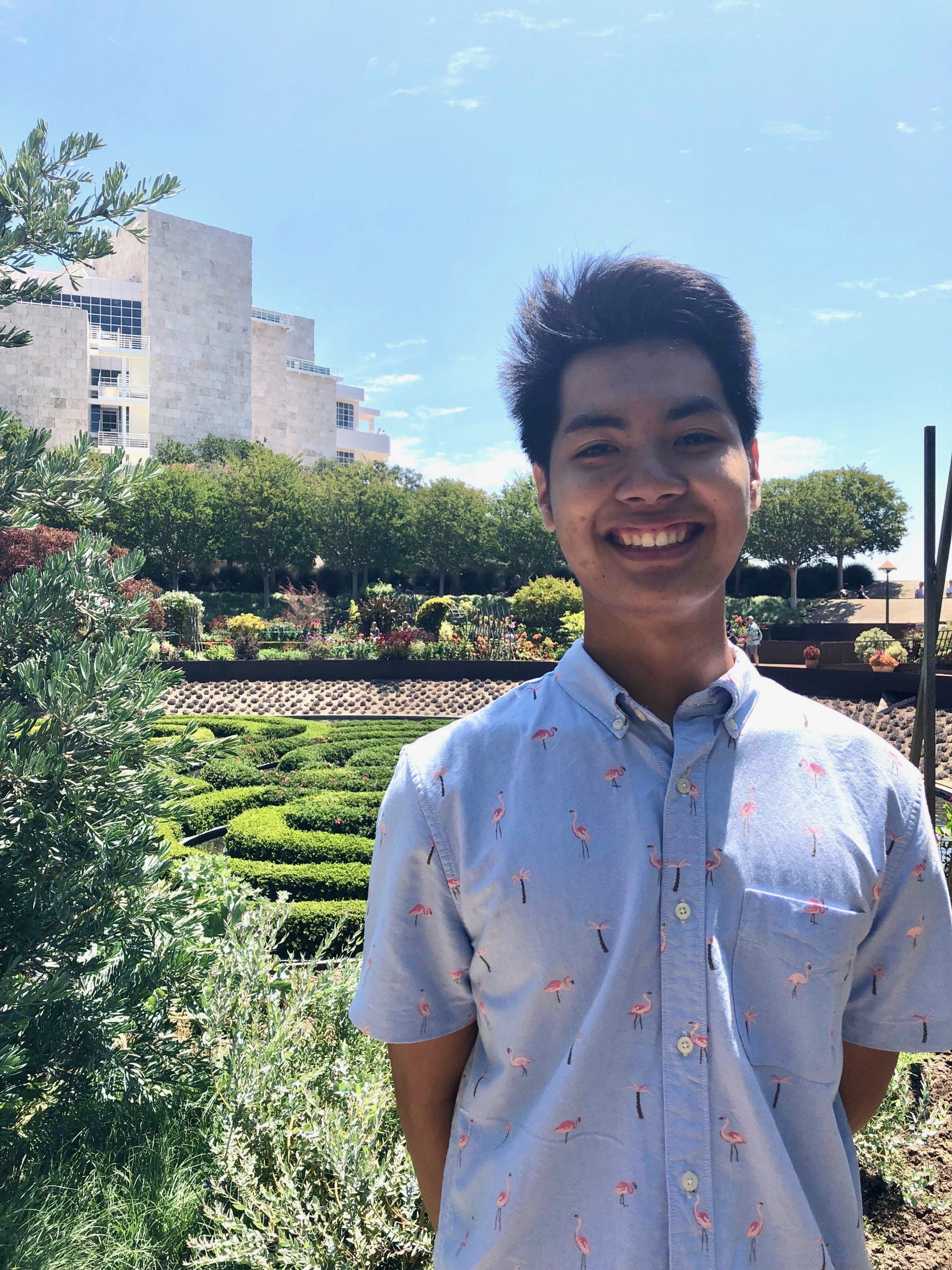 Anthony has helped out with many research projects in the lab. Currently he is working with undergraduate researchers Liam and Marielle on a survey project examining US veterinarian and behaviorist attitudes towards using video telemedicine with cats. Anthony also runs our lab's Facebook page, with help from Marielle.
Sept 17th, 2021
We are so proud of lab members and undergraduate researchers Sherry and Makayla! Their research has been featured in Gizmodo! They have been recruiting participants for their project examining cat-cat interactions in the home.The quality of cat-cat interactions in the home greatly influences cat welfare. For example, inter-cat aggression is a common behavioral issue in cats, increasing the risk of injury, illness, relinquishment, and reduced welfare. It is important for cat owners to be able to read and interpret cat behavior, as cat behavior is often the first sign of health and welfare concerns in pets. We want to know how knowledgeable owners are of the resources their cats need and at identifying positive and negative behaviors displayed by their cats. Ultimately, we hope this research can help identify gaps in owners' knowledge of cat behavior. Click on the link below to read more about their research!
https://gizmodo.com/own-two-cats-scientists-need-your-help-1847691350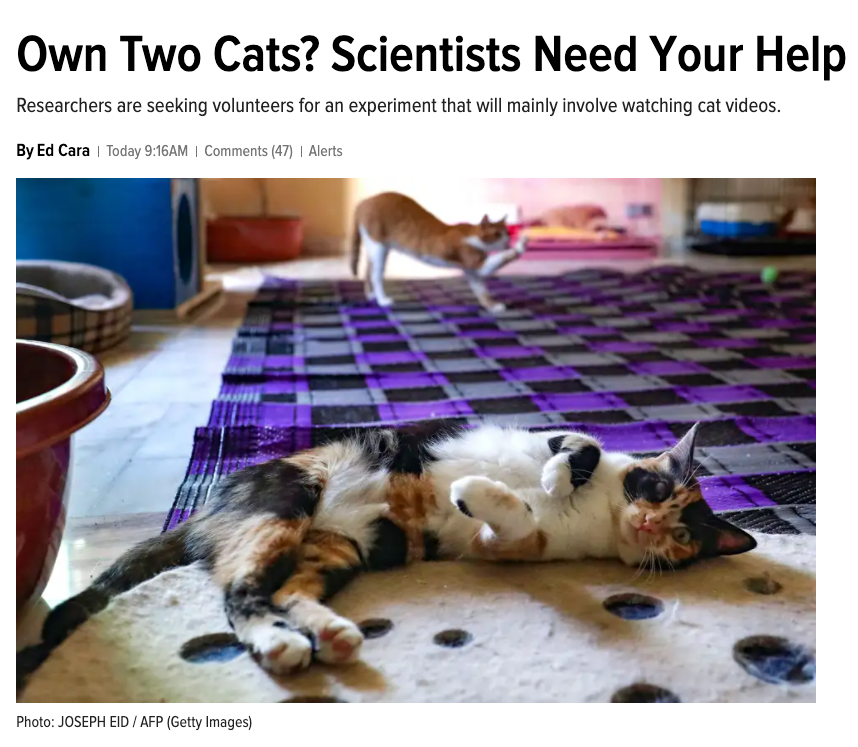 Sept 16th, 2021
Congratulations to lab member and veterinary externship student, Henry Ascencio! Henry completed his veterinary externship examining the link between stereotypic behavior and intestinal parasites in African Lions in Uganda. Henry's research was completed at the Uganda Wildlife Education Center, a wildlife rescue and rehabilitation center in Entebbe, Uganda. Although we didn't detect any associations between the lion's stereotypic behaviors and parasite load, Henry learned how to run an independent research project, helped with health checks on Chimpanzees, provided medications to various species, and helped capture a monkey in the wild that required medical care and rehabilitation. We are so proud of Henry and his incredible work. Learn more about Henry's experience in Uganda through the UC Davis School of Veterinary Medicine Global Programs video here:
Henry's work was celebrated with a UC Davis School of Veterinary Medicine Global Programs presentation and dinner event on September 16, 2021. Henry is in his 3rd year as a DVM student at UC Davis.
Sept 9th, 2021
We have a lab logo!! A huge thank you to talented lab member and undergraduate researcher, Sherry. We love it! This logo represents the major agricultural, companion, and laboratory animal species we work with. Complete with UC Davis colors, blue and gold!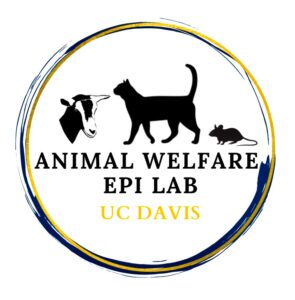 June 1st, 2021
Welcome to the lab, Grace Boone!
Grace is an animal welfare scientist with a MSc from Purdue University, and a BSc from Iowa State University. Grace's position as an Assistant Specialist is funded by our ASPCA grant. She will be conducting research examining the use of video telemedicine compared to in-clinic visits for providing health and behavior care for companion cats. This project is running in collaboration with Dr. Melissa Bain from the UC Davis School of Veterinary Medicine.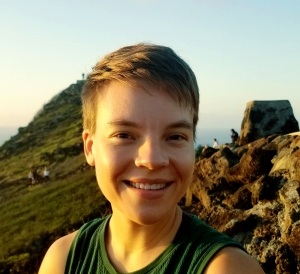 May 17th 2021
Congratulations to lab member and student veterinarian Henry Ascencio! He was recently awarded 2 scholarships for his veterinary externship in Uganda this summer. Henry's research will examine the health and welfare of captive African lions at an animal rescue and sanctuary in Uganda. We wish Henry a smooth and safe trip to Uganda, and look forward to receiving updates about his research!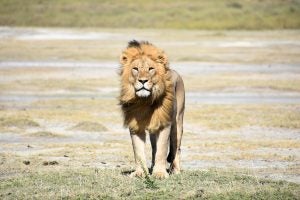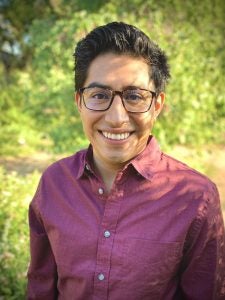 May 10th 2021
As a member of the UC Davis Working Anthrozoology Group, we are excited for the 2nd Annual WAG Lecture! Professor Emeritus Donald Broom from Cambridge University (UK) will be speaking on Tuesday May 18th at noon PST. Professor Broom was the very first appointed Professor in Animal Welfare in the world! See below for more information, and register here for this talk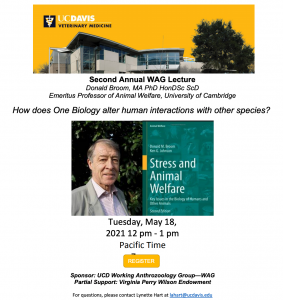 March 2021
New publication: Using paper nest pucks to prevent barbering in C57BL/6 mice
This research examines how nesting materials may help improve laboratory mouse welfare. Click here to watch a 3-min video summarizing this research:  Nest puck study video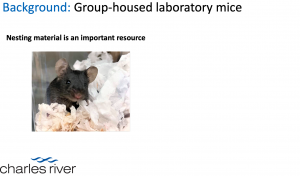 Link to the paper: https://pubmed.ncbi.nlm.nih.gov/33353583/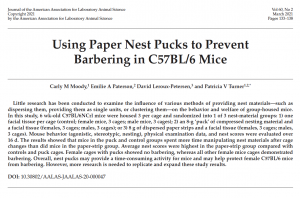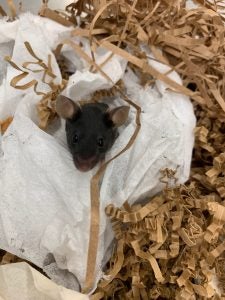 January 2021
We are excited to announce that we have received an ASPCA grant! This grant is focused on improving access to basic veterinary care for pets. Our research will examine the use of video telemedicine for improving access to veterinary care for companion cats. We are excited to get this research up and running this coming spring/summer 2021.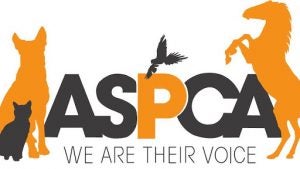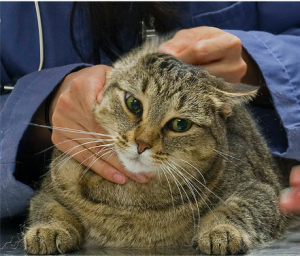 December 2020
We have a new publication! This survey research examines mental well-being in US and Canadian laboratory animal professionals working with animals in both industry, government, and academia. The aim of this research was to better understand factors that impact feelings of compassion fatigue, and identify beneficial components for support programs.
https://pubmed.ncbi.nlm.nih.gov/33028460/
November 2020
Dr. Carly Moody was featured on the cover of the Laboratory Animal Science Professional (LAS Pro) Magazine's October/November 2020 issue! In the picture Dr. Moody is holding a 7-week-old Sprague Dawley rat named Louis. He was involved in a study examining rat training procedures for reducing negative responses during handling and restraint.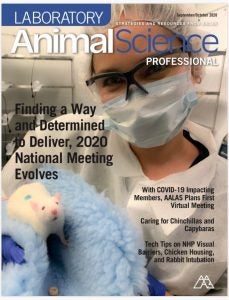 After the study, Louis was adopted along with his cage mate Harvey. They are enjoying their new cushy life as pets.