May 15th, 2022
iCatCare Feline Wellbeing Panel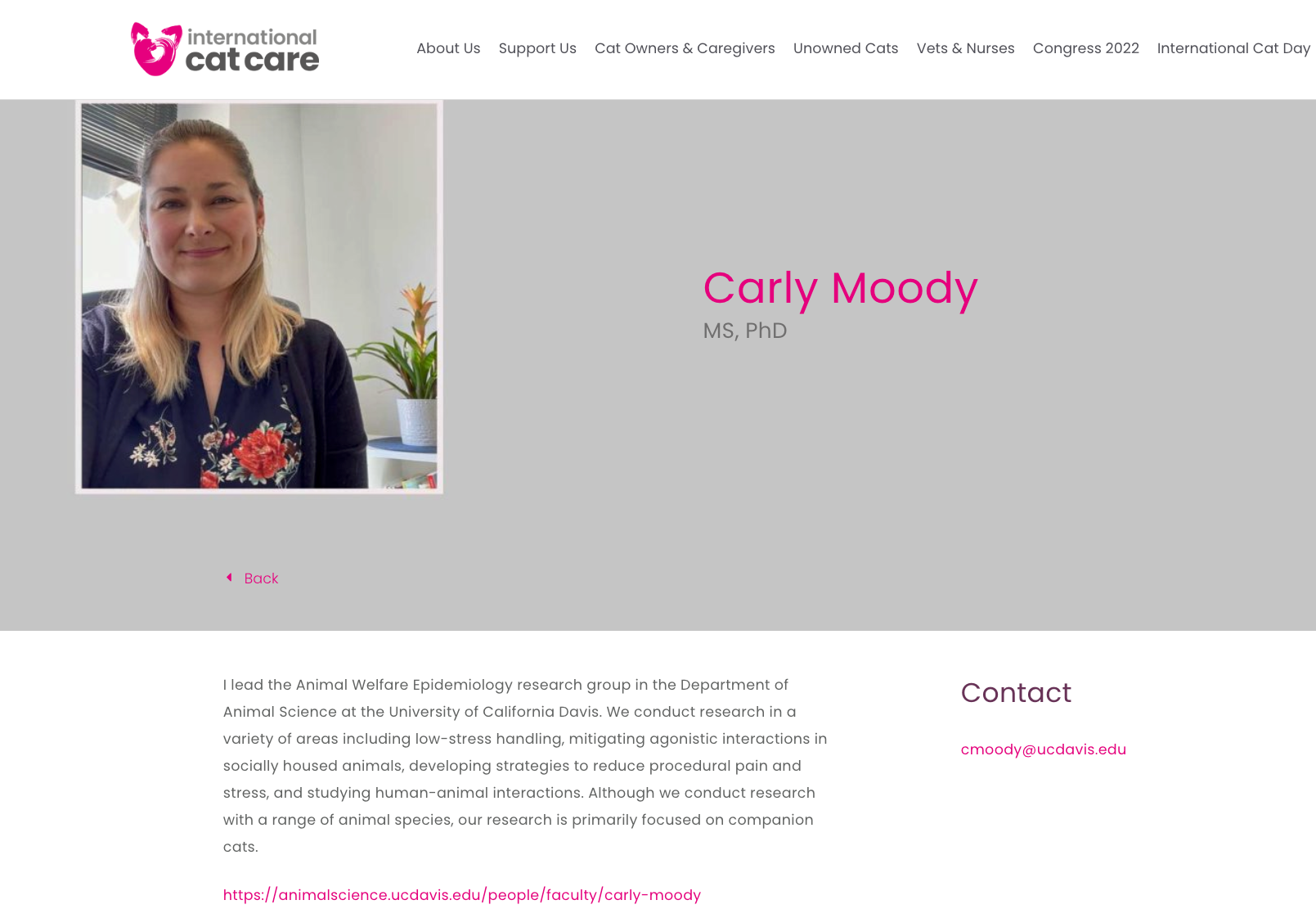 Dr. Carly Moody has recently accepted an invitation to join the International Cat Care's Feline Wellbeing Panel! The panel is a group from around the globe with expertise in cat behavior, health, and welfare. Members of the panel range in expertise from academic, veterinary, and behavior qualifications. The purpose of the panel is to improve the welfare of owned and unowned cats by sharing information and promotion of initiatives run by iCatCare. Learn more about the panel here:  https://icatcare.org/about/our-expert-panel/
May 1st, 2022
14th North American International Society for Applied Ethology, UC Davis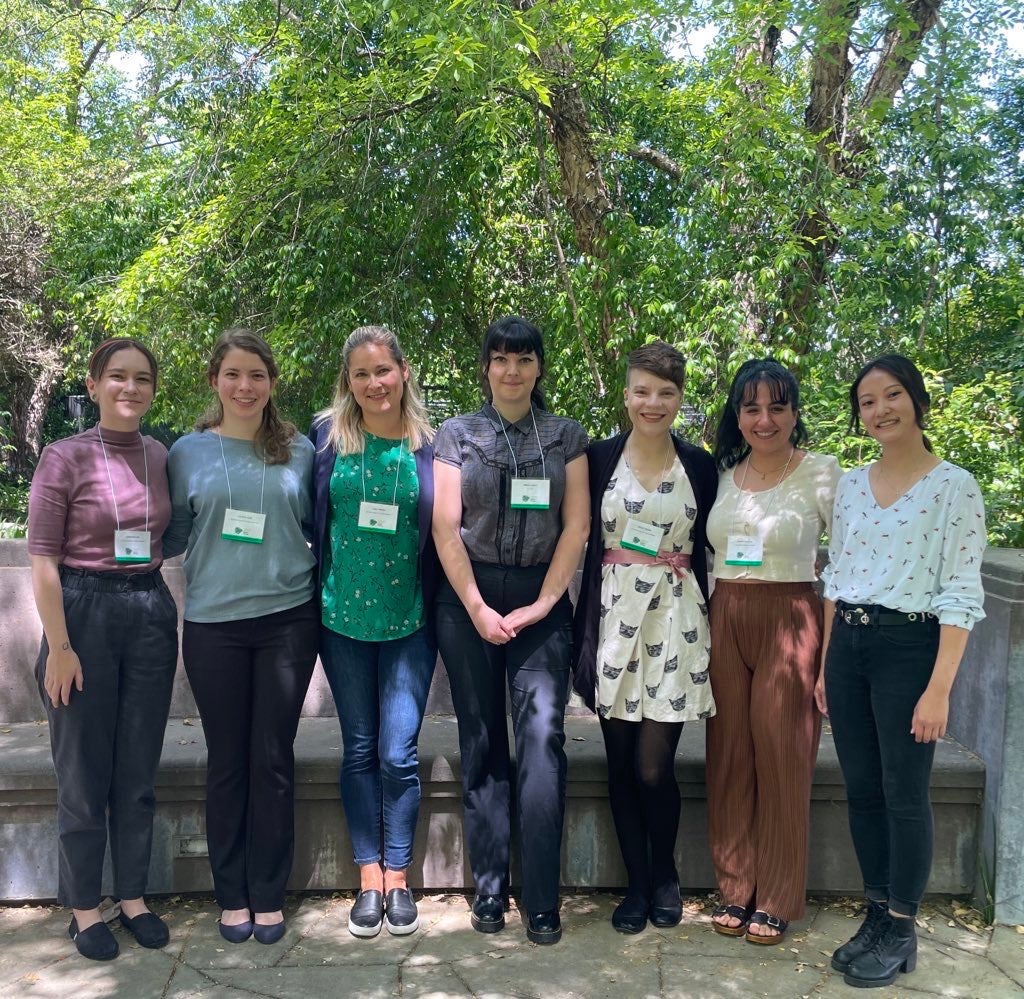 L to R: Jen, Lauren (incoming lab member – Fall 2022!), Carly, Makayla, Grace, Sherry, Jordan
The UC Davis Center for Animal Welfare (lead organizer: Dr. Tina Horback) hosted the NA International Society for Applied Ethology Conference! Lab members Grace, Jen, and Jordan helped run the conference, while Sherry and Makayla presented a research poster: 'Exploring the purr-vision of resources and the cat-cat relationship in multi-cat households in the US & Canada'. Congratulations to all for a fantastic conference!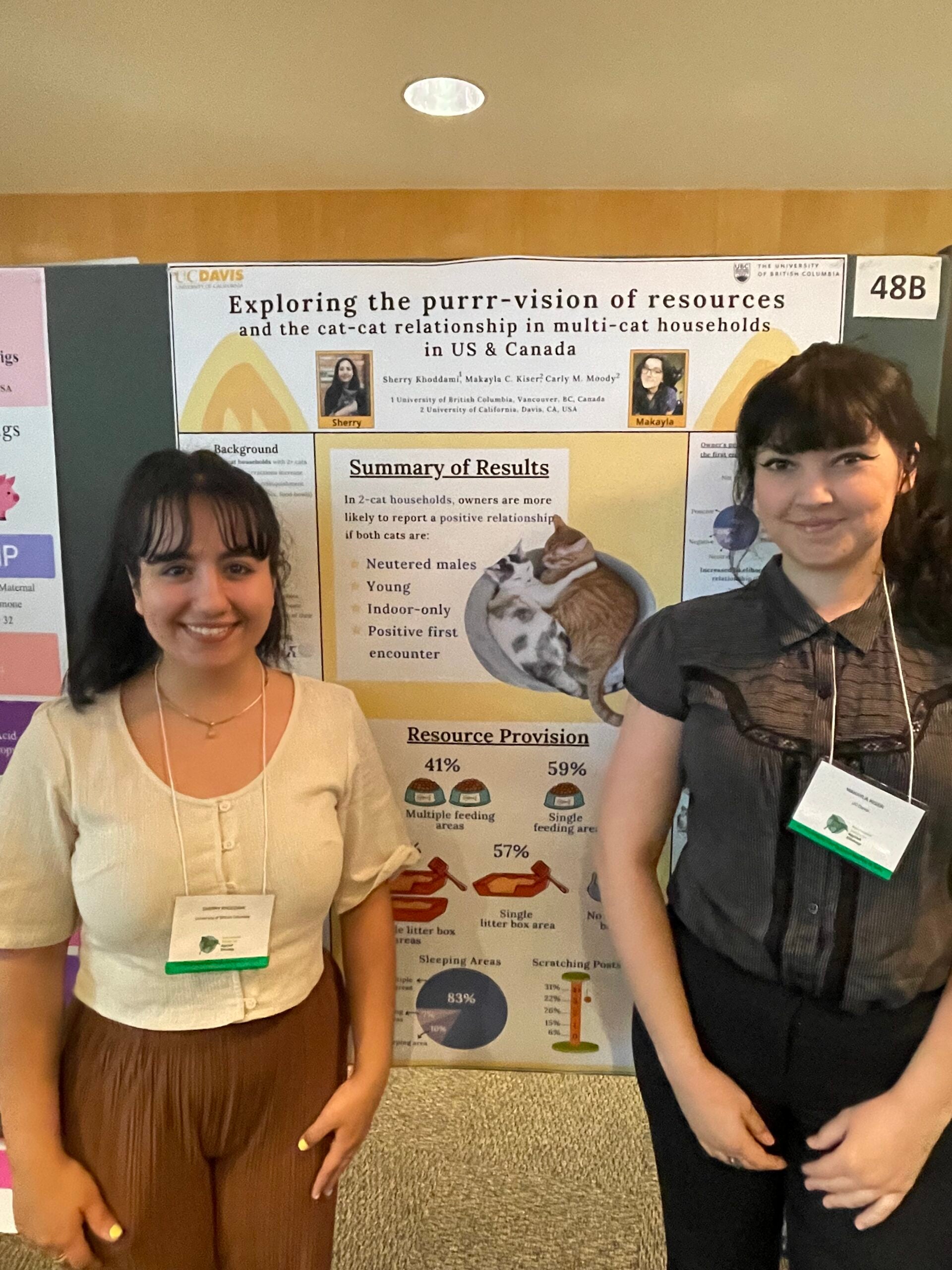 L to R: Sherry and Makayla with their research infographic poster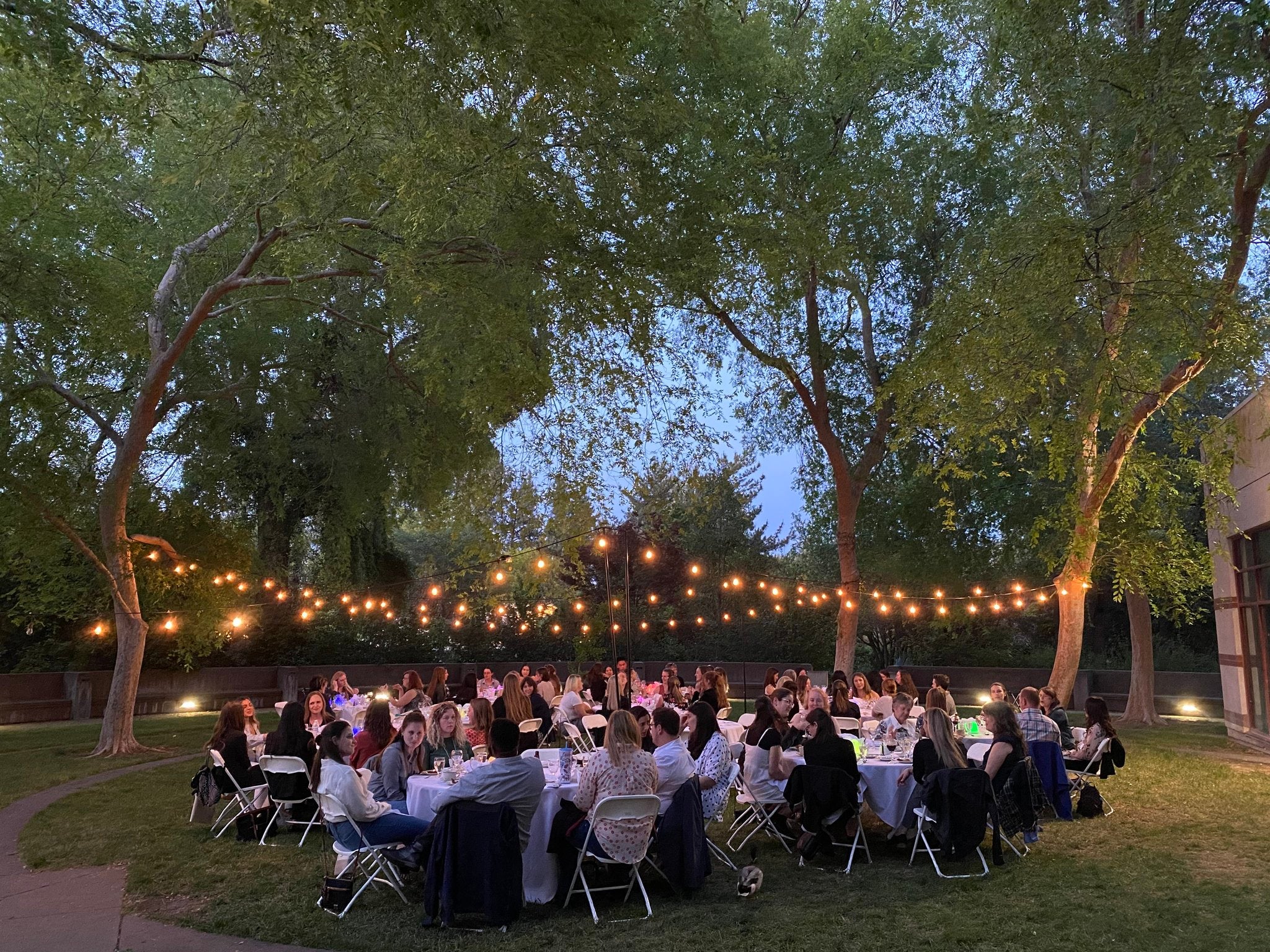 Conference Dinner: Moss Patio at the Walter A. Buehler Alumni Center, UC Davis
April 12, 2022
We would like to extend a congratulations to Yu-Chia Lin, who has been accepted into the UC Davis Biostatistics MS program for fall 2022!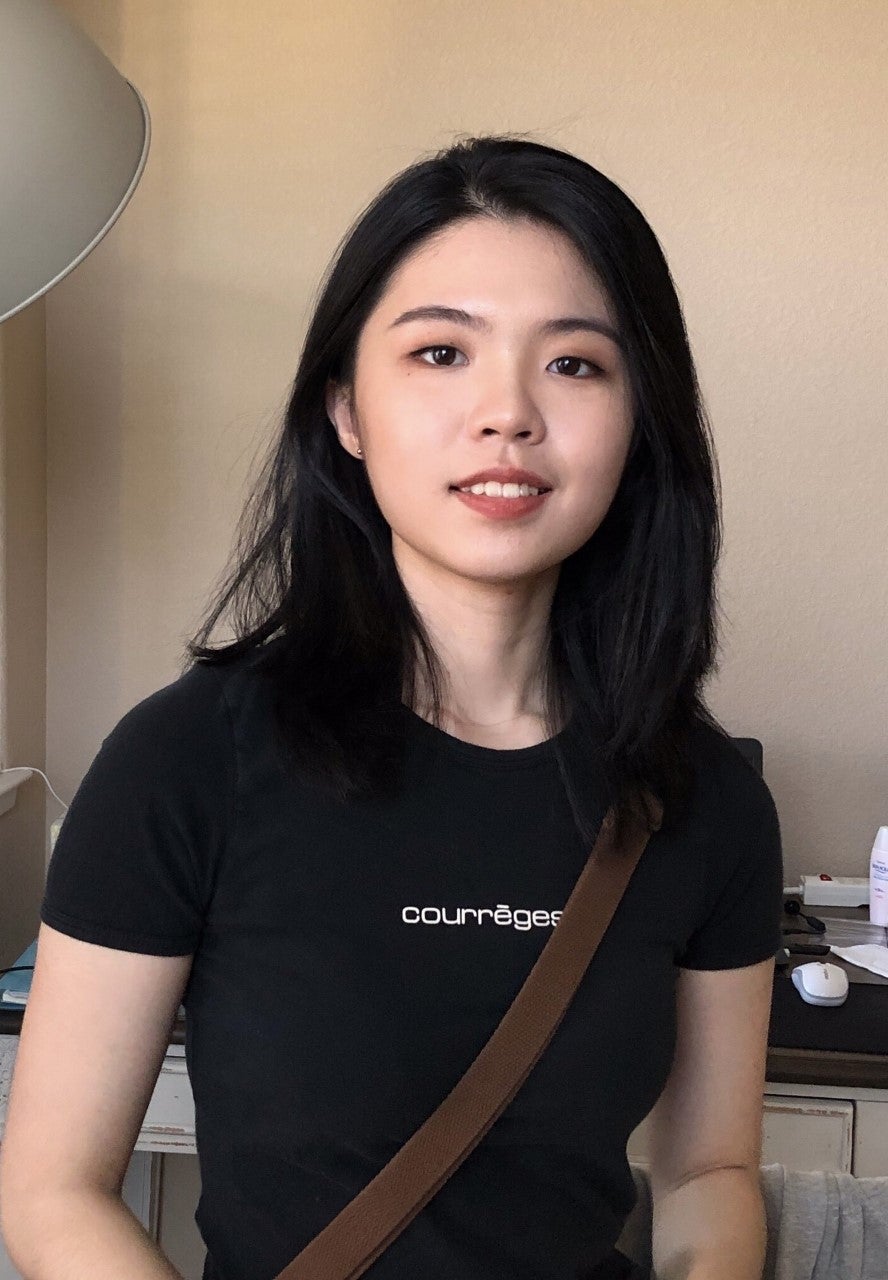 Yu-Chia has been working in our lab for over a year, helping with a large laboratory mouse behavior and welfare data set. This project examined how various resources added to standard laboratory mouse cages at an early age, impacts group-level interactions such as agonism, as well as later behavior on various behavioral tests. Yu-Chia has taken the lead in data cleaning, organization, and analyses. She is a skilled data scientist and wonderful lab member. We look forward to keeping in touch as she embarks on her new journey as a graduate student this coming fall.
February 22, 2022
We have a new publication! Owner Perspectives of Cat Handling Techniques Used in the Veterinary Clinic

This questionnaire research involved US and Canadian cat owners and their attitudes (n=1754) about use of common cat handling techniques as well as aspects of veterinary examinations.
Owners generally disagreed with the use of techniques involving higher degrees of restraint (e.g., full body, full body with scruff), or tools applied to the cat (e.g., clips, cat muzzle), but the rate of disagreement decreased as the cat's behavior increased from calm to aggressive. Participants strongly agreed with a veterinarian spending time with the cat before starting an examination, and disagreed with their cat being brought to a treatment area without them.
Learn more about the results of this study here:https://www.tandfonline.com/eprint/TZ3C7Z4QF2MUHKIUUDSE/full?target=10.1080/10888705.2022.2039144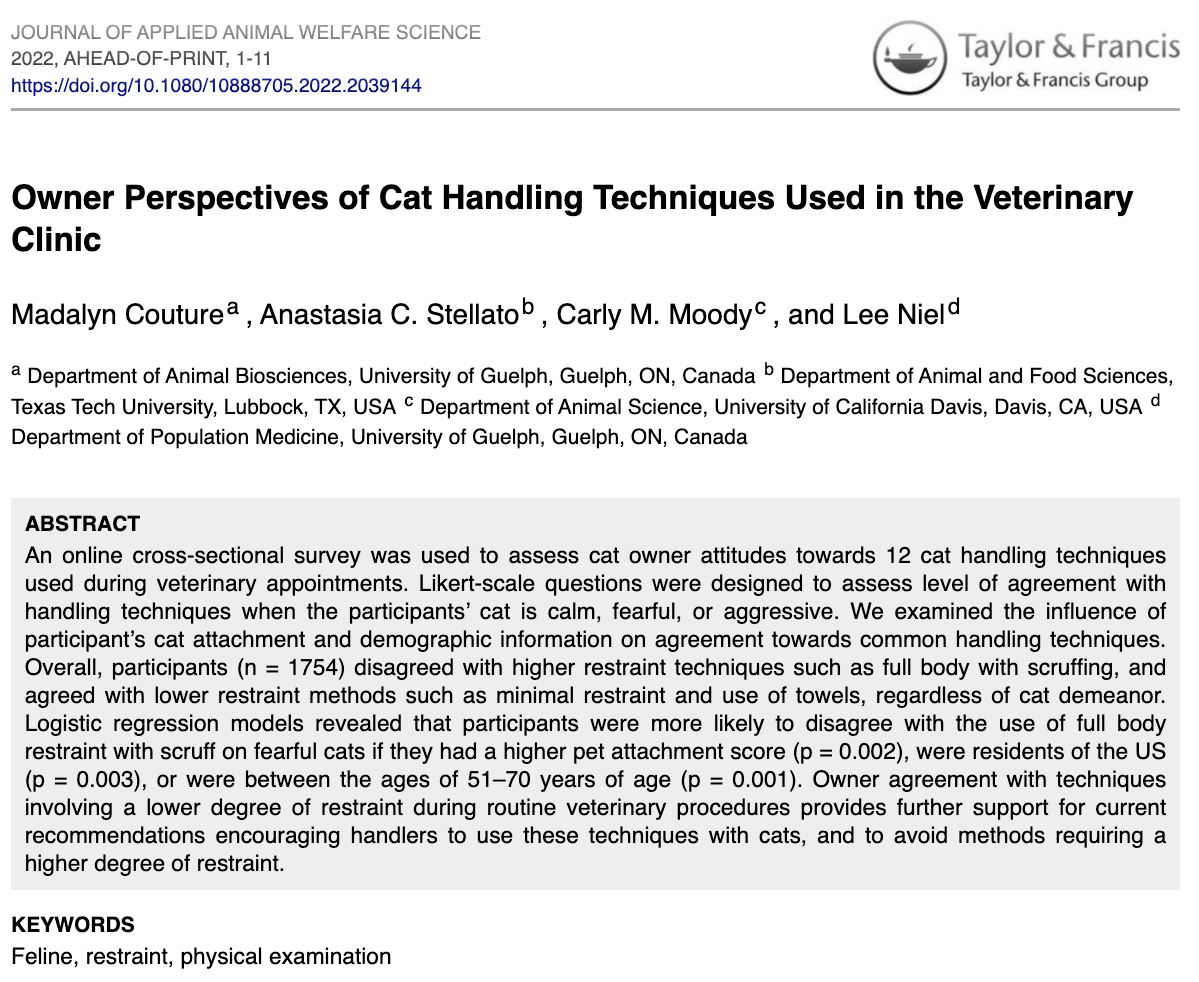 February 3, 2022
Dr. Carly Moody is participating in a free, virtual, expert panel discussion on Monday February 7th, 8:30 – 10:30am PST!  This discussion will examine animal welfare scientist attitudes across species and industries. This event is hosted by the Campbell Center for the Study of Animal Welfare at the University of Guelph, and all are welcome to join.
Here's the zoom link: https://zoom.us/j/93388430638?pwd=b0lKdElJWG5ZYWdKUWYzZmlERk9mQT09
Meeting ID: 933 8843 0638    Passcode: 793928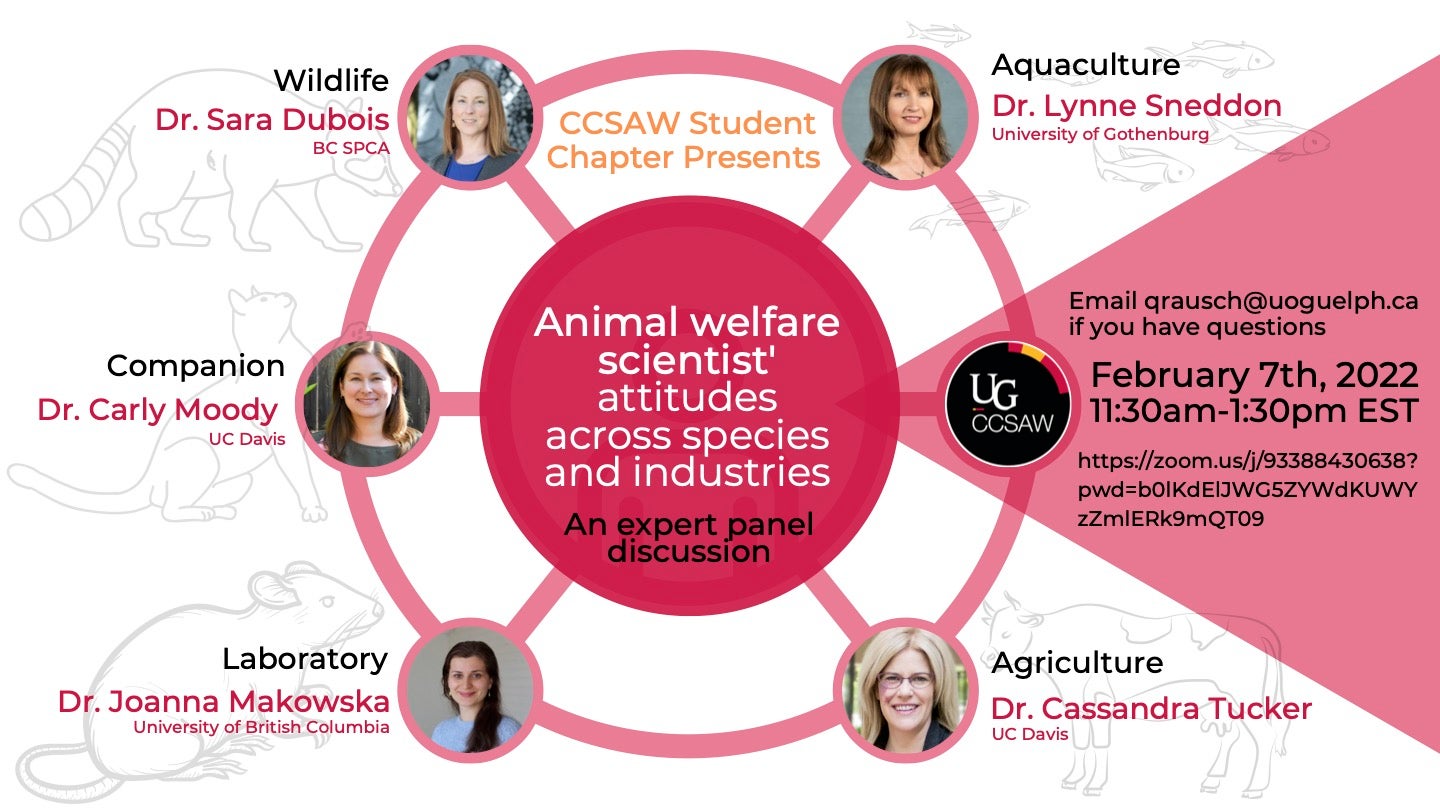 January 27th, 2022
Congratulations Marielle!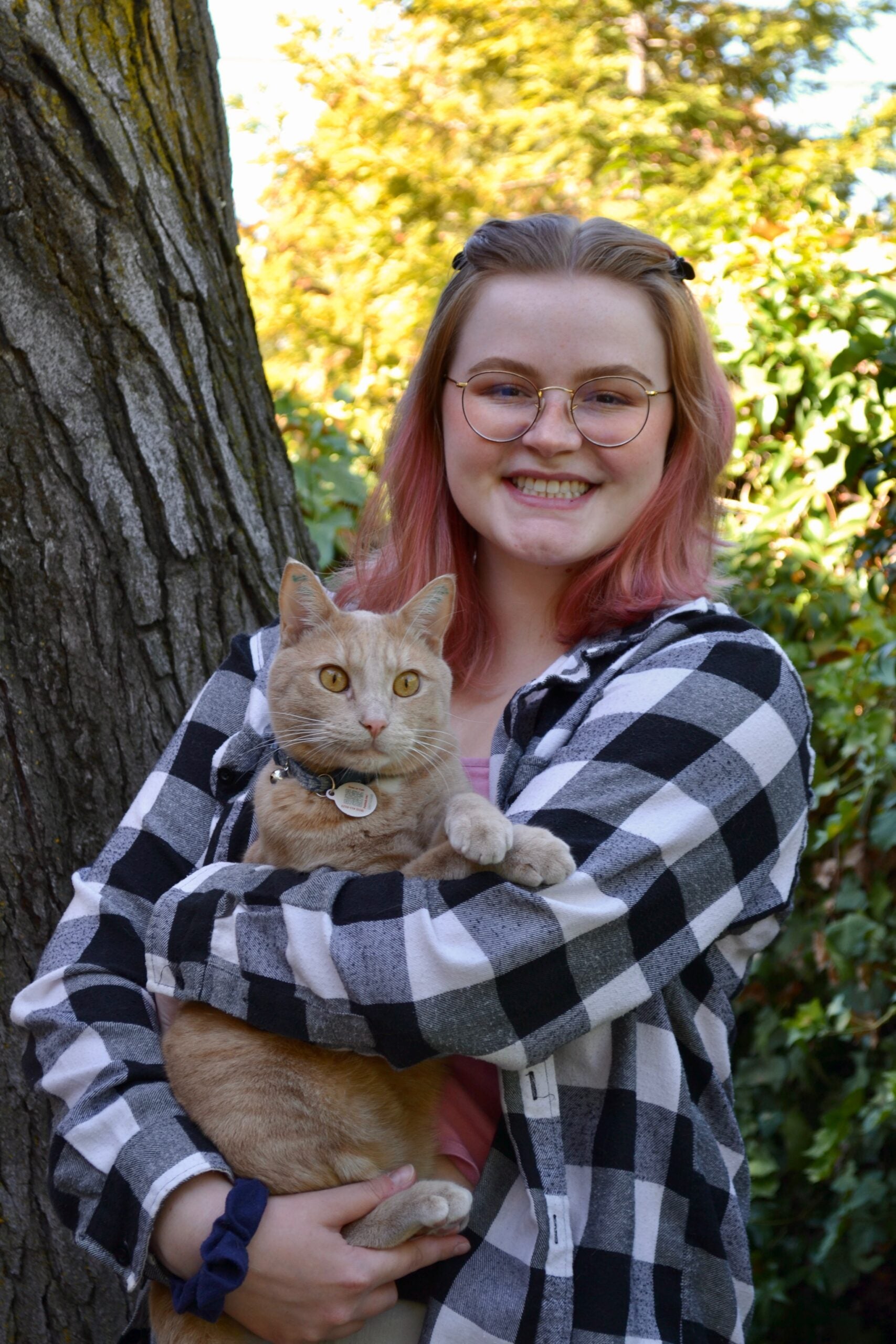 Congratulations to lab member and senior undergraduate student, Marielle Rikkelman! Marielle has accepted an offer to attend the UC Davis School of Veterinary Medicine! We are very proud of her and this huge accomplishment. Marielle will be finishing up her Bachelor of Science degree this spring, and will begin her journey as a DVM student in the fall of 2022.
Marielle has been a lab member since fall 2021, and has helped our with a survey project project examining US veterinarian and behaviorist attitudes towards using video telemedicine with cats. She also helps Anthony David, run our lab's facebook page.
Dec.10th, 2021
Congratulations Makayla!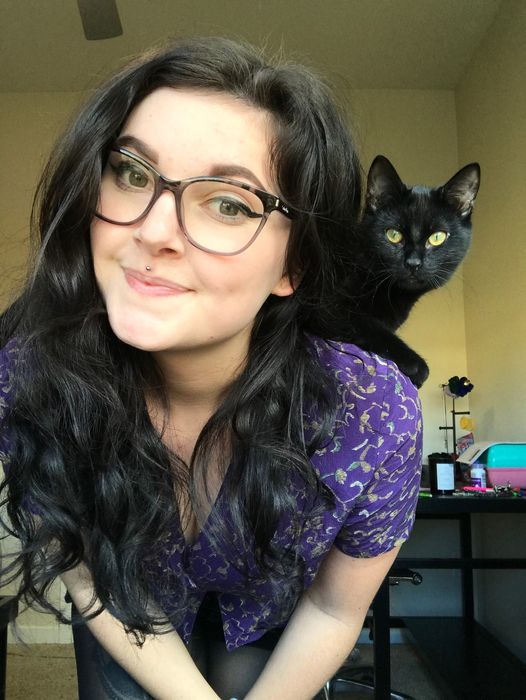 Congratulations to lab member, Makayla Kiser, who graduated with her Bachelor of Science from UC Davis this week!! Makayla has been a lab member for the past year, running an online research survey project examining cat owner knowledge of inter-cat behavior in the home. Makayla has been working with lab member, Sherry Khoddami, and they will continue working on their project in the new year. Congratulations, Makayla!! We see only great things, and lots of cats, in your future 🙂
Nov. 9th, 2021
We have a lab picture!



We are back on campus! This photo was taken on a rare rainy day at UC Davis, outside of Meyer Hall where our lab room is. We have a full lab this year thanks to our bright undergraduate & graduate student researchers, and assistant specialist! Looking forward to a great academic year ahead, working with this wonderful group of researchers.
*Photo credit: Dr. Katy Teixeira
Oct. 15th, 2021
Congratulations to lab member Anthony David! Anthony received the 2021-2022 Ensemble Scholarship undergraduate award from the Long Beach Community Foundation. This scholarship provided Anthony with $5,000 towards his tuition, books, and fees. A well deserved award!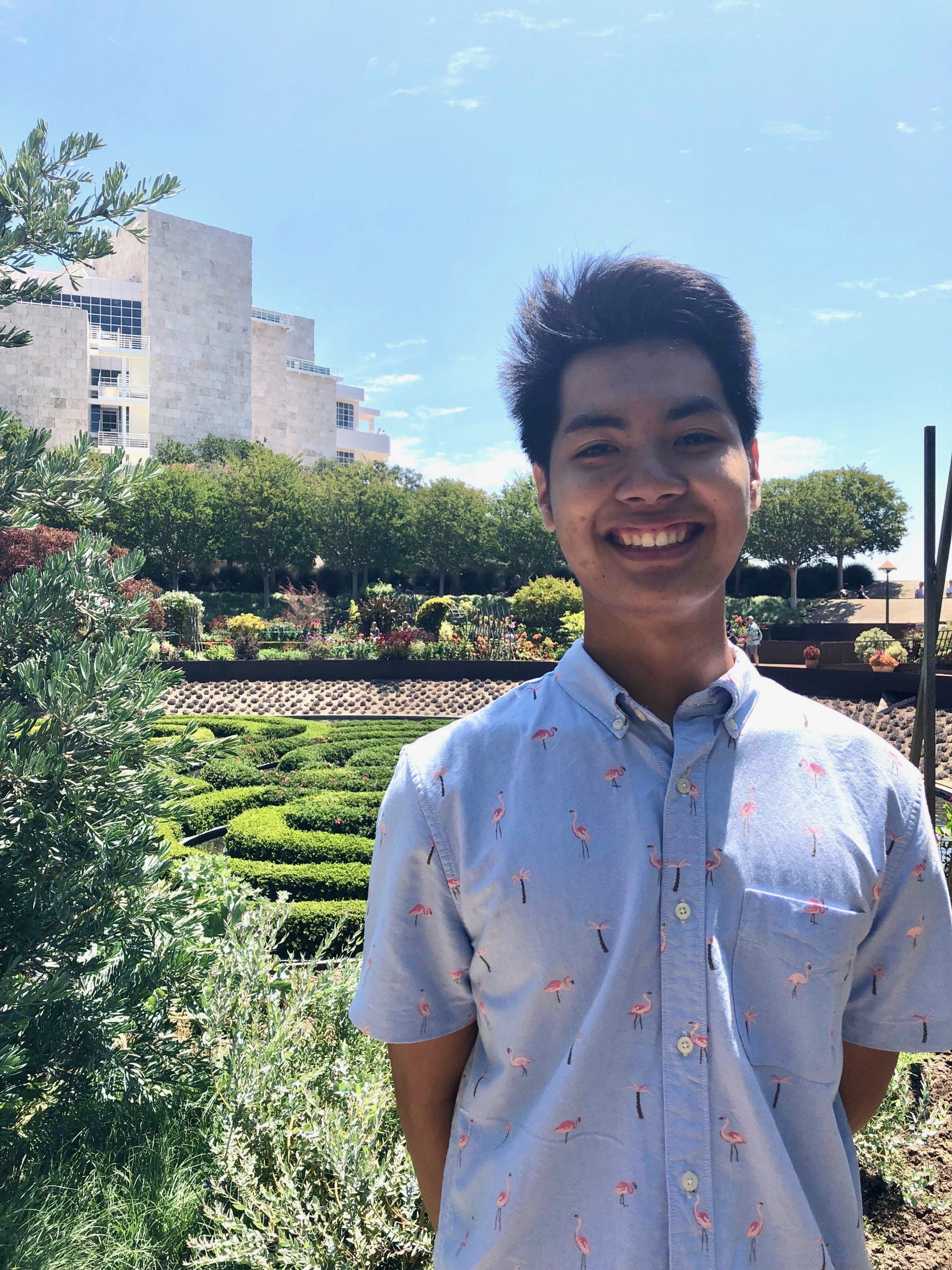 Anthony has helped out with many research projects in the lab. Currently he is working with undergraduate researchers Liam and Marielle on a survey project examining US veterinarian and behaviorist attitudes towards using video telemedicine with cats. Anthony also runs our lab's Facebook page, with help from Marielle.
Sept 17th, 2021
We are so proud of lab members and undergraduate researchers Sherry and Makayla! Their research has been featured in Gizmodo! They have been recruiting participants for their project examining cat-cat interactions in the home.The quality of cat-cat interactions in the home greatly influences cat welfare. For example, inter-cat aggression is a common behavioral issue in cats, increasing the risk of injury, illness, relinquishment, and reduced welfare. It is important for cat owners to be able to read and interpret cat behavior, as cat behavior is often the first sign of health and welfare concerns in pets. We want to know how knowledgeable owners are of the resources their cats need and at identifying positive and negative behaviors displayed by their cats. Ultimately, we hope this research can help identify gaps in owners' knowledge of cat behavior. Click on the link below to read more about their research!
https://gizmodo.com/own-two-cats-scientists-need-your-help-1847691350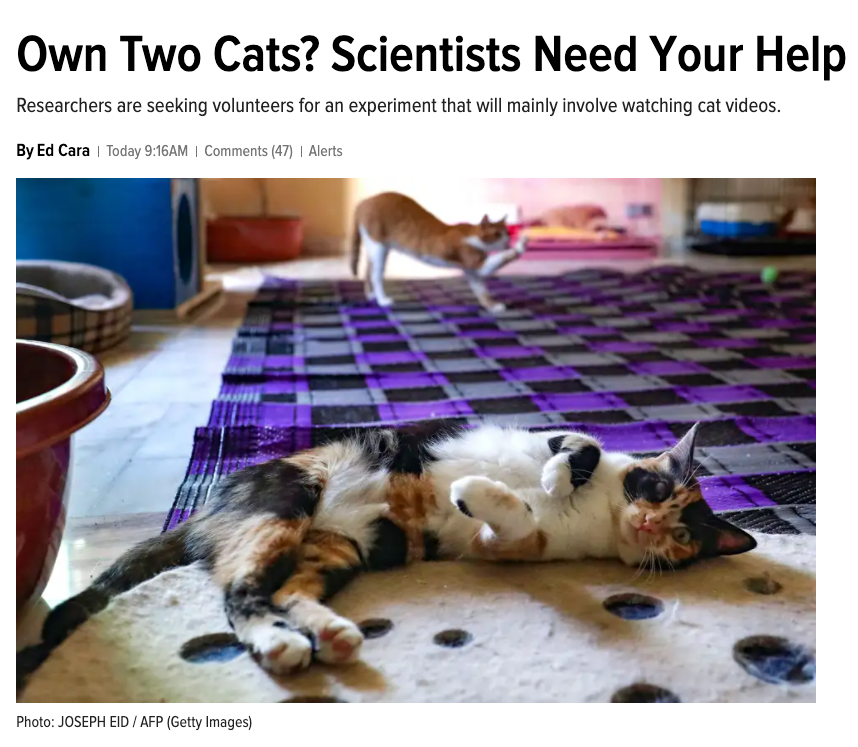 Sept 16th, 2021
Congratulations to lab member and veterinary externship student, Henry Ascencio! Henry completed his veterinary externship examining the link between stereotypic behavior and intestinal parasites in African Lions in Uganda. Henry's research was completed at the Uganda Wildlife Education Center, a wildlife rescue and rehabilitation center in Entebbe, Uganda. Although we didn't detect any associations between the lion's stereotypic behaviors and parasite load, Henry learned how to run an independent research project, helped with health checks on Chimpanzees, provided medications to various species, and helped capture a monkey in the wild that required medical care and rehabilitation. We are so proud of Henry and his incredible work. Learn more about Henry's experience in Uganda through the UC Davis School of Veterinary Medicine Global Programs video here:
Henry's work was celebrated with a UC Davis School of Veterinary Medicine Global Programs presentation and dinner event on September 16, 2021. Henry is in his 3rd year as a DVM student at UC Davis.
Sept 9th, 2021
We have a lab logo!! A huge thank you to talented lab member and undergraduate researcher, Sherry. We love it! This logo represents the major agricultural, companion, and laboratory animal species we work with. Complete with UC Davis colors, blue and gold!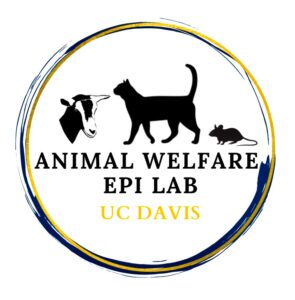 June 1st, 2021
Welcome to the lab, Grace Boone!
Grace is an animal welfare scientist with a MSc from Purdue University, and a BSc from Iowa State University. Grace's position as an Assistant Specialist is funded by our ASPCA grant. She will be conducting research examining the use of video telemedicine compared to in-clinic visits for providing health and behavior care for companion cats. This project is running in collaboration with Dr. Melissa Bain from the UC Davis School of Veterinary Medicine.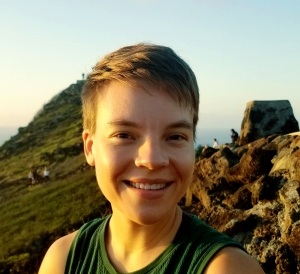 May 17th 2021
Congratulations to lab member and student veterinarian Henry Ascencio! He was recently awarded 2 scholarships for his veterinary externship in Uganda this summer. Henry's research will examine the health and welfare of captive African lions at an animal rescue and sanctuary in Uganda. We wish Henry a smooth and safe trip to Uganda, and look forward to receiving updates about his research!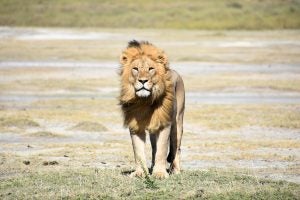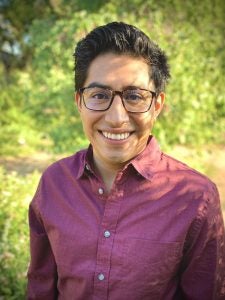 May 10th 2021
As a member of the UC Davis Working Anthrozoology Group, we are excited for the 2nd Annual WAG Lecture! Professor Emeritus Donald Broom from Cambridge University (UK) will be speaking on Tuesday May 18th at noon PST. Professor Broom was the very first appointed Professor in Animal Welfare in the world! See below for more information, and register here for this talk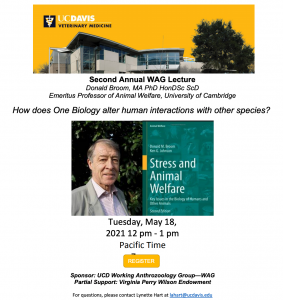 March 2021
New publication: Using paper nest pucks to prevent barbering in C57BL/6 mice
This research examines how nesting materials may help improve laboratory mouse welfare. Click here to watch a 3-min video summarizing this research:  Nest puck study video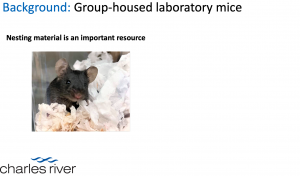 Link to the paper: https://pubmed.ncbi.nlm.nih.gov/33353583/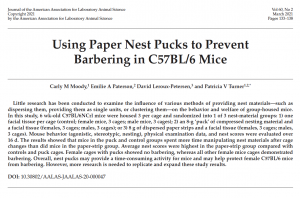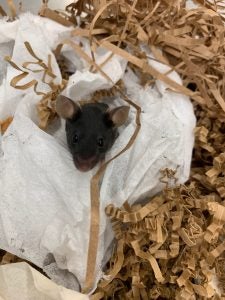 January 2021
We are excited to announce that we have received an ASPCA grant! This grant is focused on improving access to basic veterinary care for pets. Our research will examine the use of video telemedicine for improving access to veterinary care for companion cats. We are excited to get this research up and running this coming spring/summer 2021.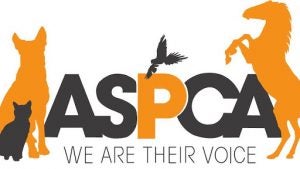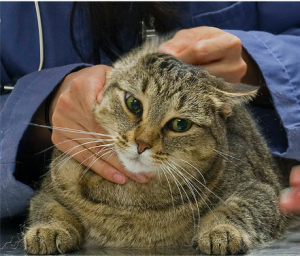 December 2020
We have a new publication! This survey research examines mental well-being in US and Canadian laboratory animal professionals working with animals in both industry, government, and academia. The aim of this research was to better understand factors that impact feelings of compassion fatigue, and identify beneficial components for support programs.
https://pubmed.ncbi.nlm.nih.gov/33028460/
November 2020
Dr. Carly Moody was featured on the cover of the Laboratory Animal Science Professional (LAS Pro) Magazine's October/November 2020 issue! In the picture Dr. Moody is holding a 7-week-old Sprague Dawley rat named Louis. He was involved in a study examining rat training procedures for reducing negative responses during handling and restraint.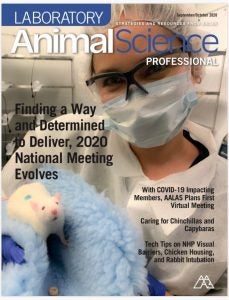 After the study, Louis was adopted along with his cage mate Harvey. They are enjoying their new cushy life as pets.